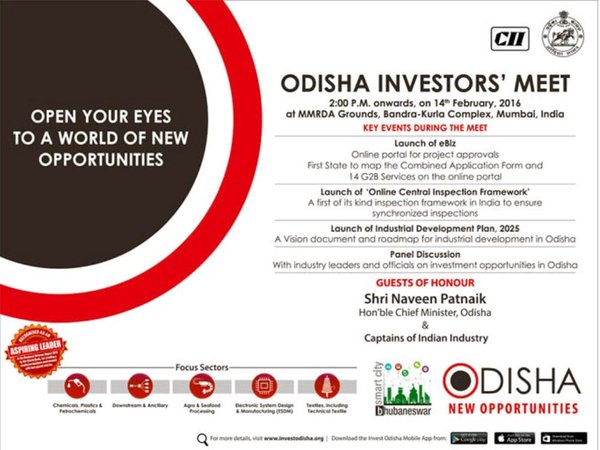 Chief Minister Naveen Patnaik will roll out the e-biz portal aimed at easing business hassles for investors at the Odisha Investors Show – organised by the state government at the ongoing 'Make in India' event in Mumbai – on Sunday.
The e-biz portal would minimise physical interfaces and give approvals online to the investors. Odisha would be the first state where 15 services required by the entrepreneurs can be applied for and the applications disposed of online. The services, for which fees can be paid and the approvals received online, relate to water resources, commercial taxes and pollution control board consent.
Odisha, which was ranked seventh among all states on 'ease of doing business' in a recent World Bank report, is aiming to position itself among the top three states in the next rating.
The state is betting on the next stage of reforms to ease business climate. On the taxation structure, Odisha has a single taxpayer identification number for all kinds of taxes. The entire commercial tax machinery has been computerised. The state government is soon going to have a centralised inspection framework. Inspectors from different departments will go for inspection together and post their reports online within 48 hours.
The Odisha government has already set up a special entity to fast track approvals for investment projects at the state owned investment promotion agency Industrial Promotion Investment Corporation Ltd. The new entity, christened State Level Facilitation Cell (SLFC), is mandated to clear investment proposals in 15-30 days.
The SLFC monitors the general and special conditions of approved project proposals and facilitates timely implementation of projects.
More details from SmartInvestor
Comments
comments