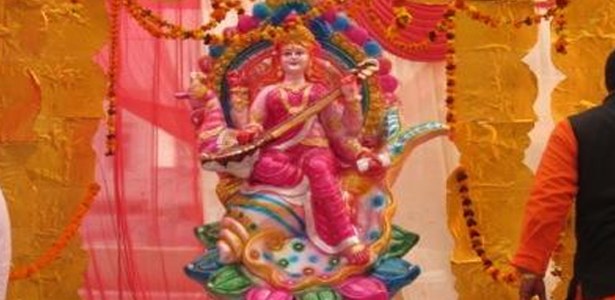 Saraswati Puja brings back nostalgic memories from childhood days. As kids, we used to eagerly wait for days for its arrival. I could barely sleep the night before the auspicious day, my mind was preoccupied with getting early to pluck or rather steal flowers from our neighborhood houses.
I starkly remember a homeowner chasing us urchins away, after we stealthily managed to jump into his front yard. In the haste his LUNGI (a piece of loin cloth worn by males which can be conveniently removed for multiple purposes ) slipped off his waist. In the commotion that followed he spent the next few seconds lifting the LUNGI from the ground and tying it back, giving us precious enough time to jump off the walls and flee.
Back home, time to decorate the foot long statue made out of clay and pedestaled on a chair. We decorated the strings tied to the hands of the chair extended to the corner of the room with triangles of color papers with the help of glue made from ATTA (flour).
After a quick shower, it was time to wear a pair of new dresses and wait for the ordeal of PUSHPANJALI (offering of flowers) to be over before eating the BHOGA (or Prasadam) to quench our already starving stomachs. An integral part of it would be the Laddoos of Rashi (TIL) made by my grandmother.
Post noon it was time to go to BJB College near our house and sample the BHOGA served at different departments. It was mostly a mixture of sweetened CHUDA (or parched rice) with fruits and if luckier some dosage of oil soaked BUNDI along with it. It was enough to fill our stomach till the evening, when we would venture out in bicycles to view Saraswati Pandals.
Those days Bhubaneswar was a sleepy township with hardly any traffic. The arteries of the roads were not yet clogged, so no bypass was needed. It was perfectly safe for us to bicycle our way from BJB flats to Saheed Nagar amidst funnel shaped loudspeakers from Pendals blaring out the contemporary hits. One of them was "MEIN HOON DON" from the Amitabh's hit movie Don. Another one I can't forget was this Akshaya Mohanty's Odia number,
"LANDA MUNDIA DRIVER
GADIKU TIKE THIA KAR
GADI JIBA PHULBANI
SANGARE ACHHANTI GHARANI
GHARANI MUNDARE KHOSA
UKUNI KARANTI BASA".
Roughly transliterated though the fun can be lost in translation. ..
" O bald headed driver
Stop your vehicle for better,
Phulbani is the destination
My better half is with me in person,
Bob tied pig tail has my wife
It is filled with lice"…
and so on.
There were many outstanding Pendals but the one by USHALA CLUB at Master Canteen, Unit 3 stood taller (literally too) than the rest. After a long tiring meandering around the city it was time to munch some PURI, ALOO DUM (curry) and sweets before hitting the bed. HAPPY SARASWATI PUJA.
Did you know Bhubaneswar Buzz is only portal covering Odisha to have more than 23,000 followers (consistent) in top 3 Social media platforms i.e. Facebook,Twitter and Instagram
Bhubaneswar Buzz is available in 10 social media channels, check out all of them here
Did you know Odisha is first in India to host Asian Surf Championship
Like Us in Facebook to get more content like this
Comments
comments