Its vacation time again for my family and I usually spend the first half of my holidays in Brahmapur, Odisha, the place where I was born and grew up to be a chef. A trip to my hometown brings back fond memories with food being the focal part of our trip. The craving for Odia delicacies always stayed alive, irrespective of whichever part of the world I was in. However, I realised that not many people, outside the country and in it, are aware of the intricacies of Odia cuisine and the remarkable flavours it offers. Well, all that is about to change. So here goes.
Compared to other regional Indian cuisines, Odia cuisine uses relatively less oil and is mild in spices but very flavorful. Rice is the staple food of this region. Mustard oil is used in several dishes as the cooking medium, butghee is preferred in temples like Jagannath. Traditionally, food was served on disposable plates made of sal leaves. Yoghurt is also used in various dishes. Many sweets of the region have chhena (cheese) as a base.
Ingredients and Seasoning
The ingredients used in Odia cuisine are typical – plantains, jackfruit, and raw papaya. The curries are garnished with tamarind and dried raw mango also called 'Ambula' in Odia. Coconut is also used in several dishes. 'Pancho phutana' is a blend of five spices, which is widely used in Odiya cuisine. It contains mustard, cumin, fenugreek, aniseed and kalonji. Although garlic and onion are used in households, these are avoided in temple kitchens. Turmeric and red chilies are also commonly used.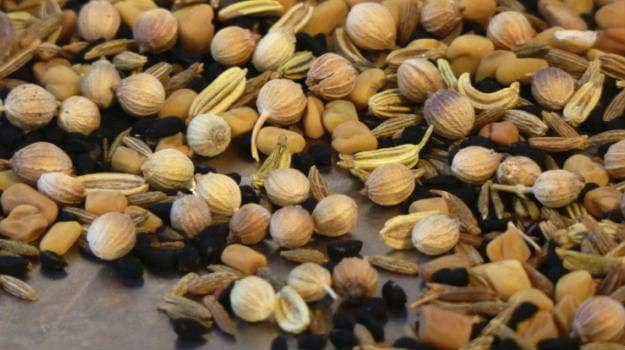 Pancho phutana is a blend of five spices
Local Influence
The food in the region around Puri-Cuttack is greatly influenced by the Jagannath Temple. On the other hand, kalonji and mustard paste are used mostly in the region bordering Bengal, and curries tend to be sweeter. In the region closer to Andhra Pradesh, curry leaves and tamarind are used more. My hometown Brahmapur region has influences ofSouth Indian Cuisine, and the Telegu speaking audiences living in Odisha have re-invented some new Odia dishes.
Food for the Gods
Various temples in region make their own offerings to the presiding deities. The prasadaof the Jagannath temple is well known and is specifically called 'Maha Prasad' meaning greatest of all prasadas. It consists of 56 recipes, hence called chhapan bhoga. It is based on the legend that Krishna missed his eight meals for seven days while trying to save a village from a storm, holding up the Govardhan hill as a shelter.
Chutneys
People from Orissa eat a lot of sour chutneys with their lunch and dinner thalis. These side dishes or chutneys are as important as the main course. Some of the well-known dishes under this category are:
Dahi Baingano : A sour dish made from yoghurt and fried brinjal.
Khajuri Khata: A sweet and sour dish made from ripe tomatoes and dates.
Amba Khatta: A condiment made from raw mangoes.
Dhania-Patra Chutney: A side made from coriander leaves, green chilies and tamarind.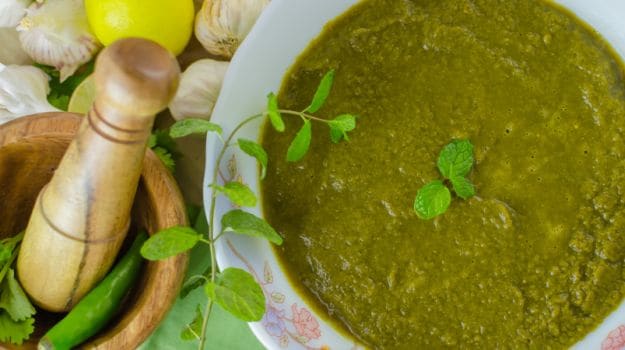 Where to Eat in Odisha (Orissa)
Now the obvious question, where do we get to eat such lip smacking dishes while on a trip to Odisha? Here are my recommendations:
1. Odishi Restaurant – Brahmapur
The best Pakhala (fermented rice dish eaten in summers) can be found at Odishi Restaurant, Spectrum Tower at Brahmapur. This place serves the best traditional thali I have had in a long time. Food that is cooked home style is their USP, without the use of any preservatives, colour or additives. The Pokhalo is served with condiments such as Aloo Bhartha, Badi Chura, Lali Koshala Saaga and Kondori Aloo Bhaja. I was also served Macha Besara (Rs. 70) (Rohu fish deep fried and steeped in a mustard gravy). I am not too fond of Rohu because it has too many sharp bones but I binged on the whole dish before I could lay my bare hands on the Pokhalo.
The other dish that caught my attention was the Chingudi Kossa (Rs. 90) a dry preparation of shrimps with onion, green chillies and mild spices. The shrimps were crisp and were a delight. I had to temporarily put an end to my gastronomical journey as I was full but not before I was served a bowl of their favourite dessert "kheeri". Kheeri (Rs.20) is the Odia word for kheer. The kheer is made with rice, reduced milk and sugar. This is traditionally served in all Odia weddings throughout the state.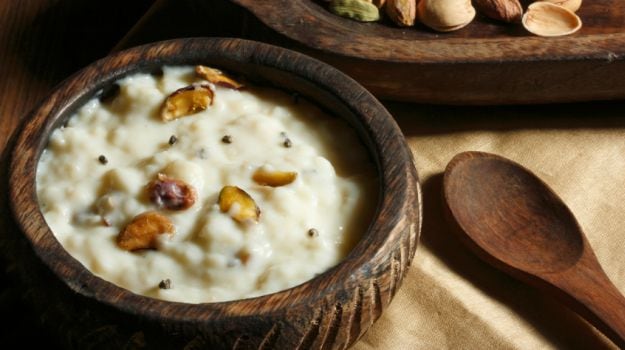 2. Dalma Restaurant, Madhu Sudan Nagar, Bhubaneshwar
My next culinary stop was the capital city of Odisha, Bhubaneswar. Dalma Restaurant, serving authentic Odia food, is a must-do on your foodie list. The restaurant is around 15-16 years old and claims to be the trendsetter in popularising Odia cuisine and it now has branches in Bangalore, Kolkata, Puri, Rourkela and Brahmapur.
The place was very casual with canteen like seating. After settling down, I ordered theMutton Thali (230/-), the Crab Thali (250/-) and Dalma (50/-). The Mutton Thali was heavenly with tender pieces of mutton and the well-balanced curry went perfectly with theplain rice. The Crab Thali was equally competent. Dalma is an Odia curry made with brinjal, raw papaya, colocasia, drumstick, beans, raw banana, lentils and lots of mild spices. The Dalma was loaded with flavours and one should not forget to order this while at its namesake restaurant
We also ordered a bowl of Chhatu Rai (130/-), basically mushrooms tossed in mustard sauce and Hilsa Maccha Jhola (200/-), Hilsa fish cooked in home-style Odia gravy. We loved both the dishes. The food felt completely natural, unlike other restaurants where you just get some artificial, repetitive and predictable taste. If you want to taste some Odia delicacies, this place is perfect.
A meal without desserts is always incomplete and this place serves one of Orissa's favourite sweet, the Chhena Jhili (35/piece). The birthplace of this sweet is Nimapada in Puri district. It is prepared by deep frying balls of chhena and steeping them in sugarsyrup.
Pricing at Dalma is a bit steep but this place does serve very authentic Odia food and one must try to visit this place atleast once when in Bhubaneswar.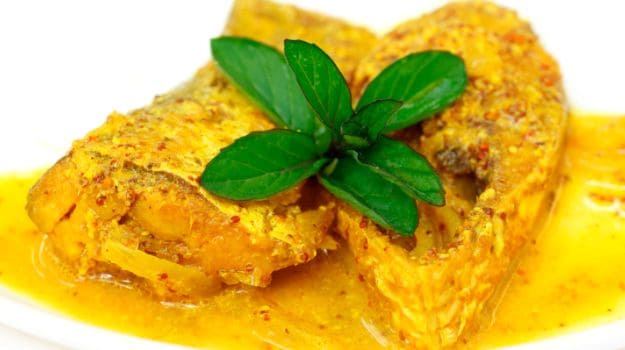 Hilsa Maccha Jhola
Take a Trip to Cuttack
A trip to Bhubaneswar is incomplete without visiting its twin city Cuttack. With River Mahanadi on one side and River Kathojodi on the other side, Cuttack is more than 100 years old and its many roads and lanes are like a maze for any new comer. My sister lives in this city and I am no stranger to the food scene the place has to offer. When we talk about food, people here only think of the Dahibara Aludum. It's a kind of lentil dumpling that is soaked in yoghurt, and then covered with hot Ghuguni (a spicy dish made with cooked peas and spices) and Aloo Dum. The dish is then garnished with yoghurt, onions and pudina chutney.
Dahibara Aloo Dum in Cuttack has its own signature style with a hint of spiciness and a slight flavour of mint.
There are a few places in Cuttack that are famous and an evening stroll could take you to one of these places for Dahibara Aloo Dum:
– Eshwar Dahibara Aloodum – Biju Patnaik Chowk
– Dahibara stall at Ranihaat
– Raghu Dahibara Aloodum – Bidanasi, Daulasahi
– Dahibara stalls – Outside Barabati stadium
– Dahibara stall opposite Kanika Chowk Petrol Pump
– Dolamundai Chowk Dahibara
– Rama Dahibara – In front of SB women's college Bhoggie Dahibara – Near New Stewart school
I was fortunate enough to try this delicacy at all the above places and every one of them had their own distinct taste, texture and presentation. This divine and amazing snack is very reasonably priced somewhere between Rs 40/- to Rs 50/- per plate and I promise you will never have just one.
Author :
Chef Anees Khan, Founder & Chef, Star Anise Patisserie and Star Anise Fine Foods Pvt Ltd
Article was first published on NDTV
Comments
comments