Baladevjew Temple is a very famous temple of Odisha where Balabhadra or Baladevjew is its main divinity. It is generally known as the land of Lord Jagannath but it is equally important as the land of Lord Balabhadra who is the elder brother of Lord Jagannath, worshipped as Lord Baladevjew at this place. However, Jagannath and Subhadra are also worshipped in the Ratna Singhasan in the main temple. An idol representing Tulasi as a goddess in a seated position is also present after the sacred seven steps.
HISTORICAL BACKGROUND OF TEMPLE:
For the first time we come across the name of Balabhadra in the Inscriptions of Odisha. Historical background of Baladevjew temple can be traced back to the reign of Maharani Kalyani.
• Initially Baladev has been established in "Chaturasra Mandap" with Tulasi. But later Shree Jagannath and Devi Subhadra are associated with Badathakura Balabhadra.
• The temple is erected by King Jajati Keshari in 10th century A.D. Some opine that King Anangabhima Dev-III has built the big temple 'Rekhadeula' of Baladevjew which was destroyed by Kalapahada in about 1568.
• Again the temple was demolished by Khan–i–Duran in about 1663 A.D., then the Subedar of Odisha during the time of Moghal Emperor Aurangazeb on 2nd April 1661 A.D., He constructed one Masjid on the foundation of the dismantled temple in the year 1663 A.D.
Devotees of Lord Baladevjew, took the deity in disguise in a boat through the river Gomati (broadly know as Gobari) and kept the deity in a secret place near Baranga (Chedara) Jungle. Afterwards it was shifted to Balarampur village near Luna river at Sakhi Bata. So this place is sacred for the Hindus.
• The present shrine of Siddha Baladevajew was constructed during the Maratha rule in Odisha (1761 AD) of Ichhapur (Kendrapara). It was constructed by the king of Kujanga, Raja Gopal Sandha and Zamidar(Land lord) of Chedara killah, Srinivas Narendra Mahapatra. One Santha Gopi Das and Sairatak Giri convinced then the Maratha Chief Janoji and constructed the Jagamohan, Bhoga Mandapa of the main temple, temple of Gundicha and compound wall.
ARCHITECTURE AND CONSTRUCTION OF TEMPLE:
Baladevjew Temple is constructed over an area of 2.6 acres (0.81 ha) of land. There are 2 parts in the total area. In one part, different temples are there and the other part is a beautiful garden. There is a boundary around the temple, 46 feet (14 m) high.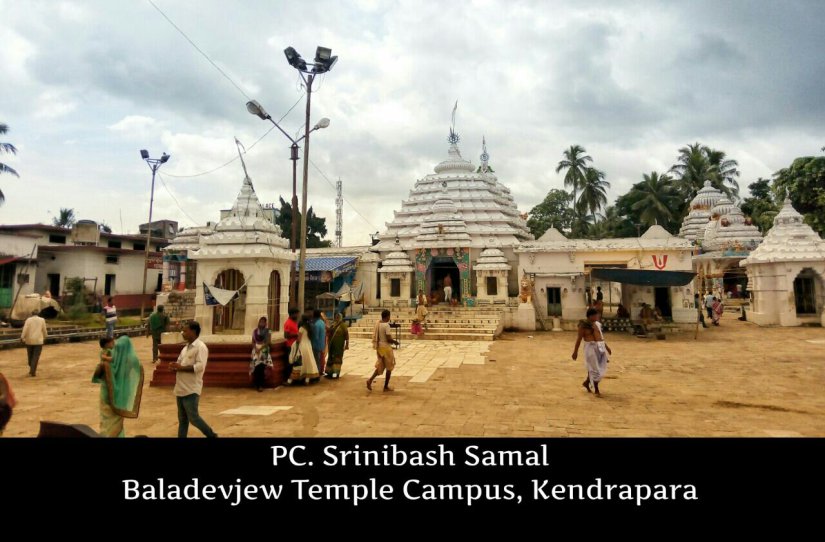 There are four main parts of Baladevjew Temple. i.e.
Bada Deula or Sri Mandir.
Majhi Mandir or Bhog Mandap.
Jagamohan or Nata Mandir.
Bata Mandir or Mukhashala
The main temple is 75 ft (23 m) hight and 40 ft (12 m) wide, Middle temple is of 40 ft, height of Jagamohana is 65 ft and of Bata Mandir is 70 ft.
The main temple has a Saptapidha style (seven layers) construction and heavy 'Baulamalia' stones are used in this construction. Within the temple complex there is a Beautiful 45 ft height Mahalakshmi Temple.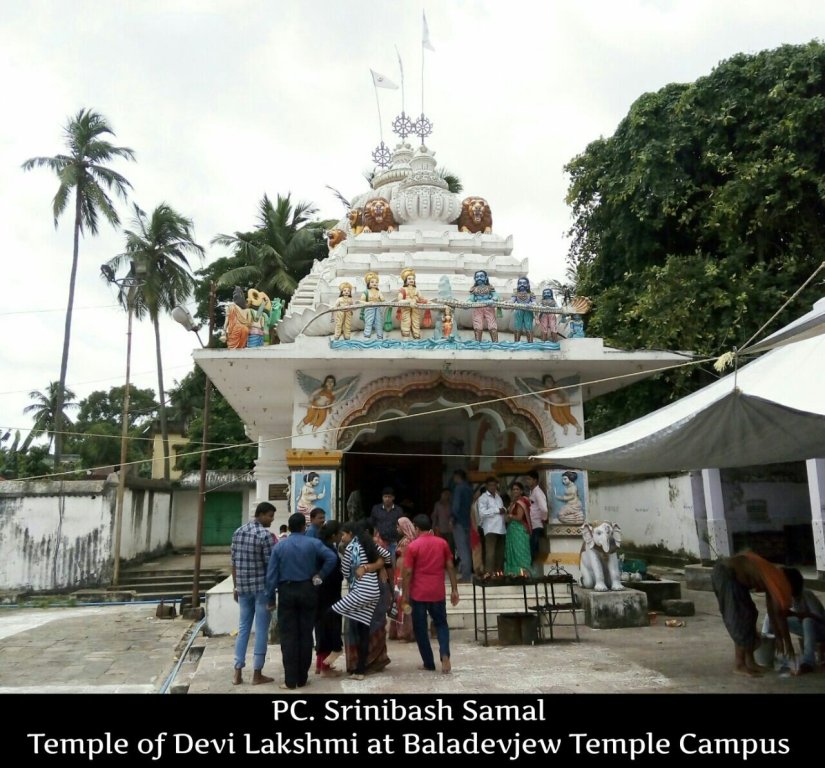 There are other small temples inside the premise, where other Gods and Goddesses are worshipped. All the temples have beautiful architecture and are constructed in traditional way.
The Flag on the main temple is known as "Brahma Chirala"or "Brahma Bana",where as the flag at the top of the 5 ft high Nilachakra is known as "Brahma Nilachakra". This place also known as Tulasi khetra, Gupta khetra, Gupta Brundabana, Sri Baladeba khetra and Manibigraha khetra.
Sri Sudarshan, Sri Govind Jew, Sri Bala Gopal and Salagram (a black pebble found in the river Ganduki) are the other idols in sanctum.
Kamadhenu, Nabagraha, Sri Ganesh, Rabati, Kali, Yama, Nrusingha, Maa Sarala, Kartikeya, Bakdevi are some of the side deities of the temple.
The other important parts of the temple are Garuda Stambha, Ratna Bhandar, Snana Mandap,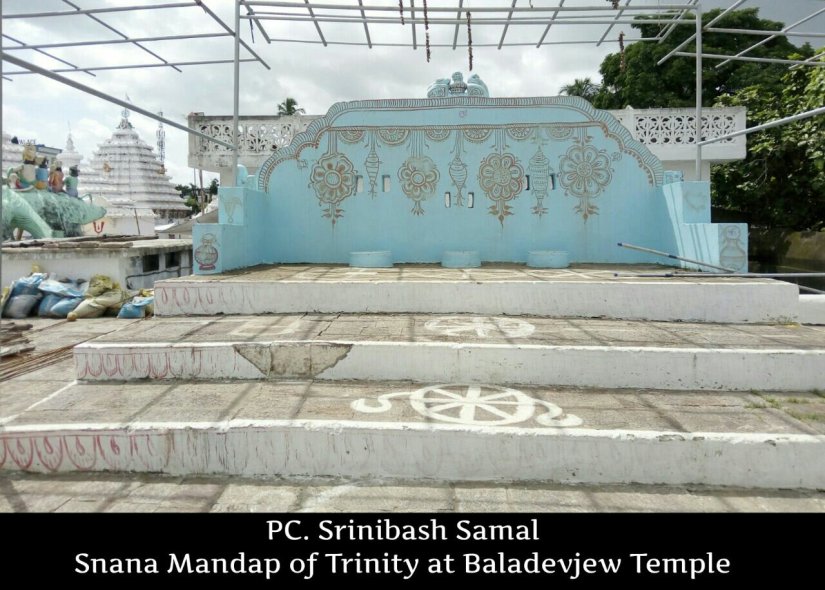 Mukti Mandap, Shakti Mandap, Jhulan Gruha, Laxmi Mandira, Anand Bazar, Bhairabi Mandir, NabaGraha Mandir, Kasi Biswonath, Astasambhu Mahadev, Gauranga and Sri Ram mandir, Sidheswar Mahadev, Mukti Mandap, Ganesh mandir & adhistatri Devi Tulasi Temple.
★ Devi Tulasi is the wife of Balabhadra.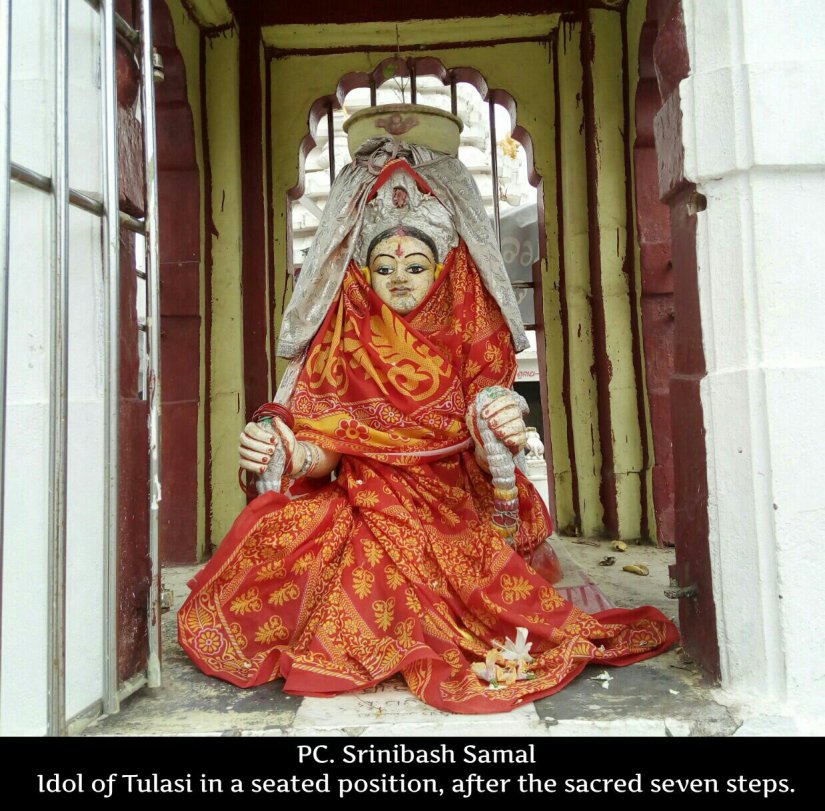 RITUALS FOLLOWED IN THE TEMPLE:
The Rituals and worship of the deities is different from other temples. This is a complete Baishnaba Khetra, Sri baladevjew param Baishnab without any Tantrik Rituals.
The deities of Lord Baladevjew, Lord Jagannath and Goddess Subhadra wear different costumes and are decorated in different ways during different important festivals. This tradition is known as Besa (alankara).
Some Divine Besa are:
Sri Raghunatha Besa on Chaitra Purnima.
Padma Besa on Kartik Purnima and Tulsi Vivah in Kartik.
Gamhabhisheka Besa – From Shraavana Sukla Dashami to Purnima, holy Srinakshatra ceremony (Birth day) of Lord Balarama.
Pushyabhisheka Besa on Pausha Purnima.
Kanchi Kaveri Besha on Basant Panchami.
Suna Besa (Bali-Bamana Besa) on Bhadrapada Dwadashi Day.
Krishna-Balarama Besa on Phalguna Purnima.
Dwibinda banara besa that was offered by Pandit Binod Behari Dash who was a famous Sanskrit scholar of Ichhapur, Kendrapada.
OFFERINGS:
There are arrangements for 3 main Naivedya offerings (Dhupa) and 5 minor offerings (Abakasha) for the deities daily.
Morning offering (Sakala Dhupa).
Offering at pre-noon (Madhhyanna Dhupa).
Rice offering (Dwiprahara Dhupa/ Anna Dhupa).
Offering at evening (Sandhya Aarati Dhupa).
Rice offering (Nisankhudi Dhupa).
Offering at night (Badasinghar Dhupa).
Different types of offerings (Prasad) are made with trained traditional families, called as 'Supakara' and 'Mekap' are engaged solely for deities. Some of the delicacies are highly patronized in different historic regimes.
A comprehensive list of the delicacies is given below:
Baula Gaintha, Upana Pitha, Mithei, Chaurashi Vyanjana (84 vegetable Curry), Makara Chaula, Bhaja, Ghia Anna, Dali, Phalamula (fruits), Dry sweets, Ghanavarta, Pura Kakara,Chipa Kakara, Karanji, Khaja, Magaja Ladoo, Dalimba, Khuduma, Nishkudi, Mutha Gaja, Tala, Chhena Chakata, Rasabali, Putuli Pitha are the famous ones.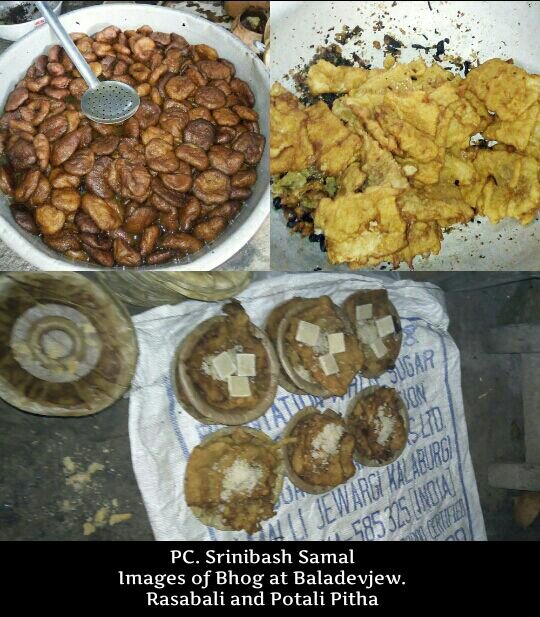 SPECIALITY OF THE TEMPLE:
Sri Baladevjew, Sri Jagannath and Devi Subhadra are not made of wood, They are "Manibigrahas" where as Sri Jagannath of Srimandir is 'Darubrahma'. So no Nabakalebara ritual held here.
★ The idols are made of Stones.
The main festival of temple is Rathajatra held as Srigundicha and Bahudajatra. The three deities with Sri Sudarshan are go for outing in a single chariot during the Car Festival. This chariot is known as "Brahma Tala Dhwaja Rath" and its height is about 65 ft. And it is said to be the biggest chariot in the world.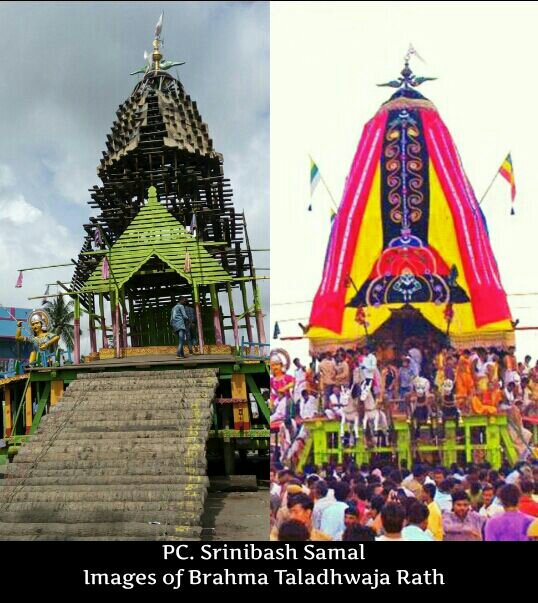 Read more from his blogs here :
History, Architecture-Constructions, Rituals & Everything about Baladevjew Temple of Kendrapara
Comments
comments