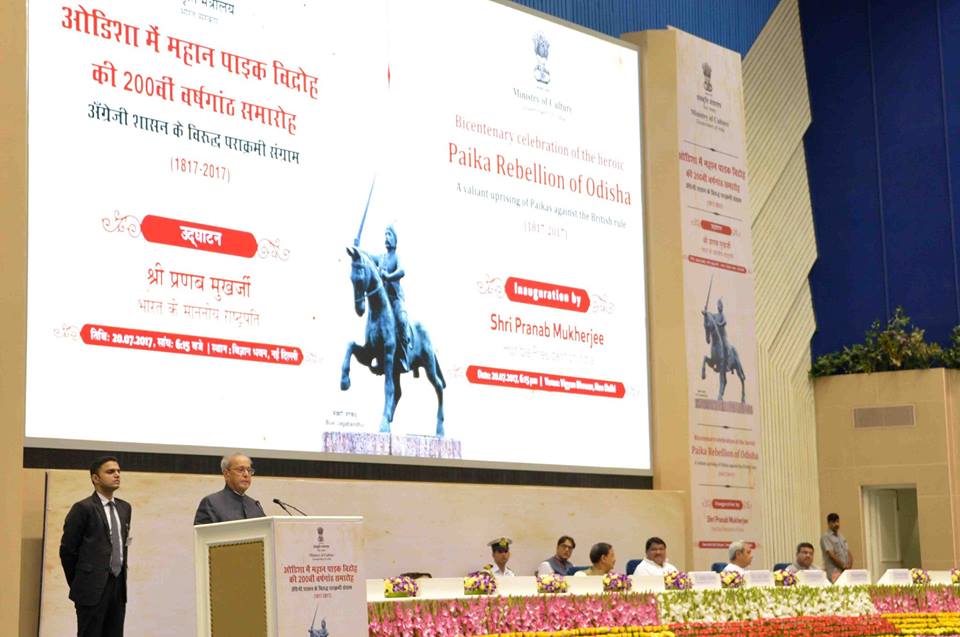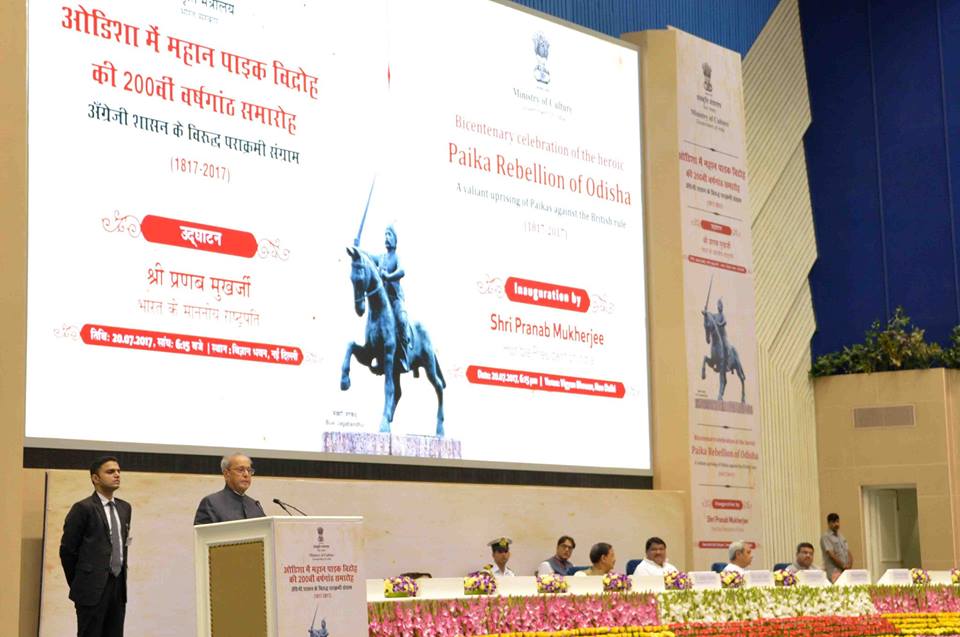 The President of India Shri Pranab Mukharjee inaugurated the "Bicentenary celebration of the heroic Paika Rebellion of Odisha, a valiant uprising of Paikas against the British rule" organised by the Ministry of Culture here today. Minister of Tribal Affairs Shri Jual Oram, Chief Minister of Odisha Shri Naveen Patnaik, Minister of State (I/C) for Petroleum and Natural Gas Shri Dharmendra Pradhan and Minister of State (I/C) for Culture and Tourism Dr. Mahesh Sharma were present at the inaugural function.
Speaking on the occasion, the President said that it was indeed a privilege for him to be present on the occasion of inauguration of year-long celebration of Bi-Centenary of the Paika Bidroha of Odisha. He congratulated the people of the country and especially those of Odisha on the occasion. He stated that 40 years before the revolt of 1857, which was later termed as 1st War of Indian Independence against British Colonialism, a battle was fought under the leadership of Baxi Jagabandhu of Odisha. Many scholars, researchers and historians have opined that the Paika Rebellion of 1817 was India's first organized armed rebellion against British Raj. He said that completion of two hundred years of this popular uprising was a special event. The legend of the heroics of Buxi Jagabandhu continues to inspire the people of Odisha. It is time, this struggle and sacrifice by a generation of Odia people got its due place in the annals of history.
The President said that the Paika uprising was in the nature of a rebellion by people of Odisha. It was aimed at upholding the rights of the Odia people and sovereignty of Odisha. Paika Rebellion was not only the rebellion of Paikas, it was a National War waged by ordinary people at the grassroots level who resented the dispossession of their Sovereign of his rights and the consequential repressive measures that followed. As we celebrate 200 years of the Paika Rebellion, it is time to remember the great history of our country and pay respect to our great heroes. Along with Buxi Jagabandu it is time to pay respects to other great warriors of Paika Bidroha who fought side by side such as Dinabandhu Samantray Mohapatra, Dama Subudhi Manjaraj, Samanta Madhaba Chandra Routray (Dalbehera of Tapanga), Pindiki Bahubalendra, Krutibas Patsani and many more heroes of Paika Bidroha.
The President congratulated the Government for recognizing this great event of our cherished history of freedom struggle. He said that the year-long celebrations should be documented for future guidance at the end of the year. He also urged historians to concentrate on indigenous source material available in folk songs and folk stories narrated over the years by one generation to another.
Read more :
President of India Inaugurates 'Bicentenary Celebration of Paika Rebellion of Odisha'
Comments
comments