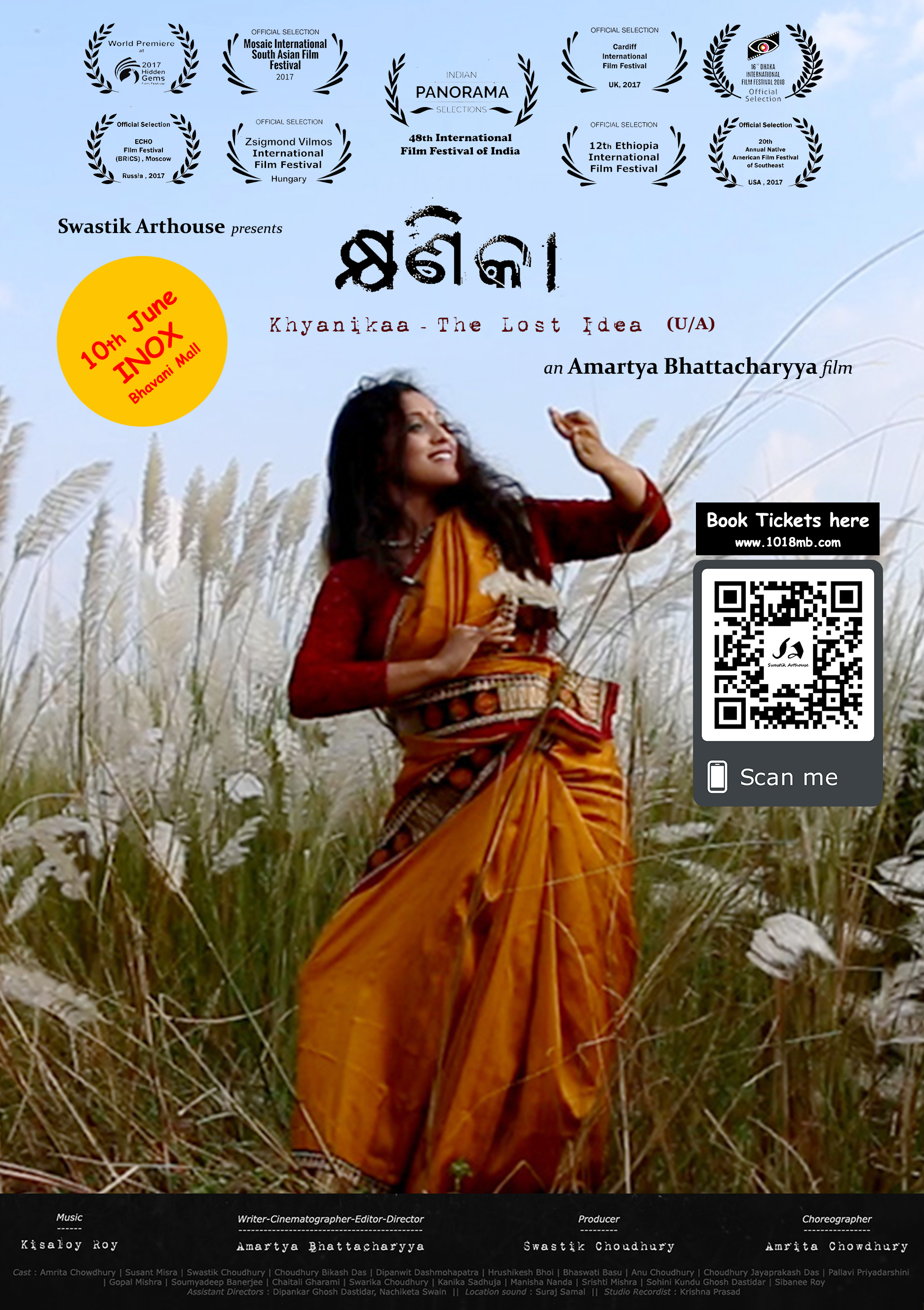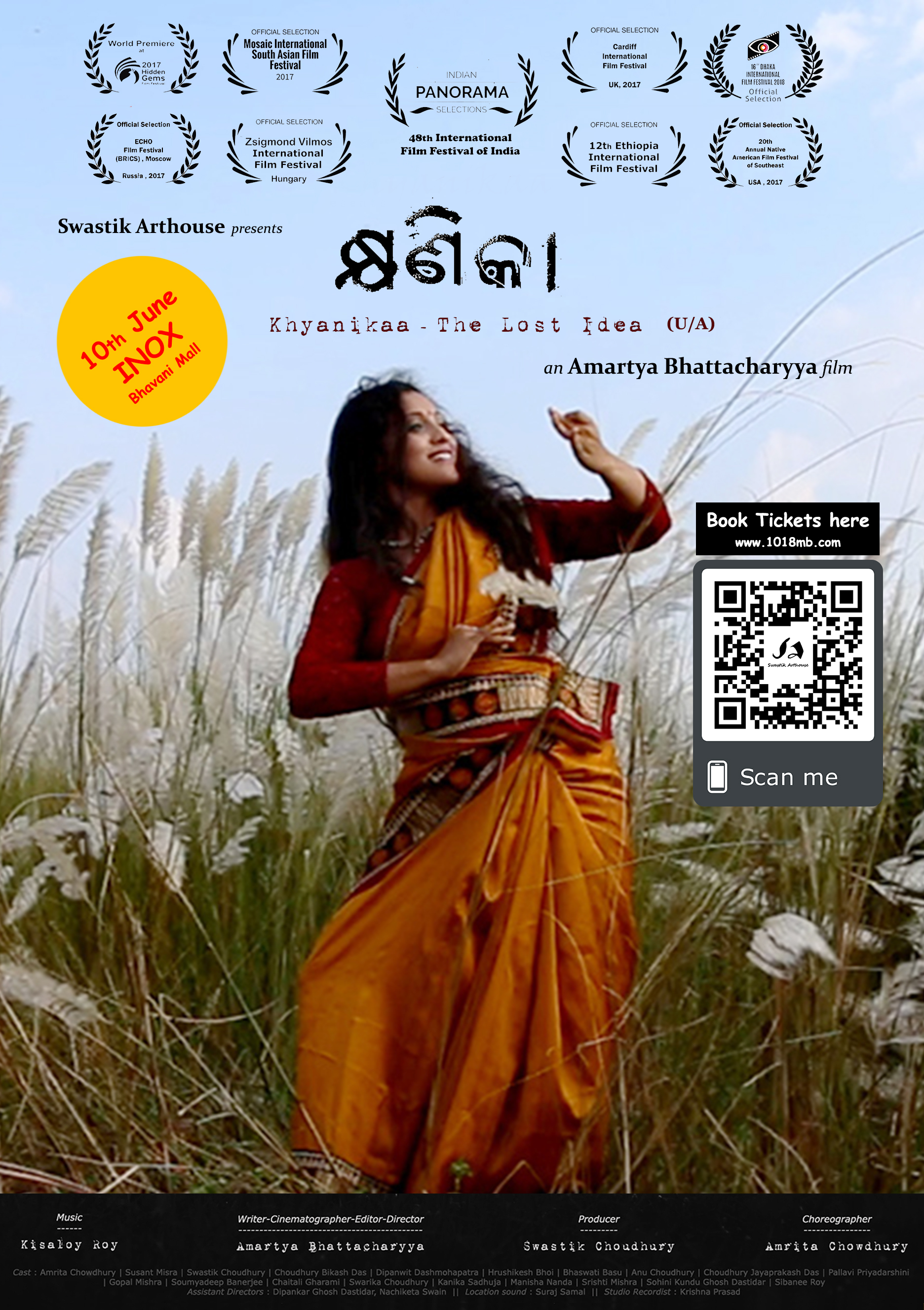 Khyanikaa – The Lost Idea has made its mark at 12 prestigious international film festivals across 8 countries. It was the only Odia film at the prestigious Indian Panorama section at 48th International Film Festival of India, Goa last year. The film was highly praised at festivals in Canada, UK, Russia and other countries. The film had also won an award at the 5th Noida International Film Festival earlier this year.
The 89 mins long feature film produced under the independent banner of Swastik Arthouse and directed by Amartya Bhattacharyya features Amrita Chowdhury as Idea, Susant Misra and Swastik Choudhury as the aspiring painters and poets. Choudhury Bikash Das plays a mad man, while Hrushikesh Bhoi (Kansha in Dhanuyatra) plays 'Fate'. Anu Choudhury appears as a guest performer. The film also involves some native villagers in its cast, who were trained to act on the location itself. The music is composed by Kisaloy Roy.
The film, being an independent film, is like a home-made piece of art where we haven't even used a post-production studio. From color grading to sound mixing, everything was done by the director Amartya himself on his home desktop. The film was shot with a DSLR camera and without any industry resources or equipment. It has been shot in and around the peripheries of Bhubaneswar and Puri.
Here is what Director Amartya Bhattacharyya had to say about the release : Though it's a great feeling when our films get recognized internationally, I still possess a lot of desire to see our films get the right kind of reception at home. Being a non-Odia by birth, my primary motive of making Odia films was to contribute to the contemporary art and culture of the state where I have met several great human beings. It can only happen if the passionate film lovers reciprocate to my films. We also have plans to release the film in other theaters across Odisha and in other Indian cities, but that will certainly depend on the kind of response we receive here. The film lovers of Odisha must make 'Khyanikaa' their own. After the film is made, it's no more my property or my producer's. The film belongs to Odisha and the people of Odisha. They must own it up.
Here is what Producer Swastik Choudhury had to say about the release : It is a great thing that critically acclaimed film "Khyanikaa" is coming to the theaters. So far a large section of people have lamented the lack of good cinema. Though the journey till the theaters have not been easy, now that the film is there, its an opportunity for all these cinema lovers to send out a strong message to distributors and exhibitors that takers for such films exist. Only then many such filmmakers will get encouraged. Only then there can be any noticeable change to the quality of cinema Odisha produces.
About the Film
The film is a fantasy driven tale of two men, a poet and a painter, claiming possession over the same Idea, in a rural village portrayed as a wonderland. Idea is personified as a beautiful young lady, free of all bondage.The two men try to justify their claim over their Idea through their forms of art.
Unable to settle the conflict, the two men approach 'Fate', personified as a big fat man of authority, to judge their claims. They soon realize that Idea is no one's possession and it isn't wise to rely on 'Fate' for a judgement. They decide to bury their 'Fate', and settle the matter in peace. Idea, portrayed as a free spirit, gets impressed by a kid who resides in an alternate world of fantasy, and decides to venture into the new creative world.The real world, with all its materialistic obsessions, rigid notions and prejudices, loses the Idea forever.
Comments
comments