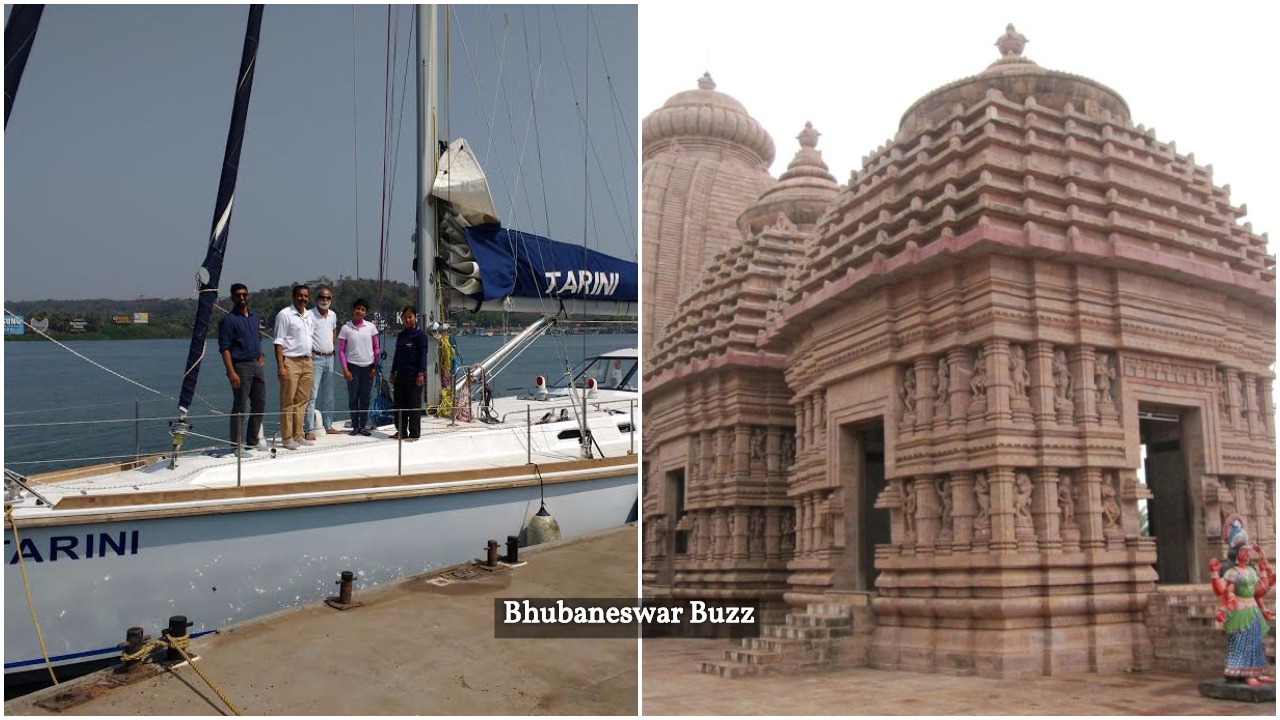 The Indian Navy's second ocean-going sailboat INSV Tarini will be inducted in Goa today.
The induction will take place at the INS Mandovi Boat Pool in presence of Indian Navy chief, Admiral Sunil Lanba.
INSV Tarini is slated to be the platform for the first Indian circumnavigation by an all-women crew of the Indian Navy.
Lieutenant Commander Vartika Joshi will command the six-member crew that will attempt the circumnavigation. The team has previously sailed INSV Mhadei to Visakhapatnam from Goa for the International Fleet Review 2016 and thereafter to Mauritius and back.
Following that, they sailed the boat on a grueling voyage to Cape Town in Dec 2016.
The other crew members are Lieutenant Commander Pratibha Jamwal, Lieutenant Aishwarya Boddapati, Lieutenant Patarapalli Swathi, Lieutenant Vijaya Devi and Lieutenant Payal Gupta.
Designed in the Netherlands, INSV Tarini is a sloop built by Aquarius Shipyard Pvt Ltd at Divar, Goa.
The hull is made of a wooden core fiberglass sandwich that performs better than aluminum and steel.
INSV Tarini carries a suite of six sails including a main sail, head sails, downwind sails and a storm sail.
The mast is 25 meters tall and has been custom-built by Southern Spars, Cape Town, for sailing in extreme conditions.
It also boasts of a Raymarine navigation suite and an array of latest satellite communication systems through which she can be contacted anywhere in the world.
"The trials of the newly built INSV Tarini were successfully completed on January 30, 2017, and all the learning experience from INSV Mhadei has been incorporated in this vessel right from the start," the statement said.
Defence Minister Manohar Parrikar laid the keel of the vessel on March 27, 2016.
"The construction was diligently overseen by the Warship Overseeing Team, Goa and the vessel is being delivered before the scheduled date of delivery by the boat builder. The successful construction of both the Mhadei and Tarini in Goa are a tribute to the Government's Make in India policy," it said.
INSV Tarini is almost identical to its predecessor, INSV Mhadei, which has sailed over 115,000 nautical miles in the past eight years.
This includes path breaking voyages like the first Indian solo circumnavigation undertaken by Captain Dilip Donde (retd) in 2009 and first solo, non-stop and unassisted circumnavigation by Commander Abhilash Tomy in 2013.
The boat draws her origin from the famous Tara-Tarini temple of Odisha's Ganjam district.
Tara-Tarini is the patron deity for sailors and merchants and is worshipped for safety and success at sea.
Tara-Tarini of Odisha is known to have historical linkages with the river Goddess Mhadei — the exclusive boat deity of Goa's Mhadei river. Both the deities have sculptural similarities.
IANS
Did you know Bhubaneswar Buzz is only portal covering Odisha to have more than 23,000 followers (consistent) in top 3 Social media platforms i.e. Facebook,Twitter and Instagram
Bhubaneswar Buzz is available in 10 social media channels, check out all of them here
Did you know Odisha is first in India to host Asian Surf Championship
Like Us in Facebook to get more content like this
Comments
comments