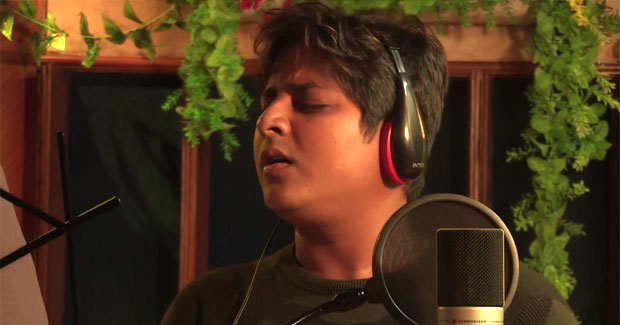 Music is in the ear of him who hears,
As beauty in the eyes of him who sees… [Florence Percy]
Yet, can we take away the inherent credit either from a beautiful flower or from a gifted musician? Never.
It is not common to find people who can switch between two roles – actor and singer, and yet do fair justice to both.
Babushan
from the Odia film industry known as Ollywood is such a gifted artist. Born to the hit pair of Odia superstars of yesteryears, 
Uttam Mohanty
 and 
Aparajita Mohanty
, Babushan inherits his acting skills. Of course, the finesse comes only with exposure and experience.
Babushan the singer to me is far superior to Babushan the actor, judged on the same scale. And I don't think there can be a different view at all. He is trained in classical music, and perhaps that keeps his singing a notch higher than his acting.
After listening to the mesmerizing, musical scores that he has so far sung, I strongly feel I can listen to him for a long time with a shuffle playlist of his songs alone.
I am not sure whether he is lucky or picky, but most of the time the lyrics of the songs he sings are also meaningful. They tell you a tale of love or a love lost. They make you wonder by their word choice. For instance, follow the lyrics of his song "
ତୁ ଧୀରେ ଧୀରେ ଚାଲ ରେ ସମୟ…

(Tu dheere dheere chaal re samaya)
" from 
Chocolate
 (2011):
ମିଠା ମିଠା ଛୁଆଁ ରେ ଝରେ ମୋତି ଚୁନା ଚୁନା
Mithaa mithaa chhuan re jhare moti chunaa chunaa
Your tender touch brings in a shower of pearls
ଭିଜି ଯାଏ ମନ ମୋର ଆଖି ହୁଏ ଆନମନା
Bhiji jae mana mora aakhi hue aanamana
My mind gets drenched, eyes alter their path
ଇଛା ପୁଣି ଏଇ ସ୍ମୃତି ରଖିବି ମୁଁ ସାଇତି
Ichhaa puni ei smruti rakhibi mun saaiti
Wish I'll treasure this memory
ଜିଇ
ଯିବି
କିଛି ଦିନ ଆଉ କିଛି ରାତି
Jii jibi kichhi dina aau kichhi raati
'll live more – a few days more, a few nights more
ସ୍ବପ୍ନ କାଳେ
ସରିଯିବ ଲାଗେ ଭାରି ଭୟ
Swapna kaale sarijiba laage bhaari bhaya
Lest my dreams would end, I fear
Tu dheere dheere chaal re samaya …
Beseech you Time to run slow, really slow …
Is that any less than a poignant poem? I don't think so. Such lyrics often elevate you to a different plane, beyond the actors that you see lip-syncing those lyrics. The soft voice, with measured breaths complementing his throw, add to the music, thus enriching your musical experience.
Now let's see some of his songs that I am in love with.
It's only deserving that he has won the Best Singer award two times, in 2011 (for Prema Adhei Akshara) and in 2013 (for Love Master).
There are many who do not admire his use of Hindi words mostly in the mukhdas of his songs. An ardent fan that I am of him (after Sonu Nigam), I do not have any reservations on that. For me, music itself is a language and anything lyrical, and not offensive, can soothe me to sleep or swoon into a trance.
I strongly wish Babushan would someday come up with a music album of his songs with lyrics by his choicest lyricists.
A painter paints pictures on canvas. But musicians paint their pictures on silence. [Leopold Stokowski] How true!
Comments
comments