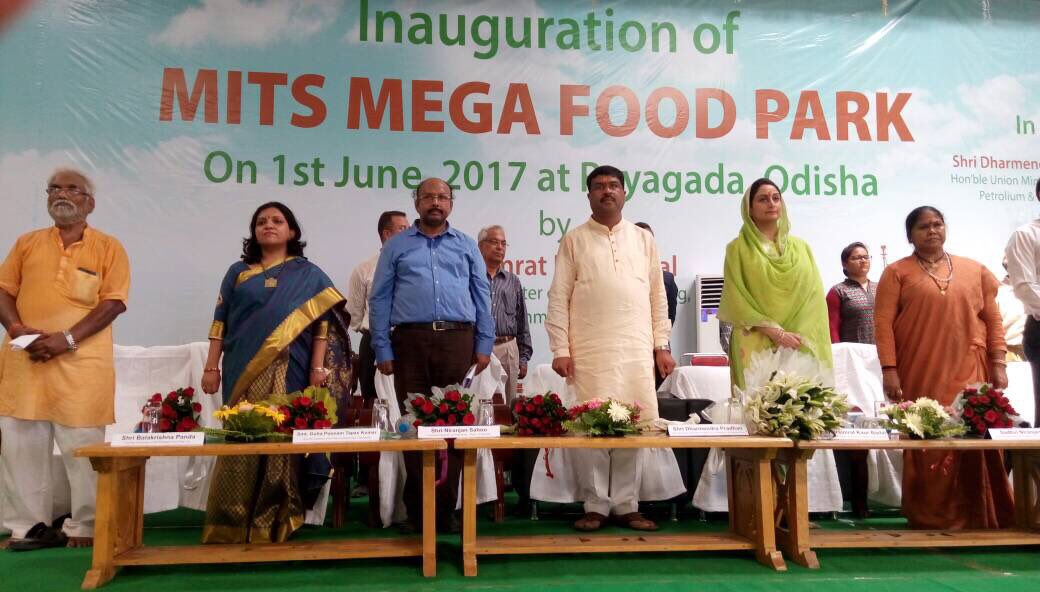 The first Mega Food Park in the state of Odisha M/s MITS Mega Food Park Pvt. Ltd. at Rayagada has been inaugurated today the 1st June, 2017 by Smt. Harsimrat Kaur Badal, Honble Minister of Food Processing Industries. This is the 7th Mega Food Park operationalized in the last 3 years by the present government.
On this occasion Shri Dharmendra Pradhan, Honble MoS (I/C) of Petroleum & Natural Gas and Sadhvi Niranjan Jyoti, Hon'ble MoS (Food Processing Industries), Government of India, were also present.
Speaking on the occasion Honble Minister said that under the Visionary guidance of Honble Prime Minister Shri Narendra Modi, Ministry of Food Processing Industries is focusing on boosting the food processing industry so that agriculture sector grows exponentially and become a major contributor to doubling the farmers income and Make In India initiative of the government.
To give a major boost to the food processing sector by adding value and reducing food wastage at each stage of the supply chain with particular focus on perishables, Ministry of Food Processing Industries is implementing Mega Food Park Scheme in the country. Mega Food Parks create modern infrastructure facilities for food processing along the value chain from farm to market with strong forward and backward linkages through a cluster based approach. Common facilities and enabling infrastructure is created at Central Processing Centre and facilities for primary processing and storage is created near the farm in the form of Primary Processing Centers (PPCs) and Collection Centers (CCs).
Under the Scheme, Government of India provides financial assistance upto Rs. 50.00 Crore per Mega Food Park project.
Speaking on the occasion Smt. Badal said that the Mega Food Park has been set up in 50.05 acre of land at the cost of Rs. 80.17crore. Government of India has provided a financial assistance of Rs. 50.00 Crore to the project. The food park is having facilities of fully operational industrial sheds for SMEs, developed industrial plots for lease to food processing units, Rice Processing Complex of 12 TPH, Dry Ware-House of 10,000 MT, Cold Store of 2500 MT, Multi Fruit Processing facility and other food processing facilities etc. The Park also has a common administrative building for office and other uses by the entrepreneurs and 6 Primary Processing Centres (PPCs) at Kashipur, Padampur, Umerkote, Koraput, Digapahandi and Khordha having facilities for primary processing and storage near the farms.
Comments
comments