Festivals bring with them loads of fun, merry-making and waves of nostalgia. Each of them pragmatic with an interesting story traced back to ancient times. One such festivity celebrated by Odias is Khudurukuni Osha also known as Bhalukuni Osha. It is mainly observed in the coastal districts of Odisha during the month of Bhadraba (Aug-Sept) on Sundays after the Gahma Purnima (Full moon day of Shravana).
During this festival Goddess Mangala is worshipped by young girls primarily who seek the safety, prosperity and good health of their brothers. This portrays the sanctity and beauty of the relationship between Brother and Sister.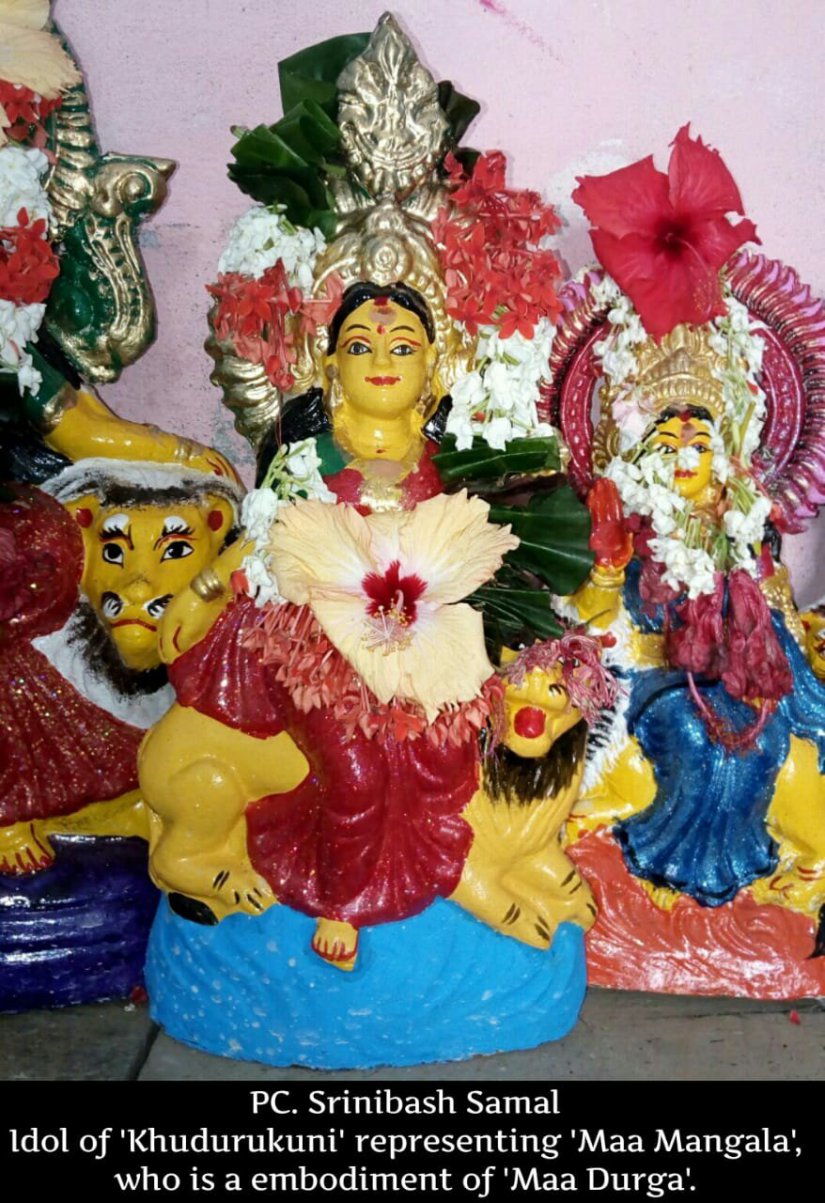 Modern day celebrations of Khudurukuni Osha include young girls waking up early in the morning and collecting various flowers. After taking bath, they pray to the Sun by making small mounts called B(h)aluka of clay or sand on the banks of ponds or rivers and decorating it with turmeric powder, vermilion and all types of flowers even like vegetables flowers (cucumber flower, ridge gourd flower etc.)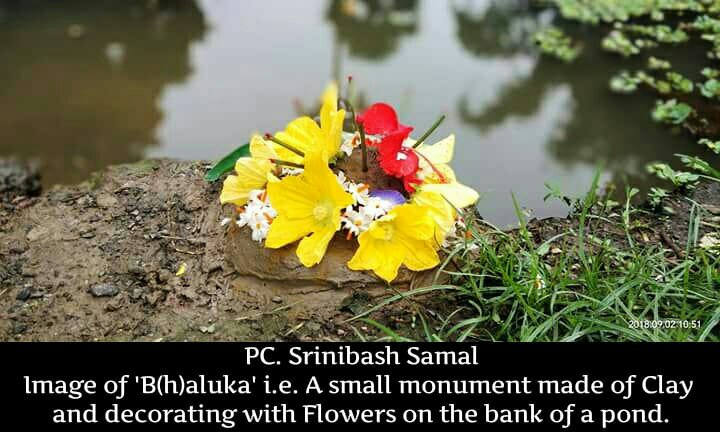 In some regions, the place where the paddy is pounded in a village is cleaned and smeared with cow dung.
Thereafter they sit down to stitch massive garlands for the Goddess. Alpanas or Jhotis designs are drawn on the floor. Then idol of the Goddess is installed and the worship and rituals begin in the evening.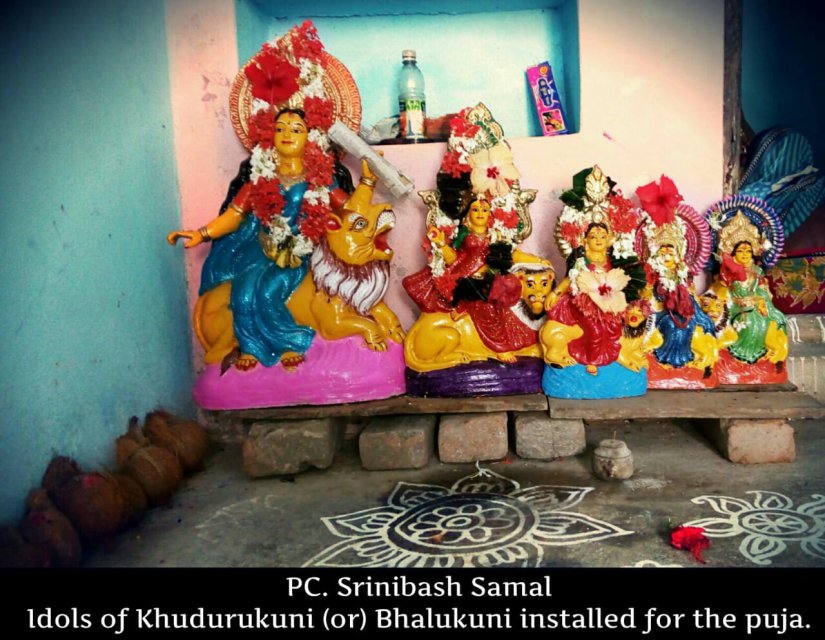 The prime offerings are:
Khuda Bhaja (Broken Rice)hence the name Khudurukuni. Ukhuda (fried paddy sweetened with molasses), Chuda (flattened paddy), Kanti Kakudi (a type of thorny Cucumber), Lia (fried paddy), Mishri (Sugar candy), Coconut and all types of fruits.
★ The word Khudurukuni was came from the word Khuda-Rankuni (ଖୁଦ ରଙ୍କୁଣୀ). Khudurukuni means one who is very eager for khuda.
It is said that the young girl Tapoi survived on Khuda after her brothers left. She was given nothing else to eat.
During the Puja, episodes from the life of Tapoi is sung by the girls.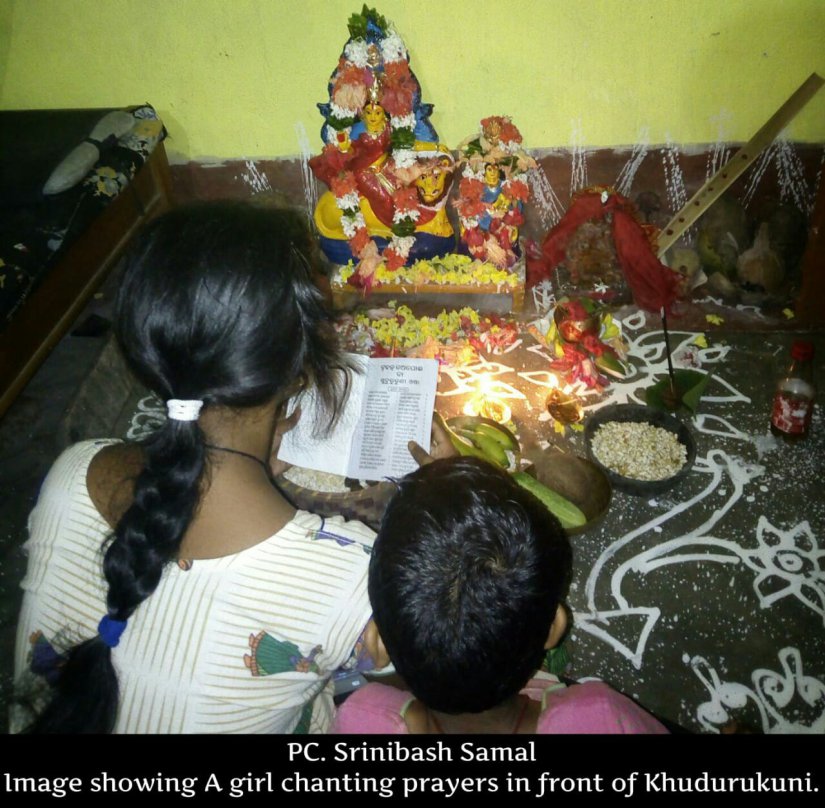 The first episode narrates the story of Goddess Durga defeating Demon Mahishasura. The second episode is the story of the young girl Tapoi who was mistreated by her sisters-in-laws when her sailor brothers were away. But according to the book, "Khudurukuni e atai, Jaha magiba taha pai". It means: "Goddess Khudurukuni can fulfill all your wishes".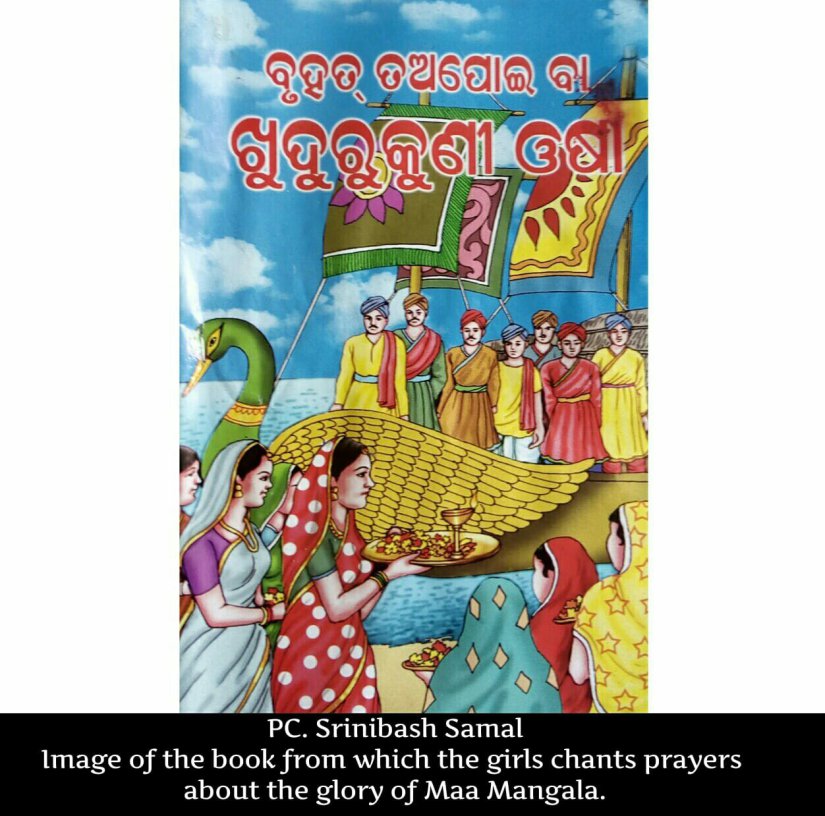 This festival's rituals are based on the legend of a young girl named Tapoi. She had to undergo sufferings in the hands of her sister-in-laws (except the youngest one) when her brothers were on a sea journey. Therefore there is a belief that the ritual is observed by women for the safe return of their relatives especially brothers who venture into the sea.
The Story:
It is believed that in early days traders from Odisha travelled far and wide (mostly to Java and Sumatra Islands) in ships (Boitas) to do business. Their family members used to bid them adieu and pray for their good health and safe home–coming.
The name "Tapoi" is prevalent in this festivity and this is how her story goes. Tapoi was the only and the youngest sister to her seven brothers. They belonged to a rich trader family. Being the only sister she was loved and pampered by her parents and all brothers and their wives alike. All her demands were fulfilled in no time. Once she demanded a golden moon (a moon shaped ornament made of gold), to which her family obliged despite few hiccups. By the completion of the golden moon, both her parents died. Thereafter, the family's financial condition worsened a lot and when the time of maritime voyages arrived, all the seven brothers went out for trading cautioning their wives to take good care of their sister, Tapoi.
However influenced by the fallacious ideas of a Brahmin widow, all her sister-in-laws barring the youngest one started ill-treating Tapoi. Despite being treated very badly and inhumanly, Tapoi patiently waited for her brothers to return. But it was only her youngest sister-in-law who was affectionate and supportive towards Tapoi.
Treated in an ill mannered way, Tapoi while wandering one day saw some girls worshipping Maa Mangala. By getting aware of her distress, the young girls said Tapoi that if she wants to get respite from all her sufferings and seek the safe return of her brothers, then she must pray devotedly and seek blessings of Maa Mangala. She was also advised by them to fast on those particular Sundays. She offered Khuda to the Goddess as she had nothing else to offer.
Soon her prayers were answered and her brothers returned. On knowing their sisters' plight, all these brothers unanimously decided to teach their wives a lesson. The brothers decked up Tapoi as a goddess and therafter the wives were informed to visit the ships and welcome their husbands back home. Tapoi then avenged her sufferings by cutting each of the wives' nose except for the youngest one.
Since then Goddess Mangala is worshipped by all young girls during the Khudurukuni Osha or Bhalukuni Osha for the well-being of their brothers.
Watch Here The Story As Song By Namita Agrawal
Khudurukuni Osha: Followed Rituals and Story on It
Comments
comments