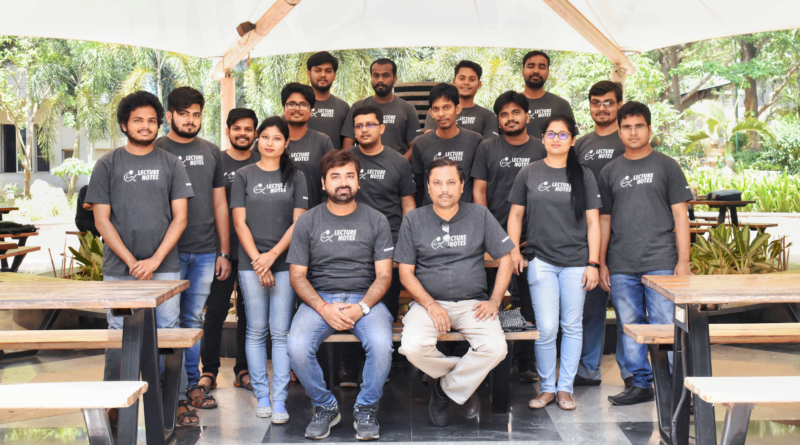 The gap between a child shouting answers from the front bench and a child sitting confused behind, the gap between a college with a multi-storey library and students who can't even afford textbooks and the gap between a child who goes to school and a child who doesn't have school miles and miles from his home.
LectureNotes was conceived with the vision of filling in these gaps by creating a global community of scholars to facilitate the sharing of knowledge and resources and sparking discourses on the various bodies of knowledge.
1. Hey Ayush, LectureNotes, the name sounds fantastic. How did you come up with the Idea?
The idea started back in 2011 when I was a student in my 2nd year, and faced the issue of getting notes for classes that I missed during my Internship at IIT Bombay. It started there, but then I realized why to write notes when we can listen to the teacher, discuss the concepts and get a deeper understanding of the subject and notes can be shared via an online platform, and hence the Idea about LectureNotes came into my mind.
2. Amazing to hear that, how many students and teachers do use LectureNotes? And what they do on the platform?
We have been loved by students and teachers both and till now we have on-boarded over 20000(twenty thousand) teachers and over 10 lakh(1 Million) students on the platform. Students spend over 17 minutes on-an-average on the platform, and that delights us.
On the platform, teachers come online to share their notes, which goes with their academic profile and students from various colleges, not just their own can find them and use their notes to learn. Many times students and teachers get connected through the platform and start working together. Teachers have also connected with other teachers, found job opportunities on the platform and much more have been happening.
3. What is your long term vision, your goals at LectureNotes?
We want to bring together a community of intellectuals that engage in revolutionary discussion, collaborate to create and share content to help the masses learn better. We want LectureNotes to become an enabler, a catalyst to help teachers, students and people in education to improve engagement in education. Our ultimate goal to make quality education reachable to masses keeping in mind the affordability of the solution.
4. LectureNotes currently allows sharing of notes, Are you planning to add more services on the platform?
We started with the platform for teachers to be able to share notes with their students but now we believe LectureNotes can do much more than just sharing notes. We are coming up with a solution that our users started asking for while using our services. We are adding services like Ask@LectureNotes to help students ask questions and get doubts cleared. We are heavily investing in Data Science to improve reporting and recommending students on their strengths and weaknesses. You will see major changes on the platform real soon.
5. Wow, But that must need a lot of manpower, How many members are there in your team now?
Like every other startup, we started from a 1 BHK flat and grew organically with time. Now we have 24 full-time members in our team. Most of us are young and enthusiastic about solving a real problem. Amazingly a lot of our team members have faced the same issue during their studies and resonates with the problem themselves, hence making a better product for the world.
6. You mentioned about a million users, where are they from?
We started small, but since there is a real need for the solution, now we have users from over 11 countries which includes the likes of Nepal, Pakistan and other English speaking African nations. In India, we have users from over 21 states, and mostly from the Southern part of the nation topping the charts are Tamil Nadu and Karnataka.
7. Most of the platform looks open and free, how do you make money? and what are your plans for Monetization?
We have kept most of the platform for free for our goal to create a product for the masses and reach the most number of students and teachers. Current sources of revenues are from Display Advertisements and Customer payments where users pay to download the notes.
We are working to create a Freemium platform where the monetization will be done only with the premium contents, and add-on services.
8. What makes you proud of LectureNotes?
For any founder, the proudest moments are when they receive good customer feedback. My moment was when I got a mail from a teacher from Beykent University, Turkey requesting access to his students. This made me feel what is the power of the platform and what kind of impact we can make on a global scale.
9. Why should a Teacher upload his contents at LectureNotes? What benefits do they get?
LectureNotes is designed to be a community-driven platform, and teachers have already uploaded over 20 lakh pages of content on the platform. When a teacher registers on the platform, his complete academic profile is created online where he can add everything from his achievement to work and educational details. This helps him get popular among students, teachers and also have attracted job opportunities for many.
Apart from this, uploading at LectureNotes also get them point at UGC approved Academic Performance Indicator(API) which is given priority in most academic job application these days.
And whenever LectureNotes receives payment for a service, a part of it is shared with the teacher(s).
10. Do you have any program for students who want to be a part of your team or want to learn skills during studies?
We are actively running LECTURENOTES CAMPUS AMBASSADOR Program where a student is trained with various skills including Communication, digital marketing, public speaking etc which they use to help create awareness about LectureNotes and its services in their colleges and universities. This 45-day program grooms a student to make him ready to face any questions and boost his confidence and giving him opportunities to earn decent pocket money.
A student can apply to become an ambassador by visiting https://lecturenotes.in/campus-ambassador.
11. What challenges did you face while building LectureNotes?
Building a startup in India is not as easy as it seems, especially when you are operating from a TIER 2 city and do not have access to big funds. The primary challenge was to find like-minded people to join the team and work towards the common goal. We are still looking for people who want to make a dent and improve the education system to join our team and help us create a healthy and progressive community of people in education, making quality education available to the masses.
12. Running a startup must be hard, how do you handle work pressure?
If it was easy it wouldn't be this fun. Running a startup is stressful and at times takes a toll on your health. To release the pressure I play Age of Empires, a PC strategy game that not only makes me feel better but also taught me the importance of resources.
13. A lot of people want to start, what do you think we all should know before jumping into entrepreneurship?
You need to keep your focus straight and make sure to understand the priorities of different activities. Many times other ideas will look easier and better, but that will just distract you from your original goal. Always remember why you started and keep your head straight towards the goal.
Comments
comments