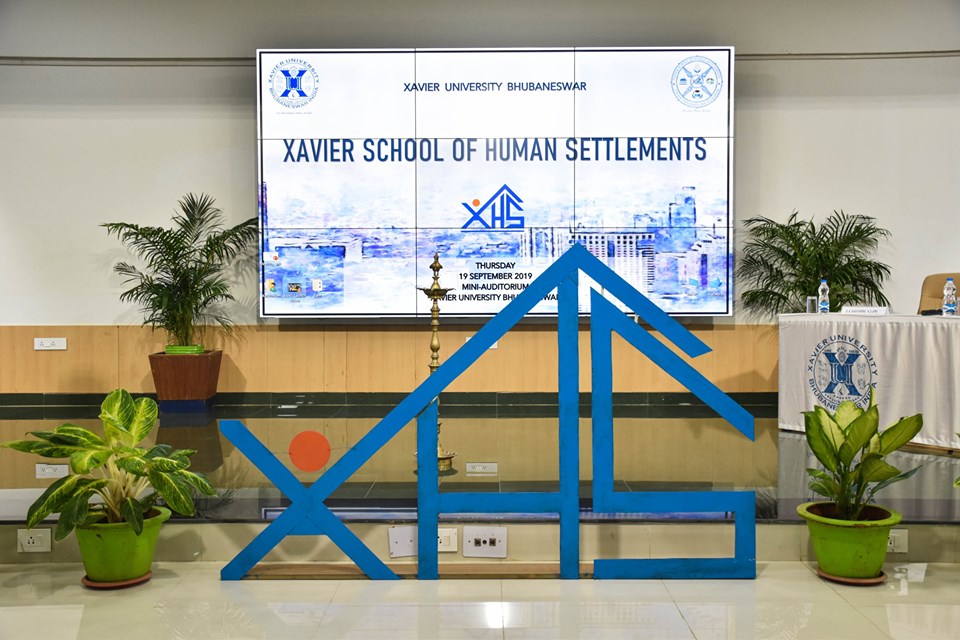 Xavier School of Human Settlements (XAHS) was launched under Xavier University, Bhubaneswar on September 19, 2019 that would offer postgraduate programs in urban management and governance as well as doctoral programs in urban planning and management.
The launch was graced by the presence of industry veterans and faculty members alike. Prof. Kajri Mishra (Dean, Xavier School of Human Settlements) addressed the students on the journey of XAHS with a stimulating video and cited the integral contribution made by several other people and organizations. The beginning of a new journey was marked with the lighting of the lamp by Dr. Fr. E.A Augustine, S.J (Registrar, XUB), Prof. Kajri Misra (Dean, Xavier School of Human Settlements) and other distinguished guests. It was followed by the ceremonial release of the school brochure by Mr. Om Prakash Mathur (Senior Fellow & Head Urban Studies, Institute of Social Sciences, New Delhi) and other esteemed guests.
Mr. Om Prakash Mathur while delivering a keynote address, focused on developing and transferring knowledge about building sustainable, liveable and inclusive cities, and communities. He also said that "If the objective of knowledge is created, then this new addition of subjects could do wonders". The session was followed by a thought-provoking question and answer session adding value to the discourse.
XAHS endeavors to achieve the social transformation it envisions, by building the professional capabilities of the state, civil society, corporate initiatives, institutions, and organizations engaged in working towards progressive socio-economic change. To talk about it more explicitly a lively panel discussion took place with several industry veterans. Dr. Dinesh Mehta (Former Director, UN-Habitat) was the moderator for the discussion. The other panelists were Dr. Sudhir Krishna, (Former Secretary, Urban Development and Former Chairman, Fifth Delhi Finance Commission, Govt. India), Mr. Dev Bhattacharya (Group Executive President and Business Head, New Ventures, Aditya Birla Group), Mr. Shankar Arumugham (Chief Operating Officer Strategic Consulting, JLL India, Sri Lanka, Bangladesh & Nepal), Mr. Shrinivas Kowligi (Partner, Ernst & Young) and Mr. Suvendu Mishra (Directorate Town Planning) also joined the discussion.
 Mr. Mehta emphasized on increasing the interaction with people around them to understand how, with the increasing population, the challenges faced by people differ from one another. Mr. Krishna sensitized the need for amalgamating the bits and pieces from everywhere to build a place where every central and state government could have the ownership of managing the cities with a sustainable approach. Mr. Bhattacharya elaborated on how the current urban city management is damaging land, water and the overall quality of life and how one could work on it. Mr. Arumugham gave an overview of e-transportation and mobility concerning smart cities and enlightened the students about the increase in the number of start-ups in this field. He also advised them to always have the vision of being an entrepreneur. Mr. Kowligi, while talking about the course pattern, threw some light upon the importance of bridging the gap between theory and practice to ensure that a multidimensional skillset is possessed by the future managers.
Mr. Mishra stressed the need to be a decision-maker instead of being a follower and also advised on incorporating town planning as a mandatory course in the syllabus. Alumnus from the first batch (2016-18) of Xavier School of Human Settlements (XAHS), Ms. Siddhi Dubey (Assistant Manager, Bhubaneswar Smart Cities Pvt. Ltd.) and Ms. Sikil Mishra (Assistant Manager, Sanitation Management, Ernst and Young) also attended the event. They described their journey and explained how students and those around them would be affected by what they absorb today.
Thereafter, the honorable panelists were felicitated with a token of gratitude. Ms. Tanaya Deshpande (Student, XAHS) and Mr. Sarthak Sarangi (Student, XAHS) were bestowed with a certificate of appreciation for designing the logo for the school by Mr. Durga Prasad Duvuri (Independent Management Consultant). The launch concluded with a vote of thanks by Prof. Tatagatha Chatterji (Professor, XAHS). It was a moment of pride and happiness when the result of the commitment to excellence, focused effort, and intelligent planning finally paid off.
ABOUT XUB
Xavier University, Bhubaneswar (XUB) was established in accordance with the Xavier University Act, 2013 and was inaugurated on July 07, 2014. XUB is a self-financing institution and is India's first digital university for imparting professional and technical education. XUB has 13 schools that offer world-class education in different fields. The post-graduation programs are offered by Xavier Institute of Management (XIMB), Xavier School of Human Resource Management (XAHR), erstwhile XIMB-HRM, Xavier School of Rural Management (XSRM), erstwhile XIMB-RM, Xavier School of Commerce (XSC), Xavier School of Sustainability (XSOS), and Xavier School of Human Settlements (XAHS). XUB also offers undergraduate programs under various schools including The Xavier Emlyon Business School, Xavier School of Communications (XCOMM), Xavier School of Economics (XSE), Xavier School of Computer Science and Engineering (XCOMP), Xavier Law School (XLS), Xavier Centre for Humanities and Compassion Studies, and School of Government and Public Affairs (SGPA).
Comments
comments