Here is an interview with Yosha Gupta of Meraki :
Meraki is India's first folk arts focussed, artisanal fashion brand. This is an attempt to take India's rich folk arts to the world using fashion as a medium starting with bags. These bags are hand-painted by Indian folk artists across villages and cities in India e.g.we are also working with women artist groups in Bihar for Madhubani art, pattachitra artists from Raghurajpur, Kangra Art, Gond, Warli – we are already working with more than 40 artists across the country and especially a number of Pattachitra asrtists like Damodar Fateh Singh, Bijay Parinda, Apindra Swain, Sahajan, Ravinder Behera and more.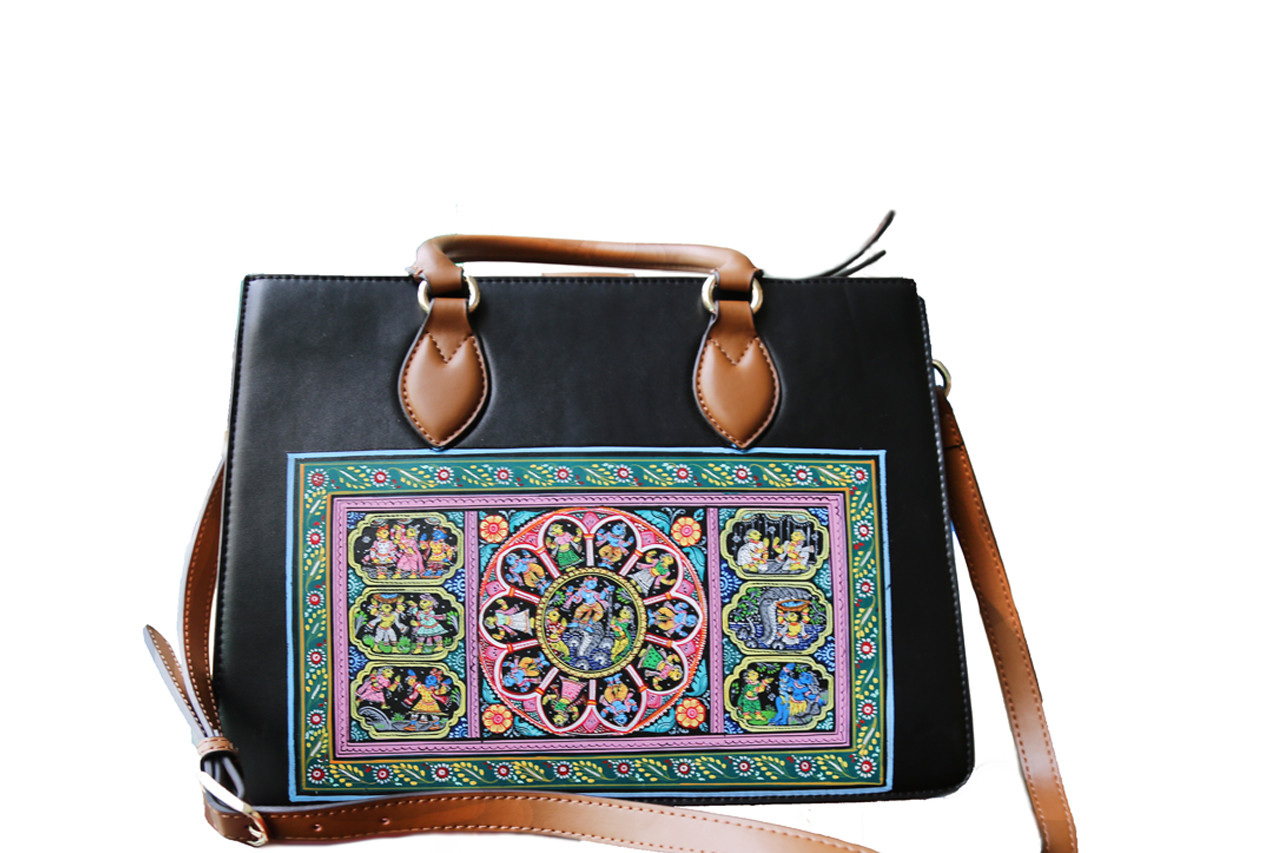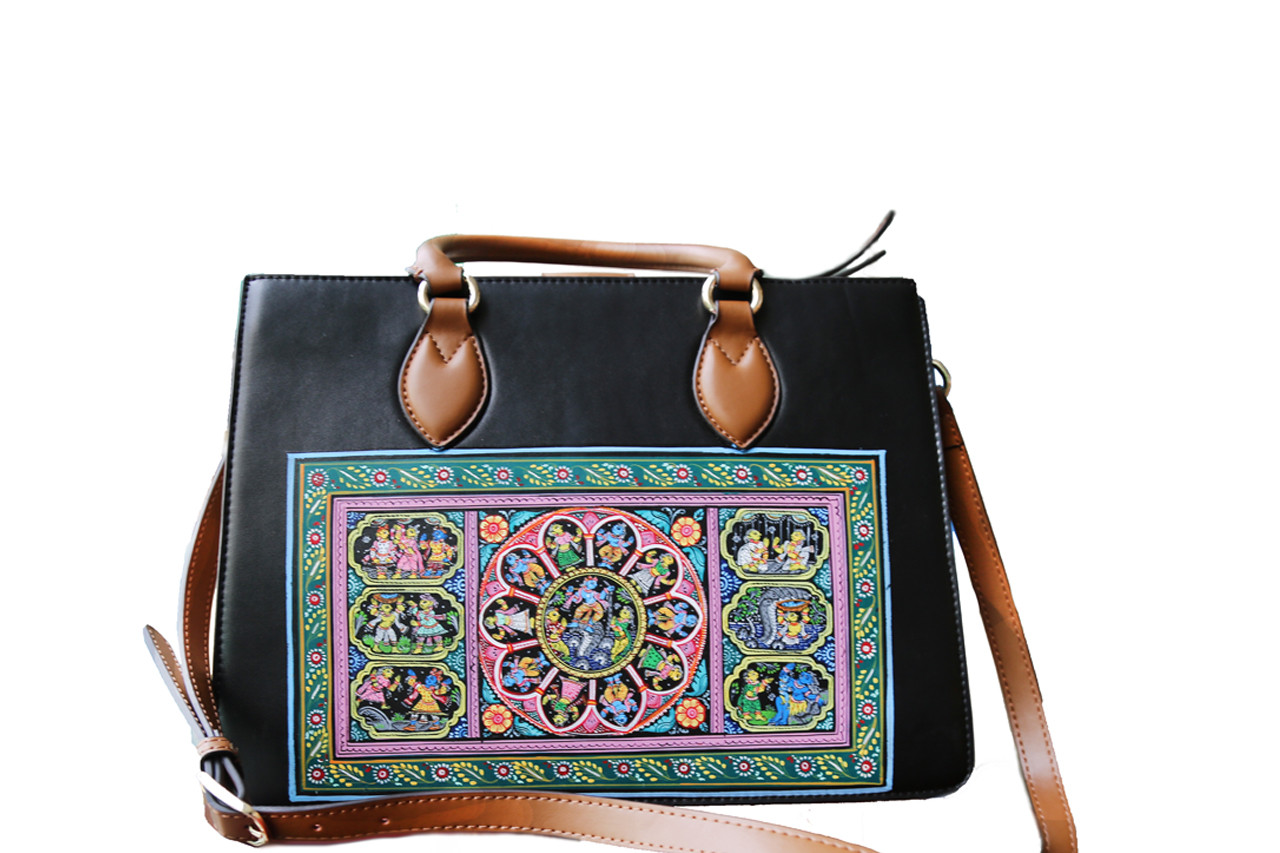 Tell us a little about yourself
I belong to a small town from India, Aligarh and have studied in multiple places – in Jaipur, Maharani Gayatri Devi School, undergrad in Economics at Lady Shriram College, post grad at MDI Gurgaon (with an exchange programme in HHL Germany) and at HKUST in Hong Kong. Growing up in Aligarh, my main exposure to the arts was through my mother, she was a fabulous artist and had evolved a style of her own with charcoal paintings of Khajuraho. My family is full of entrepreneurs. My father started a new business at the age of 60 and worked very hard to make a success of it and I couldn't be more proud of him. My brother is a very successful entrepreneur and has always pushed and inspired me. My aunt in Aligarh was one of the first female doctors there to run her own practice and started the biggest hospital in Aligarh at a time when working women were frowned upon. My great grandfather started the city's biggest girl's college, Tikaram College where 12,000 girls study every year. The values of hard work and resilience are ingrained deep in me because of each one of them.How did you come up with the idea of Meraki
I have spent 10 years in the FinTech industry and worked across Asia (India, Hong Kong, Indonesia, China, Vietnam, Philippines, Myanmar) with my most recent role being a Financial Inclusion Consultant with the International Finance Corporation, World Bank Group and also the founder of LafaLafa, a coupons and cashback startup backed by 500 Startups and Vectr Ventures. Starting Meraki was not a conscious move or pivot as such, it was a pure passion project from the heart which took a life of its own and evolved into a business. Art has always been a very big part of my life whether it be performing arts, fine arts or the folk arts. I have been organizing Indian classical events in Hong Kong for the last 8 years that I have been living here as part of a volunteer organization which have been attended by thousands of art aficionados purely for the love of arts and have long standing deep relationships with all the artists I have worked with.
In fact, I loved folk arts so much that everything right from my clothes, jewelry, my own bags, the furniture in our house are all handpainted by Indian folk artists. Over the last couple of years a lot of people started asking me where they could get bags like mine from, what especially made a huge statement was when I got a Gucci handbag handpainted by our Madhubani artist Ranjeet Jha, everyone just loved it and it was obvious that there's a market for this. The rest then followed- and the business took a life of its own.
What problem does your startup solve?
Artisans and artists face a number of challenges – art and craft is really undervalued in our country and everyone has a mentality to haggle down the prices thinking that these are 'unbranded' products. Creating the 'artisanal' high end positioning is key, in countries like France, artisanal products are really highly valued and considered to be a part of the luxury segment, that's where I feel more companies like us that start focusing on each particular craft or art and introduce quality measures to create higher end products and good branding is a big problem being solved. It is also important to keep the younger generating learning these art forms and to that end we have also launched a crowdfunding campaign (https://nextchapter.com.hk/campaign/meraki-artisanal-luxury-bags) to help fund an art school in Madhubani region in Bihar in partnership with an NGO to help teach madhubani art to young girls to help them get economically empowered.
What is the process of ordering a Meraki Product?
Our customers, who we call our patrons can order straight from our website. We can also take orders for customization as well as for up-cycling peoples existing bags with gorgeous art. We have also recently started selling our products in stores like Asia Society in Hong Kong and will soon also be selling at the Nimai store in Delhi.
What is your vision for Meraki
The focus for the next couple of years is going to be completely on scaling up the business and targeting new markets like Japan, Singapore, UK and the US where people have appreciated our products but we don't have targeted marketing and reach there at this point. The focus will also be on expanding into other product lines like handpainted clothing, jewelry, furniture and more, the scope is endless and that's truly exciting. We will also work on public art projects – seeing Indian folk art wall murals across the world is a big dream too. At the center of this all, the most important vision is to bring patronage and economic empowerment to our artists.
Comments
comments