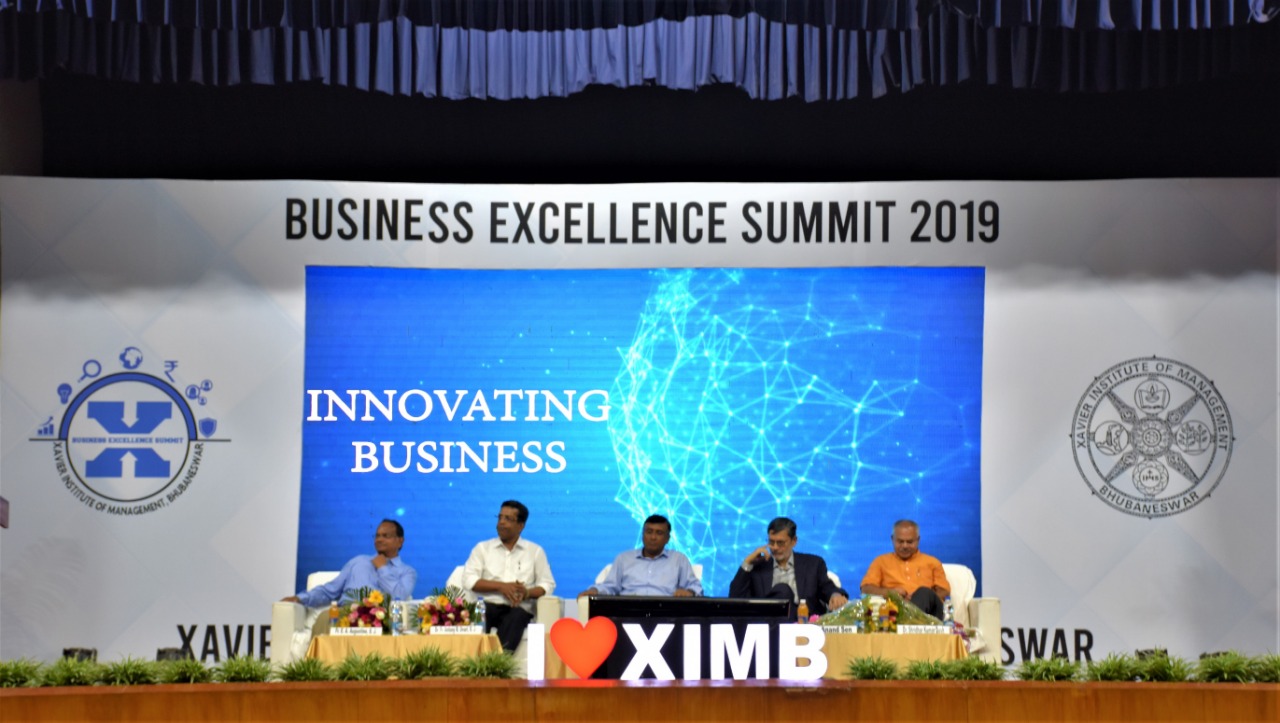 Xavier Institute of Management, Bhubaneswar organized the second edition of Business Excellence Summit from 13th to 15th September 2019, on the theme "Innovating Business".
The event commenced on 13th September with the inaugural ceremony being graced by the honourable chief guest, Shri Asit Kumar Tripathy, Chief Secretary, Government of Odisha, the guest speaker, Mr Anand Sen, President, TQM and Steel Business, Tata Steel, Fr. Antony Uvari S J., Vice-Chancellor, Xavier University, Fr. E.A. Augustine, Registrar, Xavier University and Dr. Shridhar Kumar Dash, Academic Dean, XIMB. Mr Anjan Mohanty, General Secretary, Student Executive Council, XIMB felicitated the speakers and declared the summit open. The inaugural speech was delivered by the chief guest Shri Asit Kumar Tripathy who addressed XIMB as the 'Institute of Excellence'. The Guest Speaker, Mr Anand Sen, elucidated the concept of Total Quality Management (TQM) and emphasized how important it is for organizations to focus not just on the profits, but to cater to the needs of all the stakeholders with a view on sustainable growth with a focus on Cross-Functional Management. Mr Prithvijit Roy, Co-Founder, and CEO of Bridge i2i Analytics Solution gave his invaluable views on Business Transformation and Artificial Intelligence, in the afternoon session. A talk by Mr D Shivakumar, Group Executive President, Aditya Birla Group, concluded the events of the day.
The second day of the Business Excellence Summit began with a panel discussion on the theme "Invest. Innovate & Integrate". Mr Saurav Mohanty, Co-Founder & CEO, CDS Development Centre LLP, Mr Aharnish Mishra,  Co-Founder, BiziBean, Mr Sujit Panigrahi, Co-Founder & CEO, Sequoia Fitness & Sports Technology and Mr Naveen Kejriwal, General Manager – Eastern India and Overseas, Lenovo, served as panellists for the session, and Dr DV Ramana was the moderator. Mr Naveen Kejriwal, discussed the importance of considering if ideas are practical, radically new and sustainable; while Mr Sujit Panigrahi talked about building cohesive innovation architecture and agility. Mr Aharnish Mishra advanced the discussion stating how innovation is all about creating meaning for oneself, and Mr Saurav K Mohanty furthered the same by highlighting the need to invest in oneself. The afternoon session had a panel discussion on the theme "Glocalization in business", with Prof Santosh Kumar Prusty serving as the moderator. Mrs Prativa Mohapatra, Vice president – sales, IBM, spoke about facets of businesses namely globalization, glocalization, extreme glocalization, personalization. Mr Binny Mathews, Vice president & Business head – Utilities, Resources & Energy Sector, Infosys, described real-time business scenarios that exhibit how global traditions and products are localized to suit the needs of the people. Mr Debabrat Mishra, Partner, Deloitte Touché Tohmatsu LLP India, emphasized the significance of imbibing a global mindset to survive in the ever-changing business world. During a simultaneous leadership talk delivered by Mr Ashesh Kumar, Head- Analytics of L&T financial services spoke about delivering value proposition through analytics.
Day 3 began with a panel discussion on the theme "Is Disruptive Innovation the only way to create value?" with Mr Stalin Mohapatra, Community Operations Manager and Head of Manual Fraud Investigations at UBER, Mr Kamadeba Mohanty, Executive Vice President and COO at Reliance Retail and Mr Harshit Vyas, Vice President at OYO Rooms, serving as panelists for the session. Dr W.S. William, Professor, Operations Management, XIMB was the moderator. Mr Stalin Mohapatra, discussed the various types of innovations while Mr Kamadeba Mohanty threw light on how process innovation has brought about a change in the retail industry. Mr Harshit Vyas, the final speaker of the panel enunciated the challenges faced during scaling up a business. During a simultaneous Leadership Talk, Mr Yeshwanth Nag, the co-founder of Thickshake factory, narrated an engrossing tale of his journey from an employee to an entrepreneur. The next theme for the day was "How to tame Automation Sprawl?". Mr Sabyasachi Das, Director, Product Engineering & Digital Transformation Centers- Workplace & Mobility, DXC Technologies enlightened the students and mentioned "No tool is perfect. No tool will ever be. But it is this gap that leads to automation sprawl".
In the session with Mr Siddhartha Dash, EVP and Country Head for PSU Clients at UTI Mutual Funds, he spoke on the theme "Invest. Innovate. Integrate." where he stated, "Innovation is so much more than products; it is about relevance and acceptance". The 3-day summit was concluded with a closing ceremony addressed by Fr. E.A. Augustine, S.J Registrar, XUB, Fr. V. Arockia Das, the Deputy Registrar, and Dr Shridhar Dash, Academic Dean, XIMB. Mr Anjan Mohanty, General Secretary, Student Executive Council, XIMB, delivered the vote of thanks.
ABOUT XUB                                                                                                               
Xavier University, Bhubaneswar (XUB) was established in accordance with the Xavier University Act 2013 and was inaugurated on the 7th of July 2014. The University is India's first digital University and an institution of higher learning for imparting professional and technical education. It is a self-financing institution of higher learning for imparting professional and technical education. XUB offers its Masters in Business Management through its flagship school, XIMB. It also offers a Masters in Human Resource Management through Xavier School of Human Resource Management, Rural Management through Xavier School of Rural Management, Sustainability Management through Xavier School of Sustainability and graduates program in commerce through Xavier School of Commerce. Apart from these, it has proposed to set up other schools of higher learning in various areas like Public Policy, Sustainability, Media & Communications, Finance, Education and Centers of Research in Public Policy & others.
ABOUT XIMB
XIMB, a 31 years old business school of global repute is the Flagship School of Xavier University. Inspired by the Jesuit spirit of 'Magis', or excellence, XIMB strives to be a premier institute globally recognized for management education, training, research, and consulting that help build a just and humane society. The Institute today has become widely recognized for its excellence in imparting management education. It is counted among the leading management institutions in the country.
Comments
comments