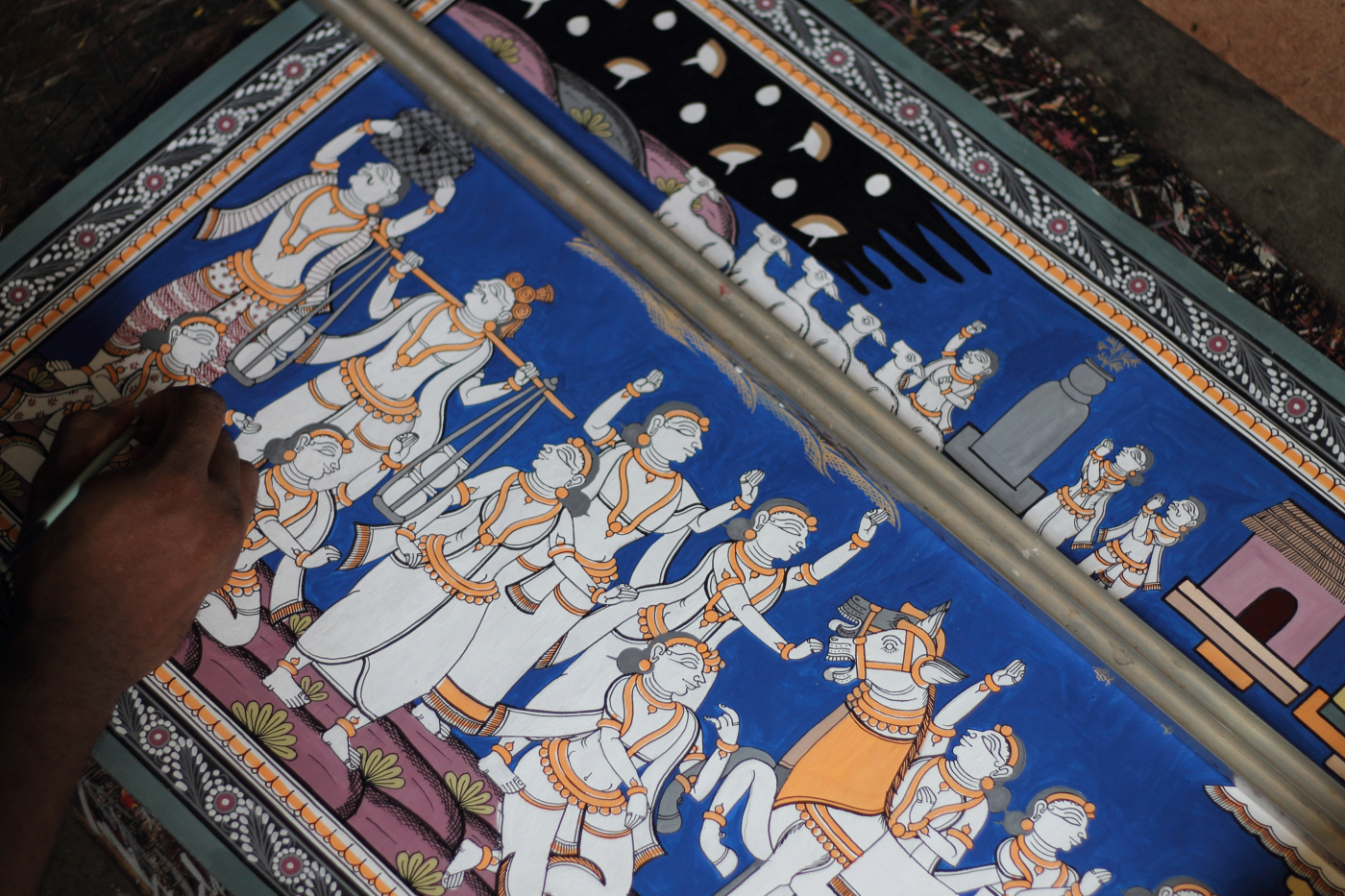 Can anyone ever think of 'Odisha' without thinking of Lord Jagannath. No way!! Rhythms of Odiya life deeply revolve around scores of rituals related to Lord Jagannath, Lord Balabhadra and Devi Subadhra throughout the year.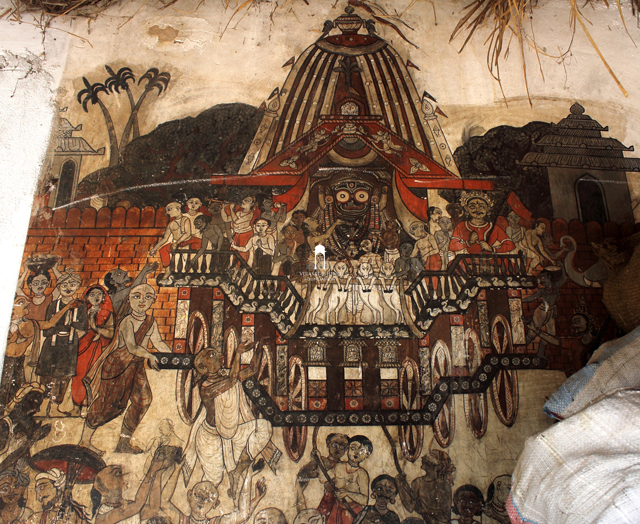 The trinity that resides in Puri celebrates festivals as any of us do. In the month of June, when the weather becomes excessively humid and unbearable, the deities are brought out from the temple for a holy bath. After the bathing ritual, the deities are traditionally believed to fall ill and are kept in a sick room for 21 days. During this period, no pilgrims are allowed to do the divine darshan. Historically, there was a need for substitute images for the public view and to which prayers and rituals could be offered. Anasara Pati, a painted sheet of cloth, depicting the deities used to be the substitute image meant for prayers by the pilgrims during the period of illness.  These patachitras were prepared by the master artists of the Chitrakara community.
The preparation for the making of Anasara Pati would begin on the auspicious day of Akshaya Trithiya. On this day, a Chitrakara would receive a piece of cloth to prepare canvas from the temple administration. When he would complete the painting, the family priest would come to his house to perform a puja of the Pati in the presence of all his family members. A day after this puja, a priest from the Jagannath temple would come to his house with a garland and accompanied by people carrying ghanta (gong), chalti (ritual umbrella) and kahali (pipe). Another puja would be performed at his house before the Anasara Pati would be rolled and tied with a piece of black cloth. The Pati would then be carried to the Jagannath temple by the Chitrakara in a ceremonial procession. This tradition of Anasara Pati goes back to the time of King Anangabhima Deva, who ruled Odisha between 1190 and 1198 CE.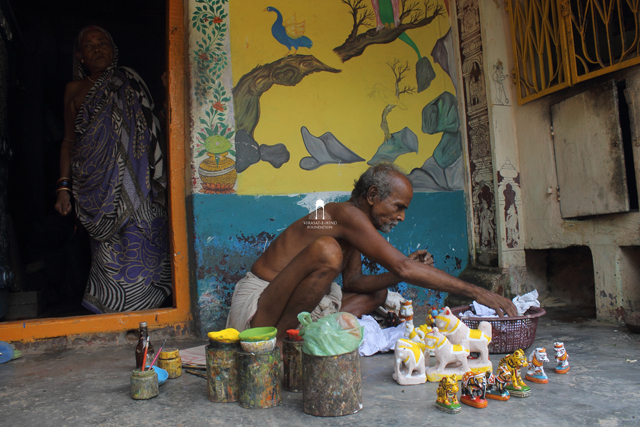 In Puri, there is a belief that a pilgrimage to the town is incomplete unless the pilgrim takes back with him/her five Patas of Lord Jagannath, five beads, five cane sticks and nirmalya (dried rice from the temple kitchen). In Bengal, as a ritual, every pilgrim returning from Puri, gifts one of these Patas and a few grains of the dried cooked rice, Mahaprasada, to his/her friends and relatives.
Though, Chitrakaras throughout history had deep connection with the temple and its rituals at Puri, in the 19th century, they fell into the trap of middlemen who exploited their situation adversely. They lost their source of livelihood and homesteads and started to look for other sources of employment. Many of them became daily wage labourers in betel-leaf gardens, carrying water and head loads of soil while some became masons and others agricultural labourers.
It took more than a generation and the enterprise of an American lady called Helena Zealy, who was in Odisha between 1952 and 54, to revive this precious art form. Helena, while learning Odiya in Puri, met Panu Maharana, a Chitrakara trying to eke out a living by selling a few paintings to pilgrims and tourists on Puri beach. She was mesmerized by the sublime beauty of incredible Pata paintings and its vivid depiction of mythological lores and legends. She then established a strong bonding with the Chitrakaras of Raghurajpur, a village full of artists, 10 km from Puri on Puri-Bhubaneswar Road. Along with the master craftsman, Jagannath Mohapatra, she devised a marketing strategy for the promotion of Patachitras as souvenirs and the sustenance of art and artists on a local level. A gurukul ashram was set up in Raghurajpur where young artists were trained in the art and later a co-operative society that took care of the export of the Patas to countries far and wide.
Read the full blog by clicking link below:
Raghurajpur – An Open Air Museum
Author – Jitu Mishra
He can be contacted at [email protected]
Comments
comments