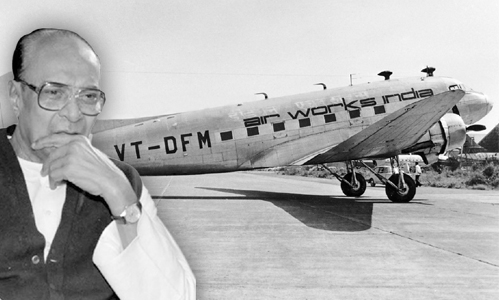 During second world war, Biju Patnaik and his wife Gyan played crucial role in air dropping medicines and supplies for soldiers and also evacuating Indians to safety from war ravaged Burma.
During India's Freedom struggle , Biju Babu gave shelter to Aruna Asif Ali In his Cuttack House when British Government declared a reward of 40 thousand rupees to capture Aruna Asaf Ali
He was awarded " ORDER OF LENIN " By Russians for his commendable work in helping the Russians during 2nd world war against Hitler's Army .
BIJU BABU'S ROLE IN SAVING SRINAGAR CITY FROM TRIBAL RAIDERS IN 1947….
At Pandit Jawahar Lal Nehru's specific request , Biju Patnaik played a daring role in carrying first Batch of 17 Soldiers of Sikh Regiment to Srinagar at the crack of Dawn on 27 October 1947. It was rumoured that Tribals had already captured Srinagar Air Port and some daring Pilot was needed for the Specific mission of air dropping first Batch of Armed solders . That Day, He flew at a very low level to look around whether the enemy had already taken over the airport or not. He flew over Srinagar Airport for about 30 Minutes and once he was sure that the landing was safe , he landed his DC -3 Aircraft and hurried back to Capital to bring more soldiers . Pandit Ji had given very clear instructions not to land if he felt the presence of Pakistan sponsored Tribal raiders at Srinagar Air Port .
At that crucial time , Maharaja had suddenly left Srinagar and there was practically no administration. It was reported that the advancing Tribal raiders were approaching Srinagar city via two routes ; one Bandipora -safapora road and the other Pattan- Baramulla road . They had almost reached srinagar's outskirts , The city had already plunged into total darkness with Raiders destroying Mohra Power house. Fear and panic prevailed all over . Volunteers from Men and women Militia marched through the street of Srinagar city , building confidence of the population terrified from reports about advancing Tribal Raiders . They Guarded Bridges , Roads and Vital Installations in the city . The First Indian Aircraft ( carrying Soldiers ) that Kashmiris saw flying over Srinagar city during those Turbulent days was piloted by Biju Patnaik.
Residents of Srinagar city heaved a sigh of relief once they saw all this. They had every reason to believe that the impending death and destruction in the city from the hands of marauding Raiders had been averted .
Read the full story from this blog
Comments
comments