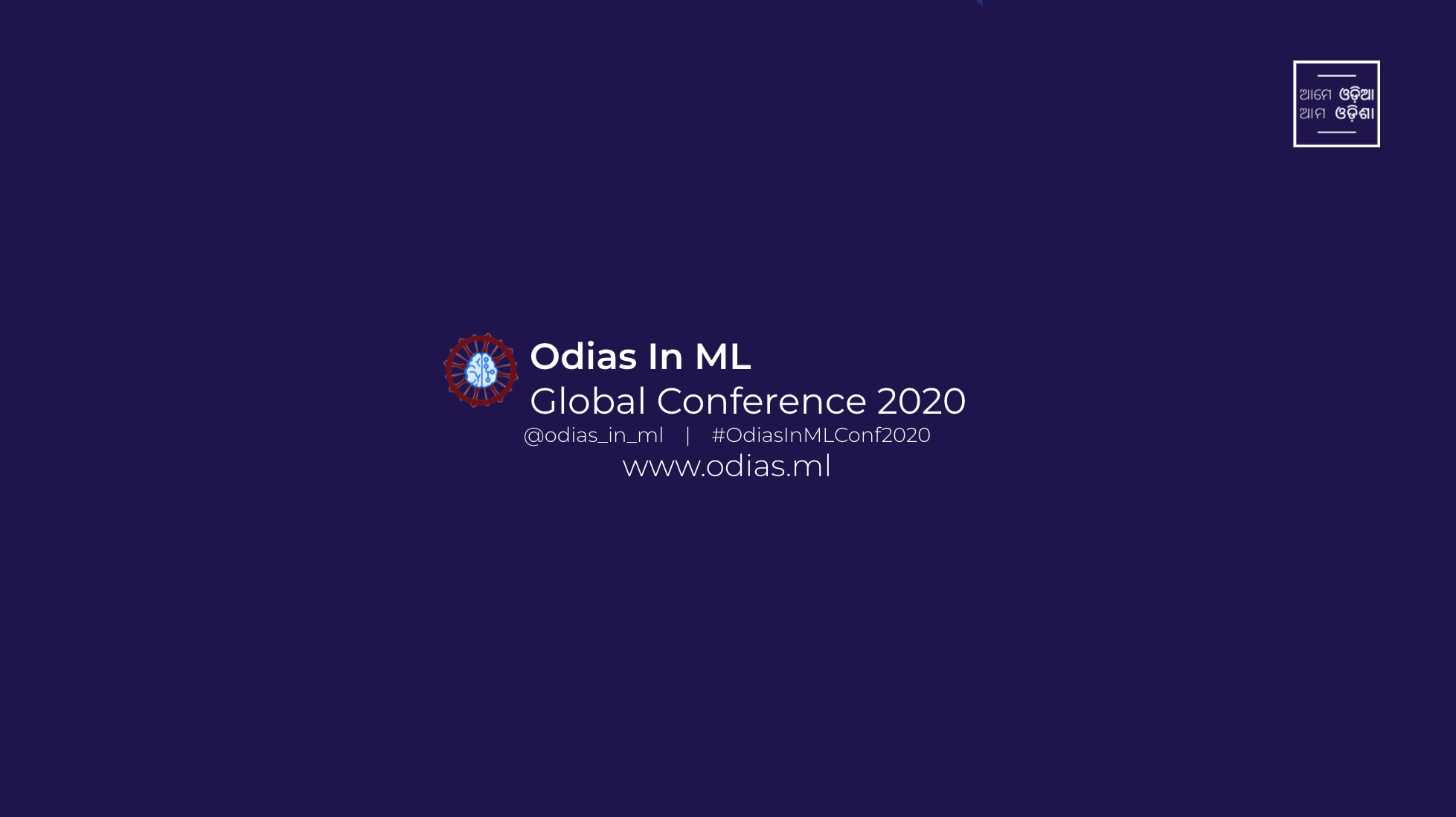 Odias.ml global virtual conference on 4th Oct 2020,  starts an innovative, socio-technical movement of Odias in the field of Machine Learning and beyond.  Registration Link for RSVP  : https://forms.gle/YAnBm34V41Q7vv4D9

Odias in ML Conference 2020 is the first international congregation of Odias techies in AI/ML, academicians, policymakers, linguists, business executives, investors, entrepreneurs and those working towards positively intervening in people's lives through AI/ML.

Odia volunteers Volunteers are organizing this event, putting a lot of efforts for the cause  of odisha and Odia
Overview
Artificial Intelligence / Machine Learning is making the world progress in a way unheard of before; it is being hyped as in the same league as Digital revolution[1] of late twentieth century and Industrial revolution[2] of the early nineteenth century. We as Odias  need to move ahead to be at the forefront of this new revolution initiated by technology. A global virtual conference is being organized  towards the objective of a)Creating  a network of cooperating communities of Odias in the field of machine learning that can act as a  platform for future Odia researchers, entrepreneurs, and students b) Ideate on the opportunities and challenges to Odia and Odisha around the evolution of Machine Learning and Artificial Intelligence. c)Recognize and promote  the efforts of Odias working in Machine learning.d) Generate movement for practical usage of AI in day to day life of an Odia.
Agenda  and format
This virtual event covers many facets of the artificial intelligence revolution and presents a consolidated outcome of how it impacts Odisha , Odias and Odia . This  global and virtual conference is attendable by willing participants all over the globe.
AI/ML and Odisha
How can we leverage AI/ML for overall socio-economic development of Odisha – policy and application in intervention areas; challenges and opportunities in pursuance of this goal. Speakers from areas of policymaking and applications for governance, economic development and healthcare will delve deeper into these points.
Data is the new fuel in the AI engine. Panels and speakers will speak about their experiences with data and its utility in shaping the AI solutions they are working with or visualizing. Thinkers, visionaries will deliberate on things done vs to be done from the perspective of Odias and Odisha.
Entrepreneurship/Business Opportunities
Being the hottest technology application area, AI/ML has been attracting one of the largest investments across all tech areas. The session will go deeper into how Odia entrepreneurs and businesses can leverage this opportunity effectively by accessing knowledge, human resources and capital.
Research & Career Opportunities
Being the hottest technology area at present, AI/ML offers immense career opportunities for those wanting to pursue research in this area and those that want to build a career in technology or application involving AI/ML technologies. Speakers from academics, research and industry will guide aspiring professionals and students how to pursue this opportunity.
Language
Natural language processing (NLP) has been one of the most significant applications of machine learning. Modern languages need to leverage the power to emerge as vibrant languages in the digital era. What are the challenges, what have been the efforts and where are the opportunities? Linguists, computational linguistics experts, and practitioners will discuss the state of the art and what to expect in future.
Comments
comments