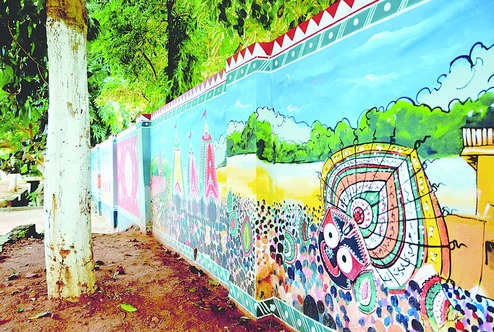 Times of India writes :
The city will soon wake up to a spread of murals along major roads and a spick-and-span look.
The massive makeover is being planned for the 50th annual convention of Federation of Hotel and Restaurant Associations of India (FHRAI) slated for September 25. The Bhubaneswar Municipal Corporation (BMC) in collaboration with works and tourism departments will take up the beautification work as the city will play host to around 1,200 delegates from all over the country.
Tourism minister Ashok Panda said they hope to impress the delegates by ensuring cleanliness. "Around Rs 1.5 crore will be spent on the three-day mega event, which will end on September 27, the World Tourism Day. We are planning a heritage walk (carnival) on the last day to showcase the tourism potential of Odisha and attract investment in the sector," he said.
A 45-minute PowerPoint presentation on the existing tourism infrastructures in the state will be shown to the delegates, the minister added.
The BMC plans to beautify major arterial roads with wall painting and by planting shrubs. "The walls of the government establishments and quarters from Raj Bhavan to Jayadev Vihar will be painted," environment officer (BMC) B K Routray told TOI. It will be done in public-private-partnership (PPP) mode, he added.
"Sanitary inspectors have been asked to ensure that no road is found littered during the mega event. Steps will also be taken to relocate stray cattle," said BMC spokesperson Srimanta Mishra.
Also on the cards is beautification of the traffic points at Kalpana Square and Satya Nagar flyover. "The works department will complete construction of the remaining medians so that shrubs can be planted," Mishra added.
Comments
comments