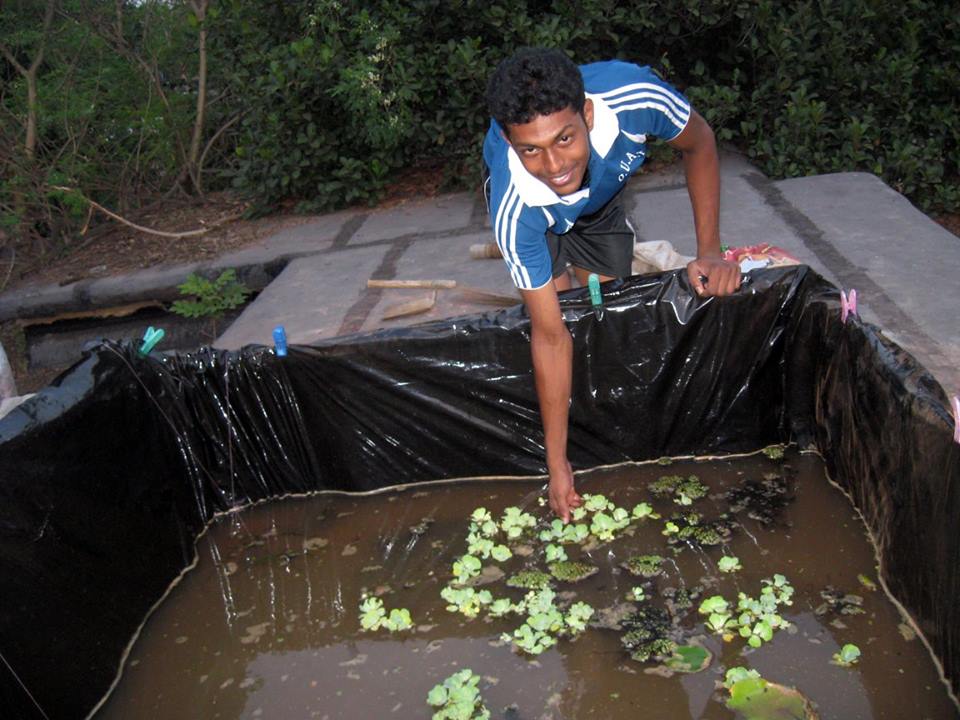 Deccan herald writes
Young boys and girls of his age love to do different things in their spare time. Some watch movies and many play their favourite games. A large number will prefer to visit a nearest mall for shopping . And many others love to switch on their computers to surf internet.
But Vivek Mnayapu, an university student from Bhubaneswar, prefers completely different work. In his spare time, he collects waste and junk from streets and backyards of houses to create something useful out of them. "I can make something useful out of any discarded object– be it a broken glass plate or an empty plastic milk pack or rejected polythene sheets that are used for covering vehicles and even thrown away iron pipes and broken wash basins. It is my passion and I love to do it to keep the environment and our surroundings neat and clean," said the 22-year-old  agriculture science student of Odisha University of Agriculture and Technology (OUAT), a leading state-run institute in Bhubaneswar.
The youth's capabilities and abilities are evident at the rooftop garden on his father's single storey government accommodation in unit nine area of Odisha capital.  The garden has a small pond of aquatic plants with 13 species. There is also another tiny azolla pond made with bio-fertiliser. The walls and beds of both the ponds are made of junk, waste and discarded objects. While broken asbestos and plastic sheets form walls, thick polythene car covers have been converted into bed. The materials were picked up from different streets, lanes and by-lanes of Bhubaneswar.
Also, the garden has a nursery with 130 species of both medicinal and decorative plants besides a few vegetable plants. All kinds of discarded articles have been converted into the pots to grow small and bigger plants.
His house also showcases a small "vertical window garden" made of polythene car cover and coconut coir. At the entrance of the house, one would come across a few hanging baskets made from thrown away milk sachets. Significantly, Vivek has made all these things without spending any money from his pocket. "I have created everything with almost no investment," he maintained.
On special occasions like a friend's birthday, he never goes to a shop to buy a gift like many others of his age do. He, instead, presents one of his own creations like a pen stand made of an empty eggshell or a thrown away plastic bottle. "All my friends feel very happy with the gifts I present them," Vivek says.
In fact, he has inspired many of his friends to be like him. One among them is Darshana Patra, also a final year student of agriculture science at the OUAT. The 22-year-old  girl has now become Vivek's partner in waste and junk collection exercise and to create something useful and unique out of them. "I thoroughly enjoy all these activities," she said.
Darshana had also managed to create some wonderful objects like a tiny "hanging garden" from a broken washbasin pillar at her apartment.
Vivek said he is not bothered about what people would think of him when he steps out for his junk and waste collection activities. "Sometime people give a strange look. They must be thinking what this young man is up to. But it never bothers me," he said.
Son of a government of Odisha staff posted in the state secretariat, Vivek has not restricted his expertise to himself. He has already launched a training programme for schoolchildren. A member of a city based non-governmental organisation, Bakul Foundation, Vivek is currently working on a project called Best of Waste.
Under the project, he and his friends at the NGO conduct workshops at regular intervals for schoolchildren, particularly those belonging to economically weaker sections. They teach them the art of making useful things out of waste. "We conduct the workshops during weekends. It gives me immense pleasure and happiness to teach children the knowledge and expertise I have managed to acquire," he observed.
Comments
comments