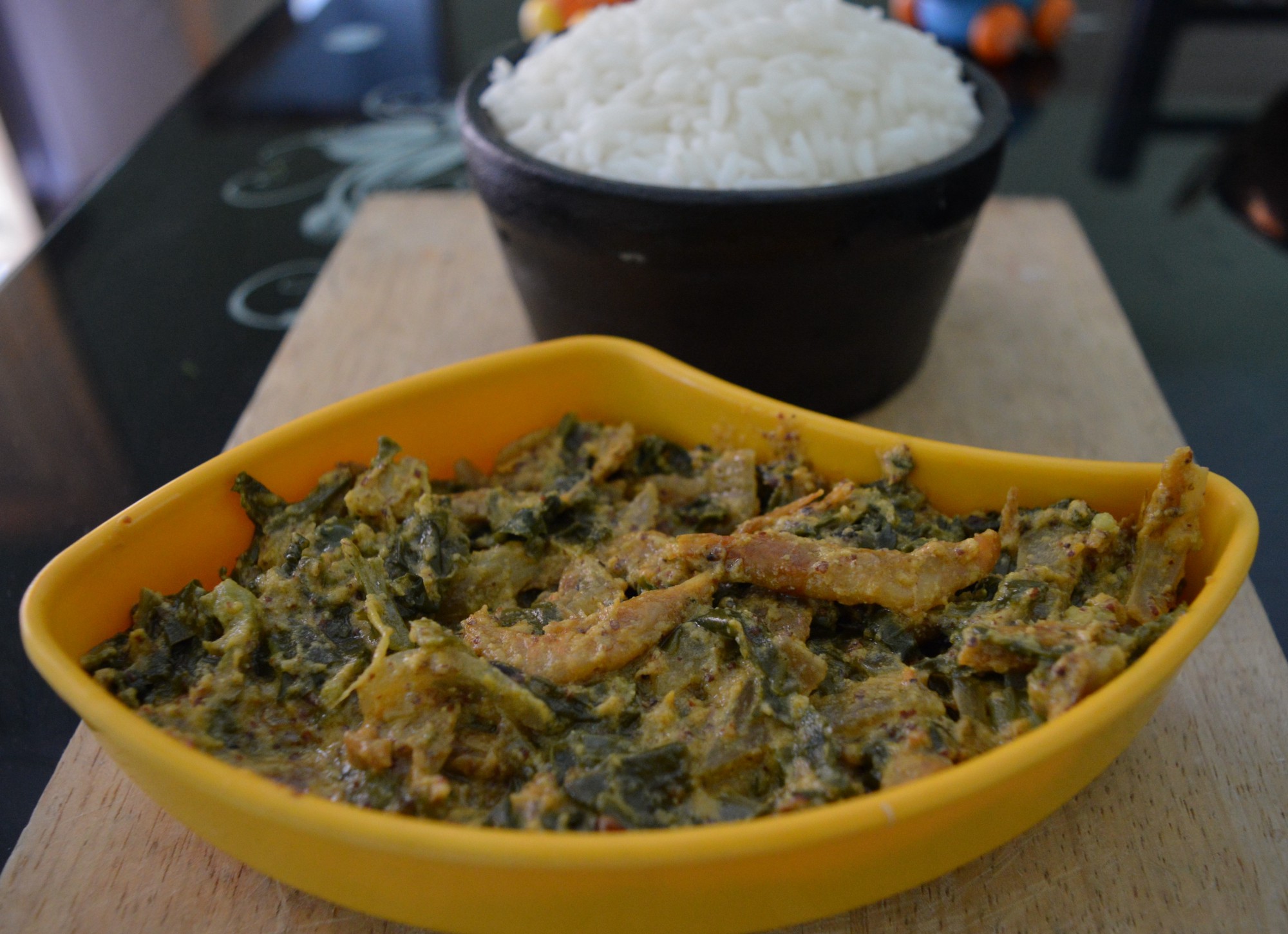 The festive fever of Durga Puja is still on. The Hindu calendar month Ashwinwill end on this Saturday and the holiest month, Kartika will commence- which has huge significance for a religious Odia. In Odisha, a majority of the people go vegetarian in the month of Kartika. Why, you must be asking. My granny says, scientifically, this month the fishes get affected with certain diseases and our ancestors started this ritual of turning vegetarian just to avoid any disease contamination. Primarily, Odias are voracious fish eaters. (Chicken & egg are latest additions to our kitchens. With fish, all other meaty affairs are also prohibited in this month) So, before Kartika sets its footstep, people end up trying all sorts of non-vegetarian dishes, which is a way of compensation for not eating non-veg food the whole month.
So, today while my hubby wanted some home style chicken curry, I wanted to treat myself with a very authentic Odia cuisine comprised of dried small prawns (Chingudi Sukhua) and Malabar spinach (Poi). The dish is known as 'Poi chingudi sukhua chadchadi'. Malabar spinach is a rich source of vitamin A and provides anti-oxidants that can protect your cell from cancer and also help to recover damaged cells.
Before I share the recipe, I must tell you one amazing fact about Odisha. Do you know there is a dedicated dry fish market in a place called Raja Sunakhala which is around 60 KM away from Bhubaneswar, the state capital? This market comes at the middle of the road while enroute to Nayagarh. So if you are really a fish person, then plan a trip to this place. And yeah, this route takes you to one of the ancient temples of Lord Shri Rama, known as Raghunatha Jew temple in Odagaon, Nayagarh.
So back to the basics now. As I said that before commencement of Kartika, we had our customary non-vegetarian affairs today (But this does not mean remotely that, I would go pure vegetarian way in Kartika)
A quick briefing on the recipe below.
Ingredients
Dried small prawns : 100g
Malabar spinach leaves: 400 g
Onion: 1(required for the mustard paste and for frying as well)
Garlic pods: 6
Ginger: ½ inch
Mustard seeds: 2 tbsp or 10 g
Tomato: 1 small *Optional
Salt: as per taste
Turmeric powder: 1 tsp
Green chillies:2
Pancha phutana (Blend of 5 spices) : 1 tbsp
Mustard oil:2 tbsp
Precooking preparation
Dried prawns: Boil a cup of water in the wok and add the prawns into it. Boil the prawns for 2–3 minutes. This helps to remove small sand particles. Remove the prawns and wash under cold running water.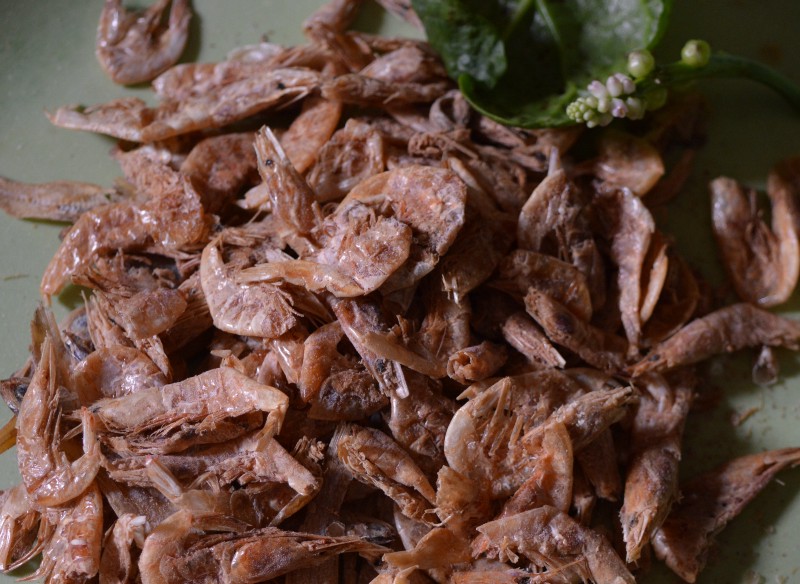 Malabar spinach: Clean the leaves and cut it into finer pieces.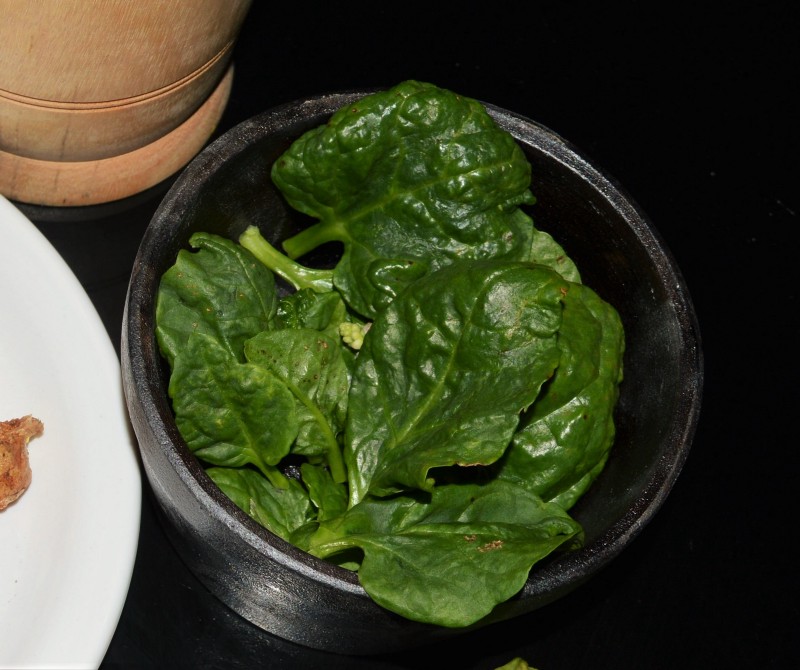 Now in a heavy bottomed pan, add a tbsp of mustard oil and shallow fry the Malabar spinach leaves. Once they are wilted, remove from the flame and fry the cleaned and dried prawns in it. Add a pinch of salt and turmeric powder into it. When the prawns are fried, remove them from the pan. Now the final step of chadchadi. Heat mustard oil in the pan, add pinch of pancha phutanand green chillies. Once phutana begins to crackle, add chopped onions into it. When the onions turn golden, add the mustard paste and half cup of water. Add salt and pinch of turmeric powder into it. Let the spice mix cook for 4–5 mins. Now, add the fried prawns and the Malabar spinach leaves into it. Cover it with a lid and cook in slow flame for another 7–10 mins approximately. The curry should not be runny. When you see that texture, switch off the flame. Your poi chingudi sukhua chadchadi is ready to be served with hot boiled rice.
Before I sign off, I must share this couplet that my poor granny used to say often. There was a kitten, who used to eat the dried fish from my granny's cup board to her utter disappointment.
If you can read Odia here it is "ବିଲେଇ କି ନ କଲା ଲୋ, ଧାନ ଭରଣକ ତାମ୍ପେଡା ଶୁଖୁଆ ଟାଉକିନା ଗିଳିଦେଲା"
Which means, "Oh, Look, what this kitten did, it gulped down all the dried prawns which costed a sack of paddy."
Next time, you grab some dried prawns and Malabar spinach, do try this recipe and yes, be aware of the feline food thief.
Till then,
Cook, eat and be happy.
Read more of Swetapadma's Food blogs here at Medium
Comments
comments