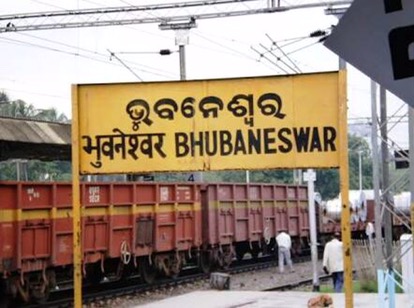 When I talk about Bhubaneswar, I tend to get nostalgic. I guess, its pretty normal. I usually don't get so emotional about Calcutta. However, Calcutta gives home a second name. While Bhubneshwar is absolute joy, Calcutta is a relief. While I shuttle between these two places, I look back and reminisce about the old days when 'Bhuensar' used to be the only and the best-est place in the world.
Being the capital of a state, Bhubaneswar enjoys some of the perks that no other state capital does. If you've been in here, then you would often hear us bragging that it doesn't take more than fifteen minutes to reach either railway station or the airport. We, the elite Bhubaneswarias keep boasting about our Lingaraj Lassi, Market Building Bara Pakudi, Anna Dosa in every corner and the first multiplex of the city before we understood what it actually was – Sriya, Swati and Stutee. We take absolute pride in being one of first the planned cities of independent India and gleefully misinform people that it's the same person who planned Chandigarh, also did Bhubaneswar. For the still ill-informed, Otto Konisberger planned Bhubaneswar and Chandigarh was planned by Le Corbusier.
One of the most amazing places in Bhubaneswar is the various Khatti areas. For the uninitiated, Khatti is the Odia equivalent to Adda sessions. It's a session, occurring everyday precisely at the same time where many important things are discussed. It usually ranges from politics to sports to that good looking girl in the neighbourhood who may or may not have stolen a glance or two. It's also one of the places, where after a so-called feud, people come together to discuss what we called 'compromise'. Khattis usually happen over a hot glass of tea, served from the nearby OmFed or lone paan dokan, manned by a Bhaina. If you are wondering who's a Bhaina, it's an universal term denoted to anyone by everyone, irrespective of the age group but preferably male. It brings the caller and the callee relatively closer, before the actual monetary transaction happens. Its other counterparts in the country are perhaps 'Dada', 'Anna' and 'Bhaiya'.
Another aspect of the city is our amazing ability to swear at people. Swearing with the choicest of cuss words, most importantly at the birth lineage and the various reproductive organs and finally blaming the unfortunate parents for the ill deeds of their ward takes home the cake. Growing up, we realised that we were so much used to those cuss words that it came naturally to us. Over the time, these cuss words turned to be the only words that we expressed happily at meeting old friends, after a long time. Behind the garb of being unparliamentary, it has a hidden warmth that engulfs the people while conversing. And that's soothing. If you meet two 'Bhuensarias' conversing, you'll perhaps hear another universal term being used repeatedly. It's called 'Sanga'. Translated to friend, it's a term that's hugely popular and perhaps originated as a chosen opponent to 'bro'. My wife and I, keep using the term 'Sanga' while conversing and friends from Calcutta find it very amusing.
Now that I've a son, I am a little unsure whether he will end up liking his father's hometown or not. Perhaps he'll have a different story to tell about the city he grows up in. But the sentimentalist in me disagrees and argues vehemently against it. My son must know the place his father loves so much. He should feel that warmth, that mush that lives beneath the various peculiarities of the city. Only then, he'll end up loving Bhubaneswar. Only then, he'll become a true 'Bhuensaria'.
The City That I am In Love With.. 
Did you know Bhubaneswar Buzz is only portal covering Odisha to have more than 21,000 followers (consistent) in top 3 Social media platforms i.e. Facebook,Twitter and Instagram
Bhubaneswar Buzz is available in 10 social media channels, check out all of them here
Did you know Odisha is first in India to host Asian Surf Championship
Like Us in Facebook to get more content like this
Comments
comments