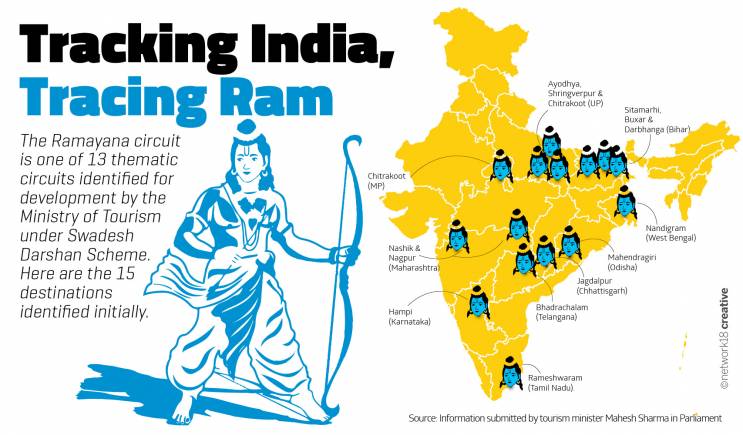 The Ramayana Circuit is one among the 13 tourist circuits under the Swadesh Darshan scheme.
A committee under the Ministry of Tourism jotted down 15 destinations in the Ramayana Circuit in an effort to promote religious tourism. The destinations are chosen according to the places where Lord Ram is believed to have travelled across India.
Every circuit under the Swadesh Darshan scheme is administered by separate committees. These committees are the responsible for forming the blueprint of their respective circuit.
The destinations under the circuit will be developed by bridging infrastructural gaps like provision of drinking water, accommodation facilities, etc. Then the 15 places will be connected to form a circuit.
The 15 destinations are — Ayodhya, Shringverpur  and Chitrakoot in Uttar Pradesh, Sitamarhi, Buxar and Darbhanga in Bihar, Chitrakoot in Madhya Pradesh, Nandigram in West Bengal, Mahendragiri in Odisha, Jagdalpur in Chhattisgarh, Bhadrachalam in Telangana, Rameshwaram in Tamil Nadu, Hampi in Karnataka and Nashik and Nagpur in Maharashtra.
Comments
comments