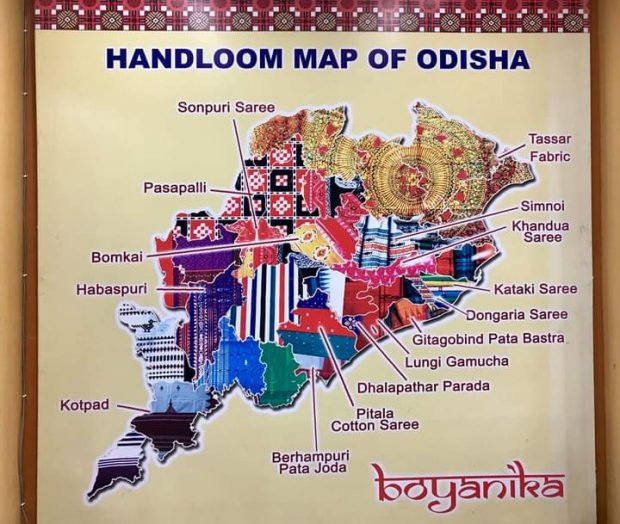 Odisha, though has quite less population compared to many states, has second largest weaver population in India with more than 94% weavers belonging to the Hindu community. The diversity of the handlooms of Odisha is greatly influced due to the tribals population which is third highest in India statewise.
Though there are numerous handlooms textiles from different corners of Odisha, seven of them have achieved international fame and are widely spread among Indian diaspora.
1. Sambalpuri Ikat: Sambalpuri sarees are one of the most wonderful sarees of India. These are produced in Western Odisha, mainly in Sonepur, Bargarh, Sambalpur, Boudh and Balangir Districts of Odisha. Each and Every thread of the Sambalpuri Sarees are Handwoven. All the process involved in weaving a saree is carried out manually, no machine is used in any of the steps.
Yesterday was #sambalpuriday. I always liked Sambalpuri #ikat sarees, but till I visited Barapalli nr Sambalpur n watched award winning weaver couple Bhagabana n Kalabati Meher at work, I did not realise the effort n precision that goes behind the art. #sareeswag @odisha_tourism pic.twitter.com/mODCfR0Lxu

— Shefali Vaidya. (@ShefVaidya) August 2, 2020
Sambalpuri sarees particularly are known for the utilization of traditional themes taking after its relationship with this shoreline state, for example, Sankha or shell, phula or flower, and chakra or wheel, swans, fish. The most alluring part of these sarees is their association with Bandhakala-the customary craft of tie-dye, also known as Ikkat or Ikat. In this method, first, the threads are well tied and dyed and then they are used for weaving. This entire process usually takes more than two weeks to get completed. This art form has deep spiritual significance as well. Each family of weavers preserves their own ikat fabric that has been woven by their forefathers, each generation adding on to the same fabric to signify change and continuity. The pallu, often the area that is adorned the most with motifs and designs, is seen as the auspicious end of the garment that serves as a reminder of both god and tradition. One can say that this is the closest we can get to tactile spiritual embodiment; it is no wonder that the ikat serves as the fabric upon which the oldest surviving form of religious verses is found, known famously as the 'Gitagovinda cloth'.
Dear @vidya_balan Mam,infinite thanks to U!Ur unconditional love & support for our v.highly skilled #Odisha #sambalpuri #weavers gives us unending happiness!We remain #alwaysingratitude to U! #iwearodishahandloom #iwearsambalpurihandloom@BBSRBuzz @JagiPanda @tanaya_p @ShefVaidya pic.twitter.com/6ApsAq9pZN

— Utkalamrita (@Utkalamrita) July 30, 2020
2. Bomkai Silk:- Woven on a pit loom, Bomkai, which is also known as Sonepuri, is an extraordinary fabric that results from the confluence of two extremely popular components of the Odisha textile industry. In its simplest, Bomkai can be explained as an extra weft technique on a pit loom. It is an outcome of Ikat and embroidery interwoven into each other. The borders are often in contrasting colors and the pallus marked by intricate threadwork. The motifs on the Bomkai are inspired from nature and tribal art, giving the saree a fascinating look that makes it perfect for aristocracy. Bomkai sarees are available in cotton and silk fabrics. Woven by the adept artisans of Sonepur district, Bomkai is handloom fabric that has an attached GI tag and is also called the 'Sonepuri' fabric. Bomkai sarees are quite popular among fashion connoisseurs and are must-haves for an enviable saree collection.
Odisha has many stunning handloom fabrics like Bomkai from the Ganjam district in the state. Produced by the "Bhulia" community & known for its intricate design in the border depicting ancient beliefs of society like design of fish signifying prosperity #NationalHandloomDay pic.twitter.com/yitQzNQe5K

— 🇬🇧FISIUK 🇮🇳(Friends of India Soc UK) (@FISI_UK) August 7, 2020
3. Berhampuri Paata: Berhampuri Saree or Berhampuri Patta is a GI product from the Silk City of India, Berhampur in Odisha. Its unique feature is that it comes with a matching 'joda' for men. The 200-year old conventional Odisha weaving style is incorporated in its making. The temple or kumbha design falls into two categories; phoda or badhi. The zari borders are surely eye-catching. The saree also adorns the three idols of the Jagannath temple. They are worn at weddings and auspicious occasions. Of late the weavers are complaining about its bleak future owing to low wages, shortage of raw material and non-availability of subsidy in power tariff . Itis famous for its temple-shaped designs along the border and pallu portion. This paata has another distinction: it is draped around Lord Jagannath, Lord Balabhadra, and Devi Subhadra in Puri Jagannath temple.
4. Khandua Paata: Khandua Sarees (Maniabandi or Kataki), dedicated to Lord Jagannath of Puri Dham, one of the sacred places of India, dates back to the 12th century. In Odia 'Khandua' refers to the cloth worn in the lower half of the body. Manufactured in Nuapatna of Cuttack district, a Khandua is rightly termed as 'Pride of Odisha'. It is a traditional hand-woven saree woven on wooden looms using pure tussr yarns. It is also popular for its ikat or bandha. It is commonly worn by women during wedding. Kenduli Khandua of 12 feet and 2 Kani (1 kani = length of one's hand) is engraved with stanzas and illustrations from Gita Govind. It is offered to Jagannath as Khandua. The traditional colours include orange, red and sunset yellow. The borders and pallu are generally seen in black, blue and red colors. The colors are extracted from Sal tree. The designs seen on the sarees are auspicious elephants, large many petalled flowers, a deula kumbha, and a unique Odishan animal Nabagunjara. It is lightweight, barely 300 gms. and comfortable fabric. One type of the Khandua is the Navakothi which has all the nine main motifs of – flowers, animals, leaves, peacocks, beetel leaves and vessels. Khandua Paata is noted for the texts of Gita Govinda eteched on it. Traditionally red or orange in colour, these colours are procured naturally from sal trees. This fabric too, is a registered GI and originated in Cuttak and Maniabandha.
5. Kotapad Sarees:- Kotpad Sarees are vegetable-dyed fabric weaved by the tribal Mirgan community of Kotpad village in the Koraput district of Odisha. Out of the several Odisha sarees, these received the first GI mark. These are usually cotton sarees with solid borders and pata anchal. The ingredients for the rich textures are aul (madder) tree roots, tussar silk, and cotton yarns. Even though they have limited shades of color (black and maroon being the most common), thy are eco-friendly, pleasant and shining. They are also comfortable to wear during summers and winters. The motifs developed by the extra weft are axe, crab, bow, fish, temple, fan, conch and boat, reflecting the culture of the sea. The sarees have befitting elaborate borders and designs depending on the occasion.
6. Habaspuri:- Habaspuri Saree is a GI marked tribal handloom product from Odisha. The kondha weavers from Chicheguda, Kalahandi district are attributed to the weaving of this exquisite piece. It has taken its name from the Habaspur village where it was originally woven during the 19th century. The making of a Habaspuri is a time-consuming and painstaking process. The traditional patterns in Kumbha style are etched out on the saree. It is basically a cotton saree. The weavers are trying hard to restore the dying art of this saree in the best possible ways.
7. Saktapar or Pasapali:- Pasapali or Saktapar Sarees are one variant of the Sambalpuri sarees of Odisha. They are mainly weaved in the Bargarh district. 'Pasapali' comes from the word 'pasa' meaning chess or gambling games using a chessboard. Hence, they have detailed chequered patterns of different variety and color combinations. They are identified by the double ikat weave in the pattern of a chessboard and brocaded borders. Their unique symmetry makes them stand out in ethnic Indian fashion wear for women. Tussar, silk, pure organic cotton and their varied combinations serve as the base material for the fabric. Pure silk threads are then woven to enhance its glossy appearance. The anchal or the pallu has motifs like conch, flowers, animals, birds, temple, wheel and landscape.
8. Dongria:- Dongria Sarees are inspired by Dongria or the tribal art form of Odisha. They are woven the Dongria Kondh tribe of the Munda ethnic group, located in the Niyamgiri Hills from the districts of Rayagada and Kalahandi. They are handwoven pure soft cotton fabric. Natural products like dyes and cotton yarns make them eco-friendly. They are rare and unique. They are generally thick weaves with bright and vibrant color play and geometric and simple designs. Today to catch up with changing times there are prints and modern textures and designs.
9. Gamuchha:- Gamchha is a traditional Indian towel made up of thin coarse cotton fabric. Although it is normally used for drying one's body after bathing, gamcha serves other purposes also. It forms an important item of men's clothing, especially of those belonging to the lower sections of the Indian society. For instance, one often sees physical laborers, like coolies, construction workers and farmers, carrying a gamcha on their shoulders. Farmers keep the gamchha on their shoulders to wipe away the sweat while toiling in the scorching sun, the whole day long. Sometimes, they also spread it out on the ground like a mat and take a nap on it. In ancient India, travelers used the gamocha to carry food in it while journeying. It also forms one of the essential items offered to Indian deities during religious ceremonies.
Blog by Saswat Routroy
Indira in Odisha Series -4

Indira ji was a brand ambassador of Sambalpuri Sarees.
She made them popular in India n abroad and often wore them on her tours to Odisha .On her final visit to Odisha , she was draped in a printed saree with solid borders and a full-sleeved blouse. pic.twitter.com/GHy0F8zr2b

— Prashant Sahu (@suryanandannet) July 20, 2020
Comments
comments