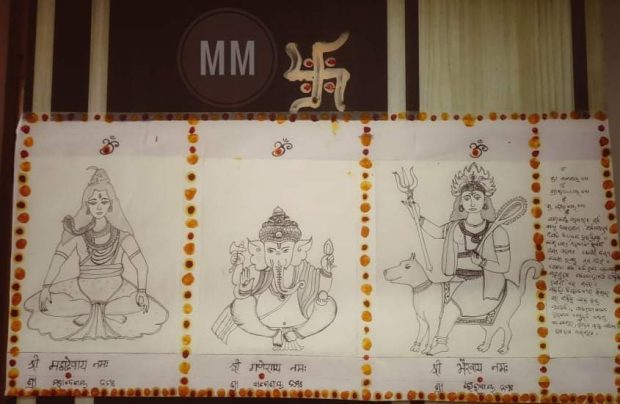 Rekha Panchami, also known as Raksha Panchami or Rakhya Panjami, the festival is dedicated to Batuk Bhairav – an incarnation of Lord Shiva. Rekha Panchami is observed on the fifth day of the Krishna Paksha of Bhadrava month.
In Jagannath Temple, the ritual of "Rahu Rekha Lagi" is also celebrated on this day. Subarna Rahu Rekha is another Ornaments as like Subarna Chitta use to decorate the forehead of lord jagannath, balabhadra and subhadra. This is removed from the head of the deities on the day of Snana Purnima and is again put on in the month of Shravana.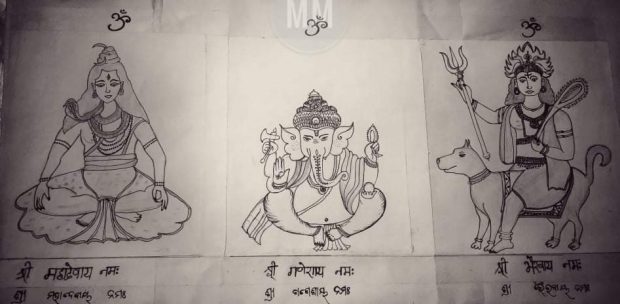 As rituals people worship Batuk Bhairav. They paint Batuk Bhairav or Bhairav, Gaesha & Mahadev ( Shiva ) on doors of home. some People draw the picture of Nandi the vehicle of Lord Shiva on the Back door.
The main reason behind the festival to protect themselves from wild animals. A prayer (invocation) to Lord Shiva is written on palm leaf and is hung on the top of the door. Along with the palm leaf, kusha grass and a small packet of rice also hung on the door. They offering foods to wild animal like snakes at night as rituals.
Blog by Minakshee Mahapatra
Comments
comments