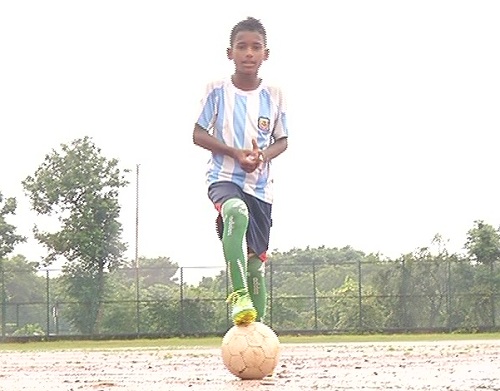 Decks are cleared for Odisha's 11-year-old soccer prodigy Chandan Nayak's dream journey to Germany and play for the most iconic club – Bayern Munich.
Hailing from a poor family, the budding footballer who was deserted by his father at a very tender age, Chandan  faced a lot of hurdles to obtain a passport as he did not have a birth certificate, a must-have document for the travel permit as a proof of age.
The mayor helped him obtain the certificate which enabled him to get a passport.
Born in Sabar Sahi slum in the city, Chandan was selected to train at Bayern Munich at an all-India competition at Pune recently.
Chandan's journey from Sabar Sahi slum to Bayern Munich, one of the most renowned European clubs,  has been difficult. His mother Duhita Nayak, who lives in a polythene-clad shanty, works as a maid. Apart from Chandan's poor economic background, his age also stood in the way.
Children between 14 and 16 are allowed to train in Bayern Munich. However, Chandan's spectacular performance in the selection camp at Pune impressed everyone, including Sunil Chhetri, the club's head selector for India.
Chandan will get training at Bayern Munich for two months.
Read the full story from Deccan Chronicle
Comments
comments