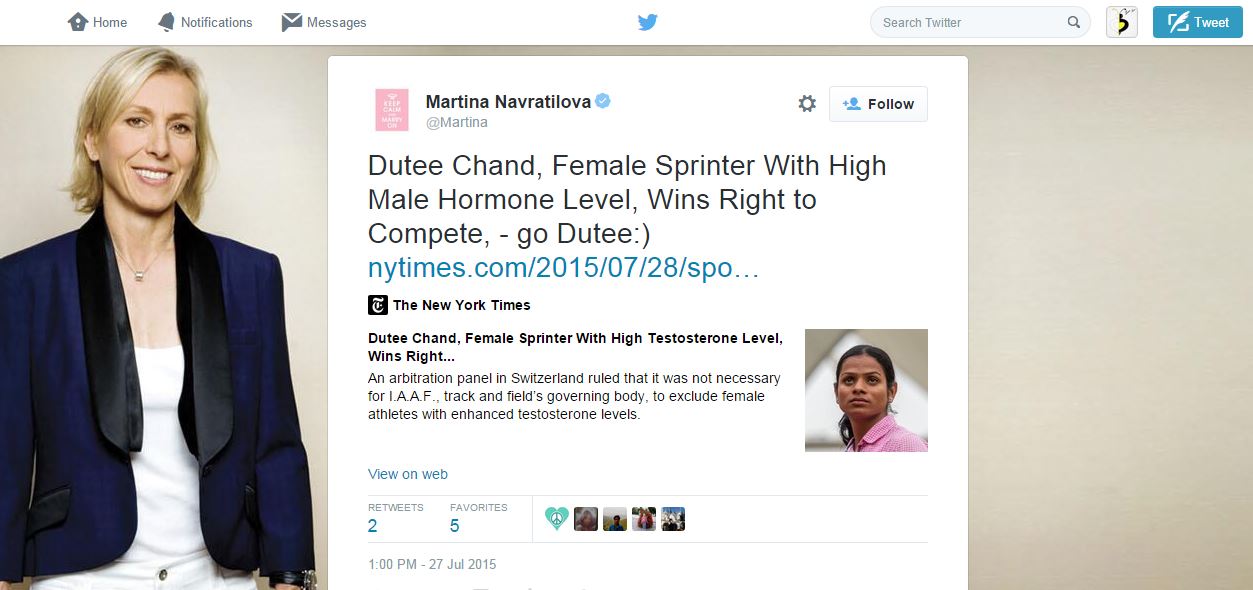 A female sprinter barred from international competition because her natural levels of testosterone were judged by track and field officials to be in the range of men must be allowed to compete, the final appeals court for global sports ruled on Monday.
Dutee Chand, India's 18-and-under 100-meter champion and an Olympic hopeful, has a condition called hyperandrogenism. She was barred from competing against women in 2014 because her natural levels of testosterone exceeded guidelines for female athletes. The guidelines are set by track and field's governing body, known as the I.A.A.F., and are similar to those of the International Olympic Committee.
The I.A.A.F. now has two years to provide scientific evidence "about the quantitative relationship between enhanced testosterone levels and improved athletic performance in hyperandrogenic athletes," the Court of Arbitration for Sport in Switzerland said. The panel's ruling said it "was unable to conclude that hyperandrogenic female athletes may benefit from such a significant performance advantage that it is necessary to exclude them from competing in the female category."
It means that Chand, and other women who may have similar conditions, can participate in international competition, perhaps including at next year's Summer Olympics in Rio de Janeiro.
"What I had to face last year was not fair," Chand said in a statement released by a Toronto law firm that represented her. "I have a right to run and compete. But that right was taken away from me. I was humiliated for something that I can't be blamed for. I am glad that no other female athlete will have to face what I have faced, thanks to this verdict."
Comments
comments