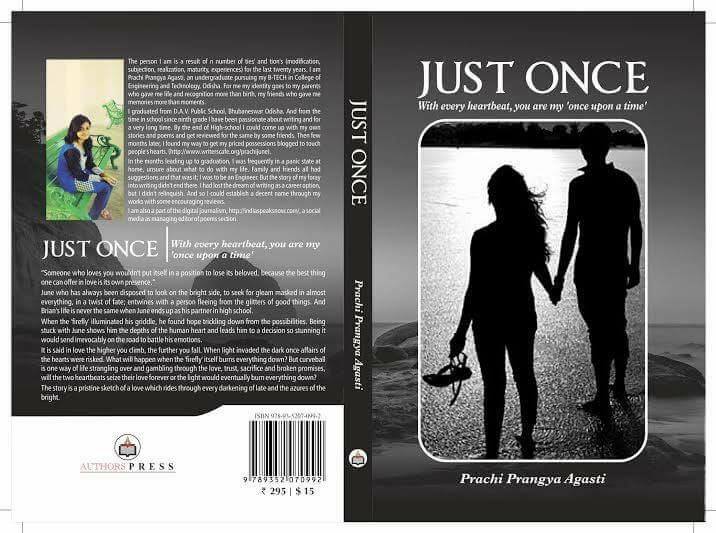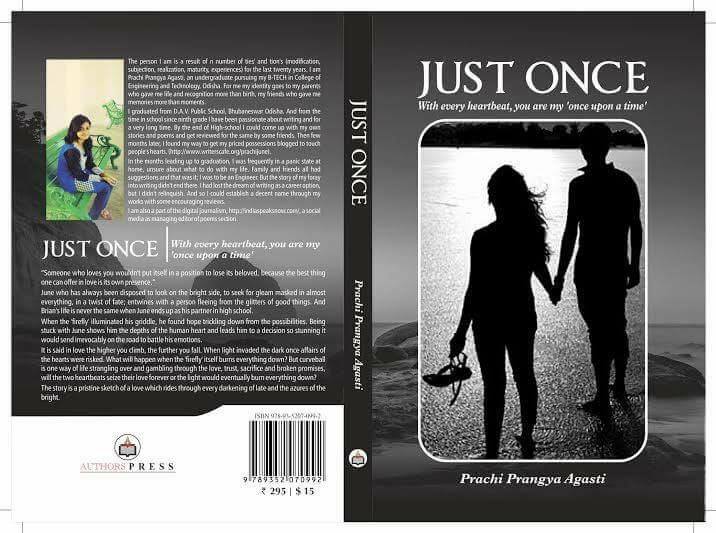 Given below is a description of Journey of Prachi from her own perspective. Do read and you can buy her novel at Link to buy from Amazon
The person I am is the result of finite process of tests with no limits to its experiences. And the better aspect of the person I am can be reflected by the words of my family and friends. May be my identity dwells upon the path of career, me being an undergraduate in College of Engineering and Technology, Odisha but certainly that may not be the only one. I am my father's cherished daughter, my mother's nagging yet lovable doll and friend's adored better half.
I have passed by schooling from D.A.V Public School, chandrasekharpur. From the time in my school, I have been passionate about writing and the desire to be recognized amongst budding writers got stuck in my heart for a long time. I started penning down few lines that I thought could make a fine poetry. And I continued to make most of my passion, putting efforts and learning through the consistent process. I may not have been a best teenager that was certainly focussed in a definite career path but I made most of my school days that do not let my heart clench with regression.
My life could not have made a person I am today without the mistakes I made. Drowning in the struggle that life throws us at, getting up with the desperate pleas of some light might have been masked but they were the essential part of my life, part that has reformed me, incited me, inspired me and made me stand against the world. And the passion of being a writer wouldn't have been possible without a struggle. My parents stood beside me in every step of my downfall constantly radiating encouraging words that always boosted ample confidence in me.
Few months later, after the evening of my high-school days I found my way to get my priced possessions blogged to touch people's hearts. (http://www.writerscafe.org/prachijune). So the story of my foray into writing didn't end and I could establish a decent name with some heartening reviews.
I always had the bits and pieces of an undying love story, a seed mingled with a longing to put it into words. I hadn't ever thought I could make those jumbled mess of parts into a decent story. But I was inspired and inspired enough to work upon it, my passion with relentless efforts until I carve the ending to that story. Just Once, a story of an undying love, a story that could clench your heart into an ache, a story that could make you crave for a love that quenches your soul was born. And so was an author, who may not be a best among the writing society of the world, but a promising one who could make you ride through those parts of your heart that you haven't even dreamt of.
The path of becoming an author of a debut novel has definitely not been easy. Coursing through publishers, researching about their foundations and having them glimpse at my work was tedious job. And the most important of it was the edginess, the anxious-wait for months to be acknowledged for your work. But the moment you are appreciated, called upon for your work is something can't be even described in words. That something could satisfy a thirst, a thirst of living the dream of your life.
Now that the journey of Just Once has reached its destination, I have buckled down scribbling on the fresh pages of my notebook. The unscarred pages have now been rendered with a cruise to an imaginary world of glamour and love. And the rest is on its way, I promise.
Comments
comments