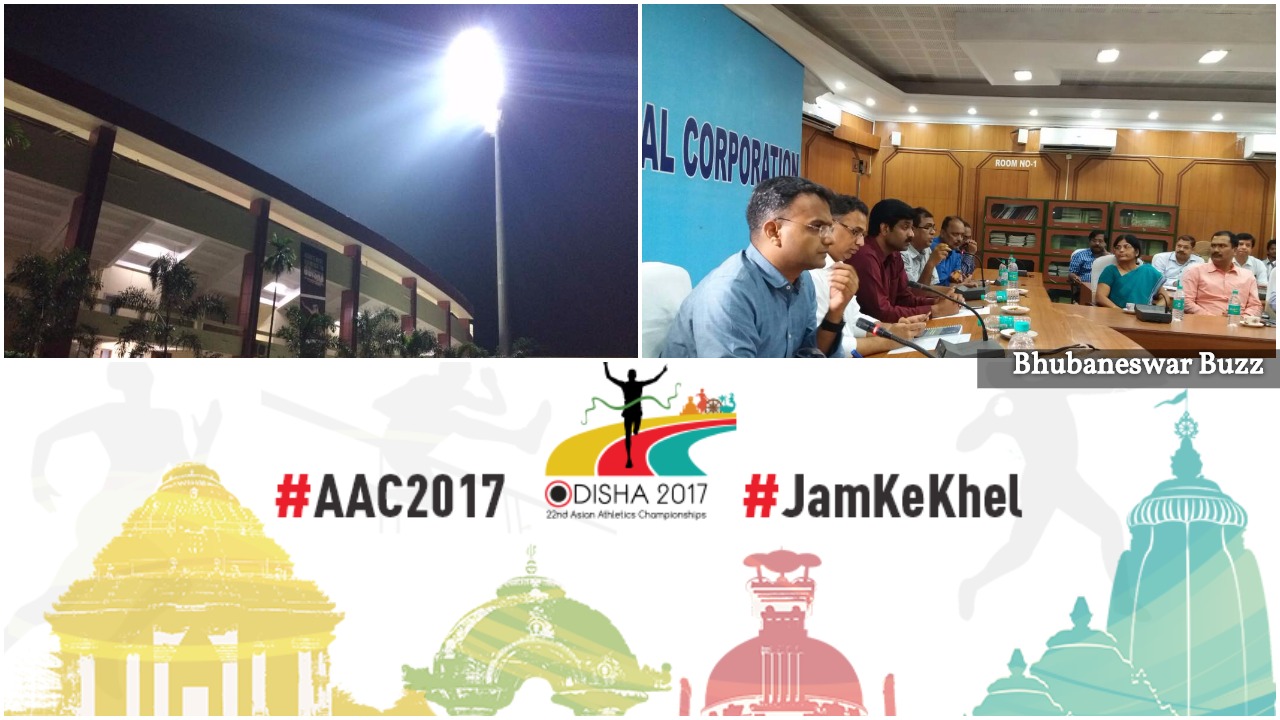 With a feel of organising an international event like Olympics or World Athletics Meet, the city is gearing up with great enthusiasm to hold the biggest ever sports event in the history of the State. The coming Patha Utsav on June 25 (Sunday) would set the stage rolling for a massive citizen connect drive for the upcoming Asian Athletics Championship at Kalinga Stadium, slated from July 5th to 9th, 2017.
A preparatory meeting for these citizen connect programmes was held today at BMC Conference hall wherein senior officials of Sports and Youth Services Dept., Public Works Dept., Bhubaneswar Municipal Corporation (BMC), Bhubaneswar Development Authority (BDA), PHEO, School & Mass Education Dept. along with representatives of various organisations participated.
The unique citizen connect campaign will be launched by the Hon'ble Chief Minister in the coming Patha Utsav amidst a grand event and mega street fest. The citizen connect campaign will be from June 25 to July 2 touching all schools, colleges, educational institutions, IT companies, social service organisations and major corporate houses with a series of interactive sessions at multiple locations in the city through all these days. These spate of activities would again bring back the memories of similar activities conducted during the Smart City Challenge, in which, the Temple City emerged as the topper.
Promotional videos and radio campaigns for the Asian Athletics Championship-2017 will be rolled out from tomorrow in order to make more people connect with the grand sporting event. It may be mentioned here that flags of 45 participating nations would be put on display along the Janpath spanning from Master Canteen square and Ram Mandir Square, as well as near other major junctions and roads in the city as a celebrating mood enhancer.
While the famed Prince Dance Group will be performing on stage as part of the musical and dance extravaganza, a detailed plan is being prepared to make it a huge success engaging people from various walks of life.
Sports & Youth Services Secretary Vishal Dev, BMC Commissioner Dr. Krishan Kumar, Director Sports Vineel Krishna and Additional Commissioner-cum-Member Enforcement BDA, Bhabani Chayani attended today's preparatory meeting.
Selfie with Olly zones, Olly masks, athletic quiz, thematic drawing and painting competitions on athletics; storytelling sessions with books from 45 participating nations, walk with Olly will be major attractions at the special Patha Utsav. A mobile storey-telling event with books from the participating nations would also be organised.
Speaking on the occasion the Sports & Youth Services Secretary Vishal Dev said "this will be Odisha's unique privilege to host such a high profile international sporting event and it is a matter of pride for all citizens. We would organise it in such a way that every country and each athlete must go with a wonderful memory. We need to showcase the historic event and the hospitality must be such that the 800 plus delegation should have a lifetime memorable experience in the city.''
BMC Commissioner Dr. Krishan Kumar said "the event has helped Odisha to project something big on the world stage and we have to capitalise on this international experience to send the message through our guests as overwhelming hospitality and sense of aesthetics across the city.''
It may be noted here that, the combined efforts and 24×7 hard-work by various agencies have transformed the Kalinga Stadium to an international sports and athletics arena with all modern amenities within a short span of 90 days. A new practice venue with new-look stadium is getting ready to welcome the guests and would certainly open a new era in sports in Odisha with the AAC-2017.
Comments
comments