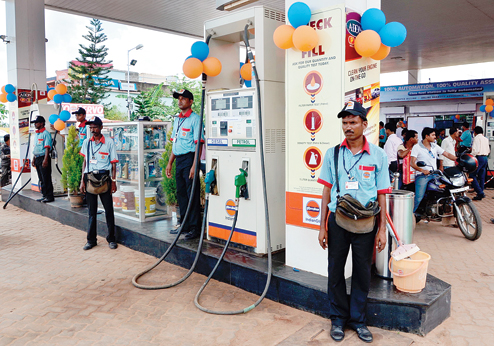 Union minister of state petroleum and natural gas Dharmendra Pradhan today said all the public sector undertakings (PSUs) in the field of petroleum and natural gas would be asked to use the social media to their maximum benefit to ensure better customer relations.
The minister said all the 32 filling stations in Bhubaneswar would make the city the first in eastern India to have all filling stations "fully automated". The Indian Oil has 18 filling stations in Bhubaneswar. Stating that grievance redress should be the priority of the PSUs in the oil and natural gas sector, Pradhan said the interactive voice response (IVR) system to redress the customers' grievances would now be available in Odia.
"We are going to start it shortly and provide toll-free numbers written in Odia near filling stations and offices of the LPG distributors. They can now dial and converse in Odia to redress their problems. At present, the IVR is available in English and Hindi. I have asked my officers to work on this," he said.
The IVR is a technology that allows a computer to interact with a person through the use of voice and tones input via keypad. In telecommunication network, a phone user can communicate to the grievance redress or customer care executives using telephone.
On the other hand, a fully automated filling station is a facility to record every transaction, so that any future reference or query with a doubt regarding the service could be cross-checked. It will help build trust and ensure transparency for the company.
At present, there are 6,200 Indian Oil filling stations in the country, including 192 in Odisha, which are fully automated. However, to make all 24,000 filling stations across the nation automated, the company will take around five to six years.
A person, who fails to get the liquefied petroleum gas (LPG) cylinder within the stipulated period of four days, would be able to lodge complaint on a Facebook account to be opened shortly by the ministry of petroleum and natural gas.
At an age when social media networking has become extremely popular among the common people, the ministry has decided to use sites such as Facebook to receive complaints from the customers.
Comments
comments