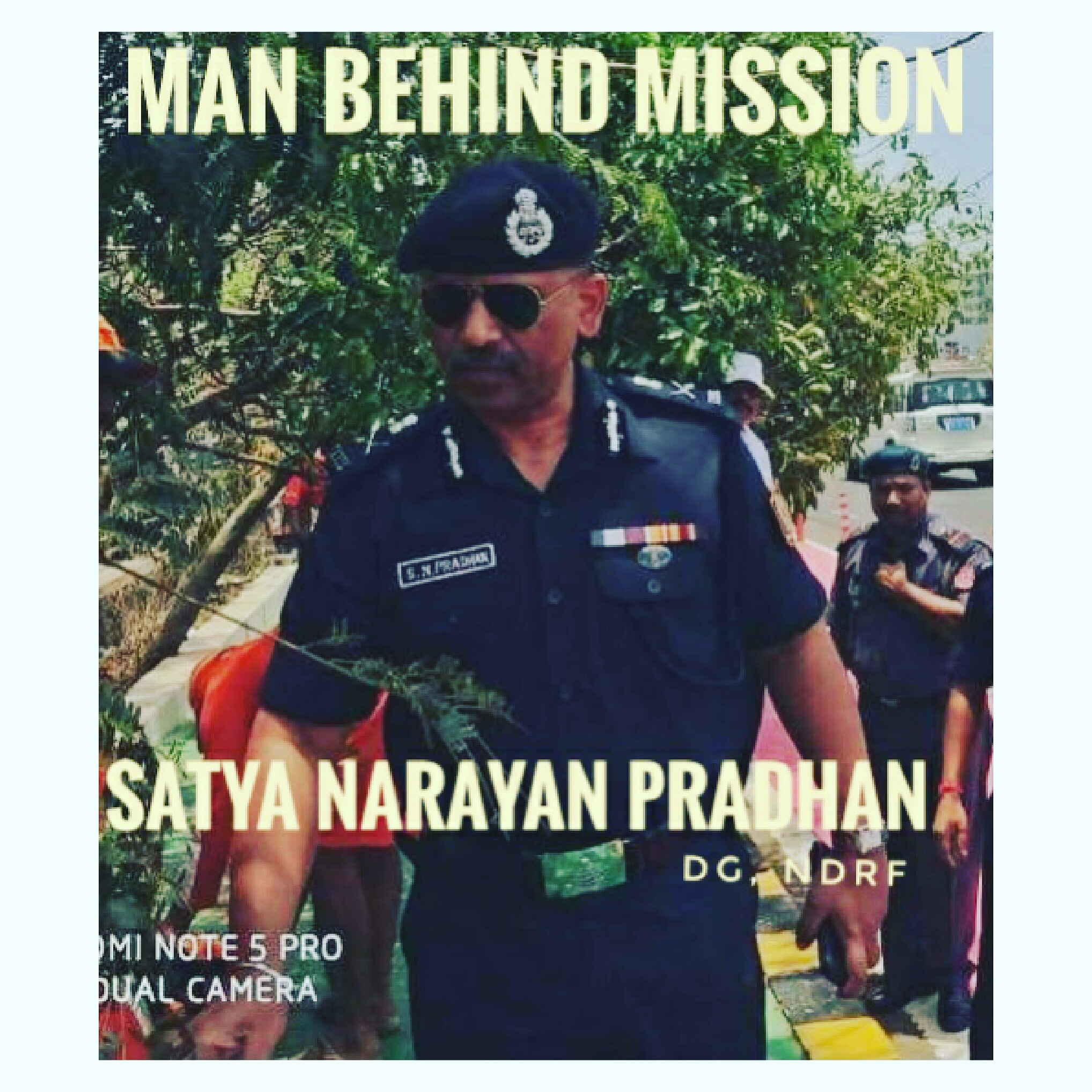 #SonOfSoil1
SATYA NARAYAN PRADHAN, DG,NDRF
——————————————————————-
Do you know this man?
He is a one man army. He is one of the heroes behind the successful post cyclonic management by state. You may know that the post cyclone rescue operation, removal of blocking on roads due to broken trees, relief distribution etc are performed by many government rescue teams along with the one and only NDRF ( National Disaster  Response Force) of central govt. And this Odia man is monitoring all these operations. Mr Satya Narayan Pradhan is now serving as the DG of NDRF. It is definitely a proud matter for all Odias.
Shri Satya Narayan Pradhan took over as Director General of National Disaster Response Force on 22nd January, 2019.
Prior to this he served as Joint Secretary, Ministry of Development of North Eastern Region (MDoNER) from August, 2016 to January, 2019. In MDoNER inter alia he piloted the innovative programme called Science & Technology Interventions in the North Eastern Region (STINER).
Shri Pradhan is an IPS officer belonging to 1988 batch borne on the Jharkhand cadre.
Shri Pradhan is born and brought of in Odisha. He studied in Bhubaneswar. He is a Post Graduate in Political Science from Hyderabad University, and did his M.Phil in International Relations from J.N.U. He was awarded the prestigious Chevening Fellowship of the British Council under which he acquired the degree of LLM with distinction in International Human Rights law from University of Essex, UK.
Shri Pradhan worked as Superintendent of Police in various districts of Bihar , before joining as Assistant Director at the Sardar Vallabbhai Patel National Police Academy, Hyderabad where he trained 6 batches of IPS officers as Assistant Director as well as Deputy Director.
He is a champion of poem writing, essay writing and of sports. He is also the co-author of the checklist for police investigation officers. He is a visiting faculty in several institutions and organisations of national repute.
He was awarded the President's Medal for Meritorious Service in 2006 and has been awarded the President's Police Medal for Distinguished Service 2012.
In 2008, he was given the Queen's Award for Innovation in Policing by the Government of UK.
In recent years for his numerous innovations in use of IT in policing he has been recognized at the national level and conferred several prestigious awards.
While pursuing his abiding interest in Cyber Security and Cyber Peace, Shri Pradhan holds a Diploma in Disaster Management and is committed to introduce further innovations and best practices into disaster response efforts of NDRF.
Giving interview to a local daily, he said that, as he is born in Odisha, he has taken rescue operation in this state as his personal challenge. I got emotional when I see my motherland in such calamity. Yet it gives more power to do more work.
He has many planning for Odisha which he decided to start after the normalcy is restored. We should feel proud of Such person who is heading such a responsible post. ODISHA feels proud for you.
©sarthak
Pic courstey: @specialreliefcommissioner,govt of Odisha
Comments
comments