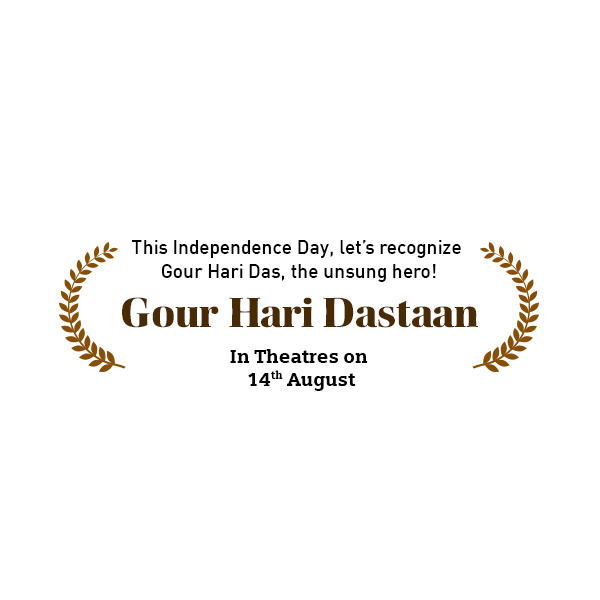 Certainly the most awarded crew ever put together for a film! Gaur Hari ki Dastaan boost 12  award winners in its crew. 10 National Award winners – 1 Emmy Award winner –  1 Oscar winner – 1 Grammy Nominee – such is the stellar cast of the upcoming movie 'Gaur Hari Dastaan – The Freedom File'.
"The fight with our own people was tougher… we were better off in the Raj era!" lamented freedom fighter Gour Hari Das at a press event, prior to the release of Gour Hari Dastaan, a film based on his 32-year-old battle with the bureaucracy.
The story of his life goes back circa 1945, when as a 14-year-old, Mr Das used to set out of his house in Orissa and run on the railway tracks, relying on the beacons from the passing trains to ferry classified messages and publications of the freedom movement.
At one occasion, he was also arrested for Civil Disobedience and served two months in jail. "My father and brother were all involved in the movement and it was quite natural that I participated too," he recalled.
Hardly did he know that many years later, he would have to tirelessly keep knocking at the doors of government offices to seek a certificate recognising his work as a freedom fighter.
Recounting his struggle as a citizen in an independent India, actor-filmmaker Ananth Mahadevan has made a film, which releases on Friday in theatres.
"Initially, when Ananth approached me, I didn't like the idea; but, eventually he convinced me," he added.
Mr Das had his first brush with bureaucracy when he was told that he could not obtain a freedom fighter's certificate from Maharashtra, as he had fought from the state of Orissa. This forced him to point out that he hadn't fought for a state, but for the country.
Comments
comments