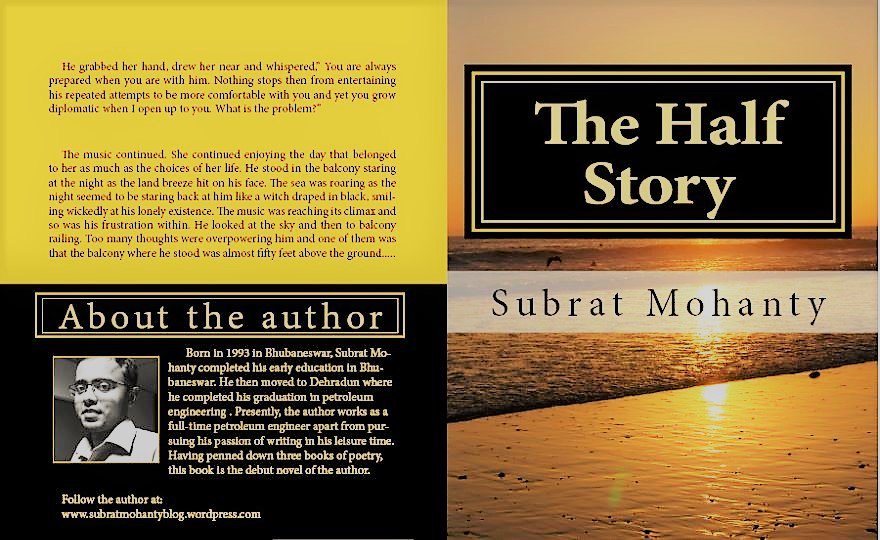 ABOUT THE BOOK – THE HALF STORY
It is said that human being is a social animal and being a social animal, relationships are as inherent to human beings as heat is to fire. After a person is born in this world, his or her perspectives start taking shape in the mould of the society where he or she lives and with time, the person starts looking at various stages of life at large through that perspective. Various stages of life include relationships as well. 'Relationship' – the word may sound simple yet often happens to be the most ambiguous phenomenon that the modern society confronts. The novel – 'The Half Story' explores this phenomenon through the story of Loknath Das. Loknath hails from a middle class family living in the fictional town of Dakhingram in Odisha. He falls in love with a girl in his college and chases her throughout his college life. During that course he faces many questions that are posed by his middle class background – usual challenges to make both ends meet, orthodox belief systems and so on. He is caught between the harsh reality where he lives and the beautiful dreams that he visualises he is with her. He makes a attempt to speak out his mind to his love and then he is introduced to another side of relationship. The story is narrated by an author to his audience. The author narrates half the story of Loknath Das as the readers come to know at the end why he does so and how that half story gets completed unexpectedly. The novel is a romantic thriller set in semi urban Odia society that questions various facets of the adolescent relationships and the leaves its readers to ponder over the reality of relationships.
The book – 'The Half Story' is available on all Amazon websites (including Amazon.in)
So, grab a copy of the book to know about the 'half' story of Loknath Das!
ABOUT THE AUTHOR
Subrat Mohanty, the author of 'The Half Story' was born and brought up in Bhubaneswar,Odisha. After completing his schooling from Bhubaneswar he went to Dehradun for pursuing his Bachelors degree in Petroleum Engineering. Subrat Mohanty presently works as a petroleum engineer while he writes blog articles and books in his leisure time.
His first book – 'The Shades of My Mind' which is a collection of poems, was also published in 2016 and is available on Amazon as well as Flipkart.
Follow the author at www.subratmohantyblog.wordpress.com
Or email at [email protected]
Comments
comments