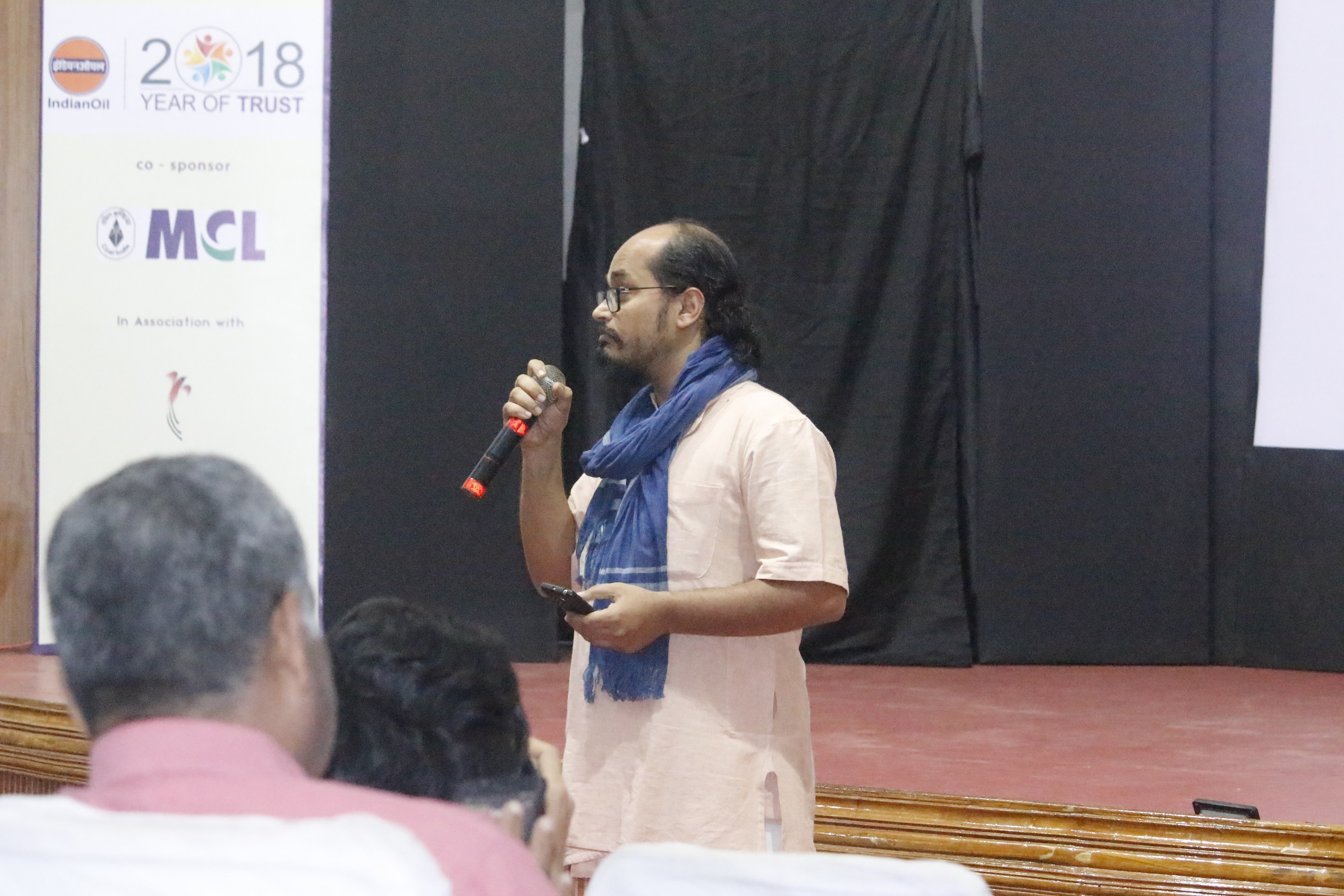 The Indian Film Festival of Bhubaneshwar has finally reached its concluding day after a week of enlightening discussions and showcasing a collection of diverse regional movies. The final day included the screening of the following movies –
Neend (Hindi) by Sabhajit Dasgupta
Capital I (Odiya) by Amartya Bhattacharya
Onyo Opala (Bengali) by Satrupa Sanyal
Lotak Lairambee (Manipuri) by Haobam Paban Kumar
Pahadara Luha (Odiya) by Sabyasachi Mohapatra
Marattam (Malayalam) by G. Aravindan (Retrospective)
The final day of the festival began with Sabhajit Dasgupta's Neend, a 15-minute Hindi movie. Neend is a poetical, quiet and meditative chamber piece designed around poetry, that unfolds in layers, beginning one night and ending the next day. The plot shows the story of Anuradha, who is blessed with a magical voice and has the power to put sleepless people into deep slumber. However, when she fails to put to sleep an old acquaintance, Tanmay, who hasn't slept for twenty years, she realizes that perhaps the only way left is to examine the past. This movie has also been to Delhi International Film Festival.
Neend was followed by Capital I (2015), an Odiya existential psycho drama by ace director Amartya Bhattacharya. The movie revolves around a mysterious and an unknown artist called Capital I. A young girl pursuing psychology is caught up with the mystery of Capital I and wants to unravel his story. As the movie unfolds, she finds herself trapped in between realistic relationship, attractions and a strange relationship with her hallucinatory lesbian partner. The movie has been recognised in national as well as international platforms.
Next up was Onyo Opala (Opala, the journey of a woman), a Bengali piece by Satrupa Sanyal. The movie released in 2015 shows the story of Opala, who gets rejected by her husband on the night of their marriage. She realizes that her husband, Shyam Sundar is a devotee of the Guru of her family, Ananta Babaji. As a result, she develops hatred for that man. As years pass by, Opala realizes that the two men share a physical relationship as well. Devastated Opala attempts suicide but Shyam Sundar treats her back to life with ample love and affection. This movie has also been screened at the IFFK Indian Panorama and IFFI.
'Lotak Lairambee', a Manipuri film by Haobam Paban Kumar was screened in the vening. The movie tells the story of a depressed fisherman, Tomba, who accidentally gets a gun and uses it for his self-protection thinking that it would solve all his problems. The movie has been to multiple festivals including International Film Festival of Kerala.
The festival concluded with the screening of Odiya Film Pahadara Luha. Released in 2016, the 110-minute long movie is based on industrialization and subsequent displacement of Paraja tribes in Koraput district of Odisha. Directed by Sabyasachi Mohapatra, Pahadara Luha won the National Award for Best Odiya Feature Film at the 63rd National Film Awards.
Simultaneously, in Zona (screen 2), Shuka Asuchi, a 121-minute Odiya movie was screened. Released in 2015, it revolves around what is generally referred as the 're-establishment of community self'; reclaiming of self-diginity by way of questioning the insatiate power and hegemony of the powerful. The film hopes to engage the audience to the deceptive divide ensuing from conflict of the rich and poor when the invisible and inexplicable conflict in reality is between the poor and the poor.
Comments
comments