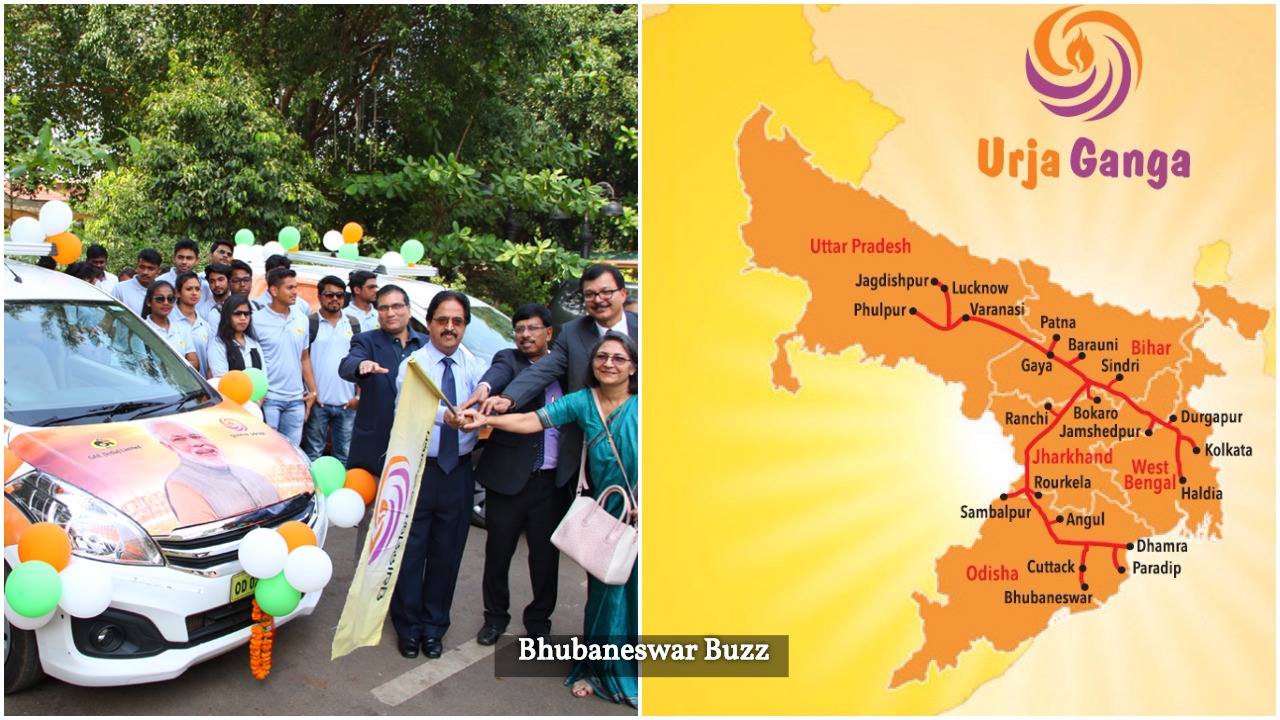 • 'Pradhan Mantri Urja Ganga' to arrive soon in Odisha
• Rs 4,000 crores investment for pipeline project
• Another Rs 1,750 crores to be invested in City Gas Distribution project
• 5 lakh households, 1.5 lakh vehicles to benefit
The vision of Hon'ble Prime Minister Shri Narendra Modi to bring environment friendly Natural Gas to Eastern India is set to become a reality soon in Odisha, with Hon'ble Minister of State for Petroleum & Natural Gas (Independent Charge) Shri Dharmendra Pradhan to launch the implementation of City Gas Distribution (CGD) project in Bhubaneshwar and Cuttack at a function here on March 18, 2017.
Natural Gas will be supplied to these cities through the Jagdishpur – Haldia & Bokaro – Dhamra Natural Gas Pipeline (JHBDPL), popularly known as 'Pradhan Mantri Urja Ganga'. Households and small industries in these cities can avail Piped Natural Gas (PNG) while vehicles can use Compressed Natural Gas (CNG) once the CGD networks become operational.
The Hon'ble Minister of State will also inaugurate the city office of GAIL (India) Limited which is implementing JHBDPL as well as the CGD networks. This was announced by GAIL Director (Projects) Dr Ashutosh Karnatak and GAIL Gas Limited CEO Shri P K Pal here today. GAIL Gas is a subsidiary of GAIL engaged in CGD activities.
The GAIL officials also launched four mobile vans which will spread awareness about how natural gas will transform the lives of the people in the cities as it will be supplied directly to domestic kitchens and used in vehicles and for industrial sector as well. The economic, social and environmental benefits of natural gas will be highlighted through these mobile vans.
The 2,619 km JHBDPL project is being executed at an investment of Rs 12,940 crores, which includes 40% capital grant (i.e. Rs 5,176 crores) from the Government of India. It will pass through five states, i.e. Uttar Pradesh, Bihar, Jharkhand, Odisha and West Bengal, covering 49 districts. Natural Gas will be supplied to Fertilizer Sector, Power Sector, Refineries, Steel, CGD and other sectors through this pipeline.
With the assured Gas supply, Fertilizer Plants at Gorakhpur (Uttar Pradesh), Barauni (Bihar) and Sindri (Jharkhand) have been approved for revival along the route of this pipeline. Further, this pipeline will also meet the gas requirements of Matix Fertilizer Plant at Durgapur (West Bengal). Continued full production from these four major Fertilizer Plants will ensure timely availability of adequate fertilizers in the eastern states which will go a long way in flourishing of agricultural sector.
GAIL has also been entrusted with developing CGD network in seven cities enroute the pipeline, i.e., Bhubaneswar, Cuttack, Varanasi, Patna, Jamshedpur, Kolkata and Ranchi.
In Odisha, the pipeline will be constructed at an estimated investment of Rs 4,000 crores and have a length of about 762 km covering 13 districts, i.e., Bhadrak, Jajpur, Dhenkanal, Angul, Sundergarh, Sambalpur, Jharsuguda, Debagarh, Jagatsinghpur, Cuttack, Khordha, Puri and Kendrapara.
The Bhubaneshwar CGD project will entail a capital expenditure of around Rs.1000 crore. It will benefit around 25 lakh people in Khordha district and around 2.5 lakh households will be supplied with piped domestic natural gas. Moreover, 24 CNG stations will be commissioned in the first three to five years to supply environment friendly and economic CNG fuel to around 1 lakh vehicles.
Similarly, in Cuttack CGD project, the capital expenditure will be around Rs 750 crore. Around 26 lakh people will be benefitted by this project while 2.5 lakh households will get PNG connections. In addition, CNG will be available to 50,000 vehicles through 20 CNG stations which will be set up in next three to five years.
Natural gas will also be available to industries and commercial establishments, creating a gas based industrial hub, thus boosting the economy of the state in an environment-friendly manner. Almost 2,000 km of steel and MDPE pipelines will be laid for these two CGD networks. It is also expected that the arrival of the Pradhan Mantri Urja Ganga will provide direct and indirect employment to thousands of people.
GAIL (India) Limited is India's No. 1 Integrated Natural Gas company with a market share of over 75% in Natural Gas transmission. With over 11,000 Kms of Natural gas network, GAIL supplies India's fuel requirements across sectors like Power, Fertilizer, Industrial, Automotive and even Household consumers. Apart from natural gas transmission, distribution and processing, the Company has diversified business interests in Petrochemicals, LPG transmission, City gas projects and Exploration and Production activities. The company is committed to expand its current network to 18,000 km within 5 years.
Comments
comments