lEARN AND BUILD robots, iot AND MORE.. IN KIIT SQUARE, BHUBANESWAR
 Help your child (11+ YEARS ABOVE) discover his/her brilliance. Join classes at the advanced centre to learn and build Robots and IOT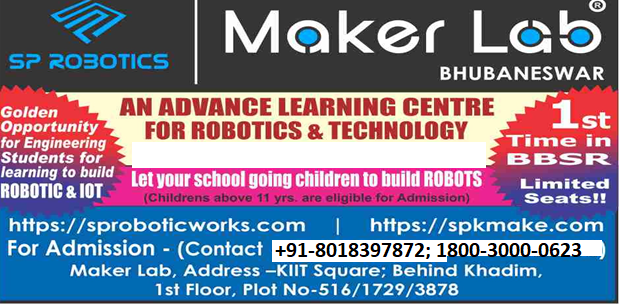 What is SP Robotics Maker Lab?
SP Robotics Maker Lab is a big break from the regular rote learning. Its a place to learn practically using Robotic kits and IOT (Internet of Things) kits, Image Processing, Virtual Reality (VR) and more. Though STEM Education has brought in a lot of change in the way we are educated today, we are still stuck with the age-old curriculum. With technology improving at such a rapid pace, we need to gear up and get upskilled with the latest and trending technologies that will be the future. If you are a college student or a school student, it is of more importance to you, since when you are into the real world – all the industries will be looking for people with these skills.
Who can join?
If you are a school student, you should start as soon as possible. School is the part in your life where you will have enough time to experiment, create and innovate with your ideas. Moulding your ideas at such an age will change the way you think and mould you into a great thinker and doer at such an young age.
If you are a college student, it is ideal for you to start learning immediately from the Maker Lab, since all industries are already looking out for engineers who have practical experience in technologies such as self-driving cars, machine learning and AI (Artificial Intelligence).
Are you a graduate already? Or are you working somewhere? You can join for the classes too. This helps you to upskill yourself and get the right job for your talents. Don't stay back as a simple programmer or testing engineer, improve your capabilities with these courses and get better jobs for your skills.
What is the fee and what can we learn?
There are various courses available for you to learn at the Maker Labs. In Robotics, there are 4 levels of training. It starts from Basic electronics, where you can learn about circuits and more. The second level is Basic Robotics where you can do a wireless Bluetooth controlled robot and learn engineering drawing too. The third level teaches you programming with Arduino based Robotic kit. You can program your own robot to do various actions. The final level will help you do a 4-legged walking robot and learn algorithms. The IOT Level helps you to do your own IOT Enabled device with Raspberry Pi and Python programming. For all these courses, Robotic kits and IOT kits will be provided individually for you to learn during the class hours. If you want, you can also buy the kits later on. We have created a smart class based learning system for you to have a world-class quality education at every maker lab. Industry level experts will be available at click of a button for helping you in case of doubts and queries. And as well you will have expert lab project coordinator to help in guiding students in making various robotics and technology projects.
Why should you join SP Robotics Maker Lab?
SP Robotics Maker Lab is the largest chain of Maker Spaces in India for advanced learning and experimentation. Our in-house Industry experts who have supplied Robotics solutions to several Fortune 500 Companies, have been directly involved in the development of courseware to suit people of all ages with different skills.Industry stalwarts such as Manipal Group, Lakshmi Narayanan (Ex-CEO and President of Cognizant), CK Ranganathan (Chairman of Cavin Kare).
SP Robotic Works has been awarded by Government of India, Ministry of Skill Development and Entrepreneurship as the Best Startup, Mastrepreneur Award by CNBC Awaz, Award for Exemplary application of IT by CII (Confedration of Indian Industries), World Startup Expo, Women Economic Forum and more.
You will be part of the largest tech community spread across nations, actively sharing ideas and innovating solutions to real-world problems. The community helps you learn fast, and provides you a platform to share your projects and gain recognition for what you have proudly showcased.
Website:
https://sproboticworks.com/maker-lab/odisha/bhubaneshwar/kiit-square
Email: [email protected]
Phone:  +91 8018397872; Toll Free (1800-3000-0623)
Comments
comments