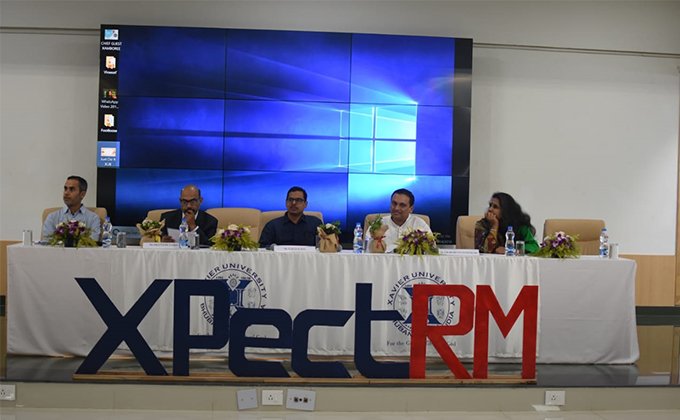 Xavier School of Rural Management (XSRM), in collaboration with RM Alumni Committee of Xavier University, Bhubaneswar (XUB), will be hosting the second edition of Rural Leadership Summit – XpectRM 2019, on October 13, 2019.
This event would serve as a platform for a healthy discussion and debate on issues pertaining to rural inclusive growth and the pain points in addressing the issues of the rural sector. This would serve as a unique opportunity to understand the nuances of serving the underserved and reaching the unreached through some of the best minds in the sector. The key areas of focus would be Development Policy and Livelihood, Rural and Inclusive Finance, Marketing and Rural Business Development.
The expected outcome of such an event is to create a lucid understanding of issues around rural livelihood, the key hindrances in addressing the difficulties of various sectors in rural paradigm, and most importantly, to sensitize budding young professionals to come up with ingenious ways to take incremental steps for the betterment of livelihoods.
The event will be graced by nine distinguished speakers who would be addressing the attendees. The speakers include Mr. Pravash Dash (Founder, MD & CEO, Arthan Finance), Mr. Ved Prakash (Sr. Business Development Manager – Banking (India/SAARC), Gemalto), Ms. Neelima Burra (Country Marketing Director, Hewlett-Packard), Mr. Surya Panda (Head – Credit, Samasta Microfinance Limited), Mr. Sudhanshu Shekhar (Founder & CEO, Aurbery Consulting Firm), Ms. Itishree Kanungo (State Coordinator, Climate Parliament), Mr. Prakash Panda (Associate Consultant, NABARD Consultancy Services), Mr. Pushpendra Singh Rathore (Operations Manager, ITC Limited), and Mr. Pratyaya Jagannath (Managing Director, Kabil Professional Services).
Xavier University, Bhubaneswar believes in providing a platform for quality discussions on emerging issues and trends. The university organizes a number of leadership talks to enhance the students' learning experience. XPectRM is one such leadership summit that aims to provide an enriching interactive session with respect to the latest developments in Rural Management.
ABOUT XUB
Xavier University, Bhubaneswar (XUB) was established in accordance with the Xavier University Act, 2013 and was inaugurated on July 07, 2014. XUB is a self-financing institution and is India's first digital university for imparting professional and technical education. XUB has 13 schools that offer world-class education in different fields. The post-graduation programs are offered by Xavier Institute of Management (XIMB), Xavier School of Human Resource Management (XAHR), erstwhile XIMB-HRM, Xavier School of Rural Management (XSRM), erstwhile XIMB-RM, Xavier School of Commerce (XSC), Xavier School of Sustainability (XSOS), and Xavier School of Human Settlements (XAHS). XUB also offers undergraduate programs under various schools including The Xavier Emlyon Business School, Xavier School of Communications (XCOMM), Xavier School of Economics (XSE), Xavier School of Computer Science and Engineering (XCOMP), Xavier Law School (XLS), Xavier Centre for Humanities and Compassion Studies, and School of Government and Public Affairs (SGPA).
Comments
comments