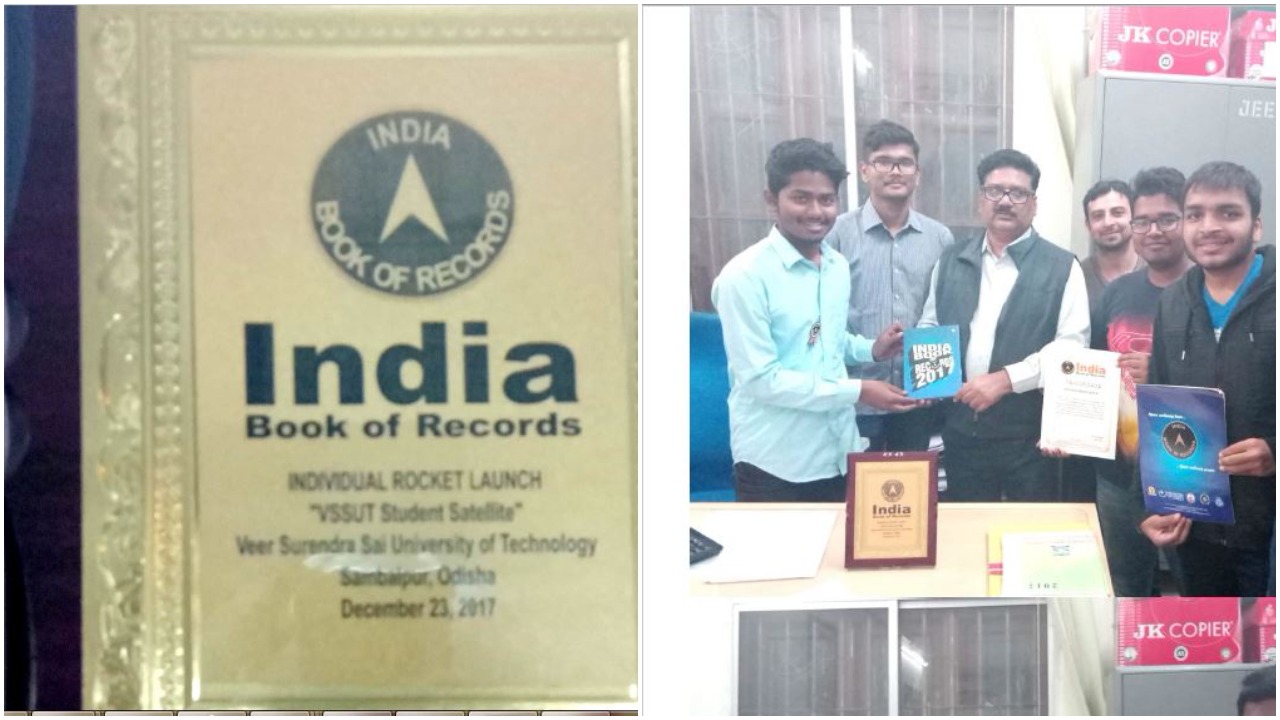 VSSUT Student satellite has set Asia's First Student rocketry record in the prestigious India Book of Records. They have set a milestone and have proved that it is Asia's First indigenous and multipurpose student rocketry mission.
For an Educational Institution, it is for the first time in India that such Milestone has been set. No other organisation has ever risked and tried to enter Aerospace and rocketry domain. However, the highly motivated students of VSSUT have taken this breath-taking challenge and mastered the art of Rocket science. Prior to this, ISRO is the only organisation who has been into rocketry and satellite fields in India.
Since Last 20 months, around 35 members have been working in this project. The team proposed their Successful Launch for recognitions in the India Book of Record. After a duration of three months, considerable verifications of the altimeter data, Media coverage and video clips, the project was granted recognition in the India Book of Records. The team received the recognition, memento and certificate on 13 January 2018, setting an extraordinary record on book of records in the history of India.
13 January 1956, is the date which is well recognised by the inauguration of the massive Hirakud Dam some 60 years ago by the then prime minister Late Shri Jawaharlal Nehru. VSSUT, established as UCE was built to produce engineers to maintain the Hirakud dam and has created glorious history. This milestone proves to be the best gift by the students to the culture.
The VSLV team has successfully test fired the VSLV 2.0 on 1 January 2018 to a height of 5200ft and intends to set this record in the record books also. Jaswasi Sahoo, Team Captain, said that soon they are pursuing recognition for Asia book of Records.
This journey could have had never been possible without the constant support of the Professors, Alumni and students of the university. Prof. B.B Pati, Hon'ble Vice chancellor ensured complete support to the project. Professor Debadutta Mishra, Dean Student Welfare helped the team immensely for gaining various approvals and academic permissions, Dr. Gyan Ranjan Biswal, vice-president of Idea and Innovation Club has been instrumental in technical suggestions regarding the project. Dr. P. K Kar, Dean F&P is guiding the team in the field of chemical propulsion. Professor Bandan Bhoi and Punyapriya Mishra were always a constant supporter as a mentor for the team. Mr. Ashesh Padhy, Vice President of Alumni Association has successfully mobilized funds to acquire necessary high-end prototyping tools.
Comments
comments