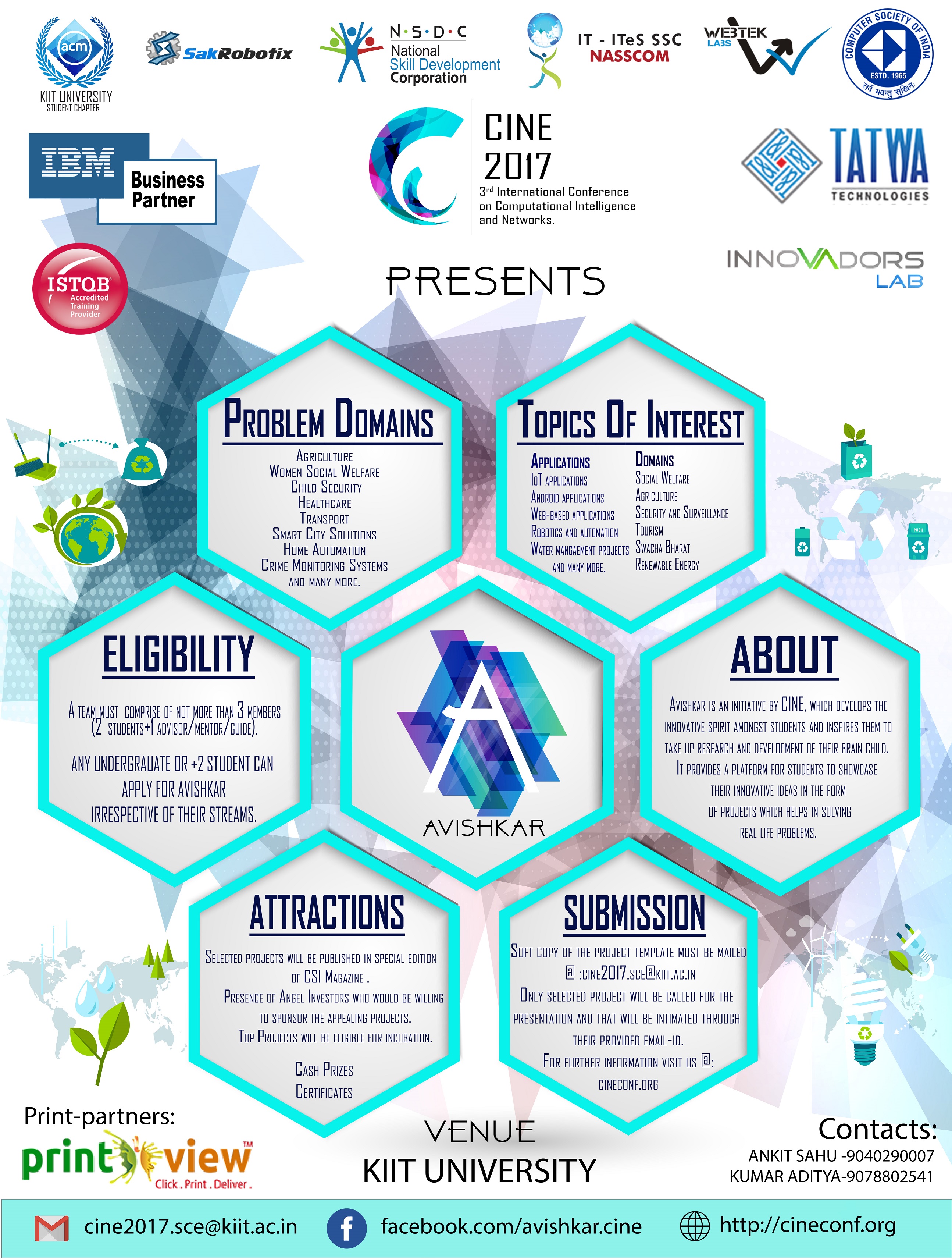 Avishkar is an initiative by CINE, which develops the innovative spirit amongst students and inspires them to take up research and development. It provides a platform for undergraduate students and +2 students to showcase their work on their respective research papers which helps in solving real life problems using applications of Computer Science and Information Technology.

Target Audience:
   Aspirant can be any undergraduate student irrespective of their streams or +2 students.
   Eligibility:
A team must comprise of not more than 3 members (2 students + 1 advisor/mentor/guide).
Students can be undergraduates from any stream or +2 science students.
Each team must have an advisor/mentor/guide.
Members of a team must be affiliated with the same educational institute.
The project has to be recommended by the head of the institute/Department.
The official language of the contest is English.
All written and spoken contest materials will be in English.
    Fees:
The total fees charged from the selected teams will be Rs. 1500 in which they are also allowed to attend the CINE conference.
SUBMISSION:
Soft copy of the project template must be submitted by Emailing us at [email protected]
Documentation part of the project should be prepared as per the template provided in our website : cineconf.org
Only selected project will be called for the presentation and that will be intimated
through their provided email id.
Contestants need to meet all of the following requirements at the time of the final contest presentations:
Be enrolled as a student at an accredited educational institution.
Not be involved in any part of the administration of the contest.
Not already be enrolled in another team with a different project.
Attractions:
Selected projects will be tentatively published in Special Edition of CSI(Computer Society of India) magazine.
Contestants will be judged by special jury from industry.
Kit will be provided to each team along with breakfast , lunch and snacks.
Presence of Angel investors who will be willing to fund saleable projects.
Projects with High market value will be eligible for Incubation.
Cash Prizes
Certificates
Important Dates :
31ST August : Last Date Of Abstract Submission
20th September : Acceptance Notification
28th October : Event Date
Facebook Page for Avishkar : facebook.com/avishkar.cine
Facebook Page for CINEconf. : facebook.com/iccine
Websites: cineconf.org
: kiit.ac.in/cine2017
Comments
comments