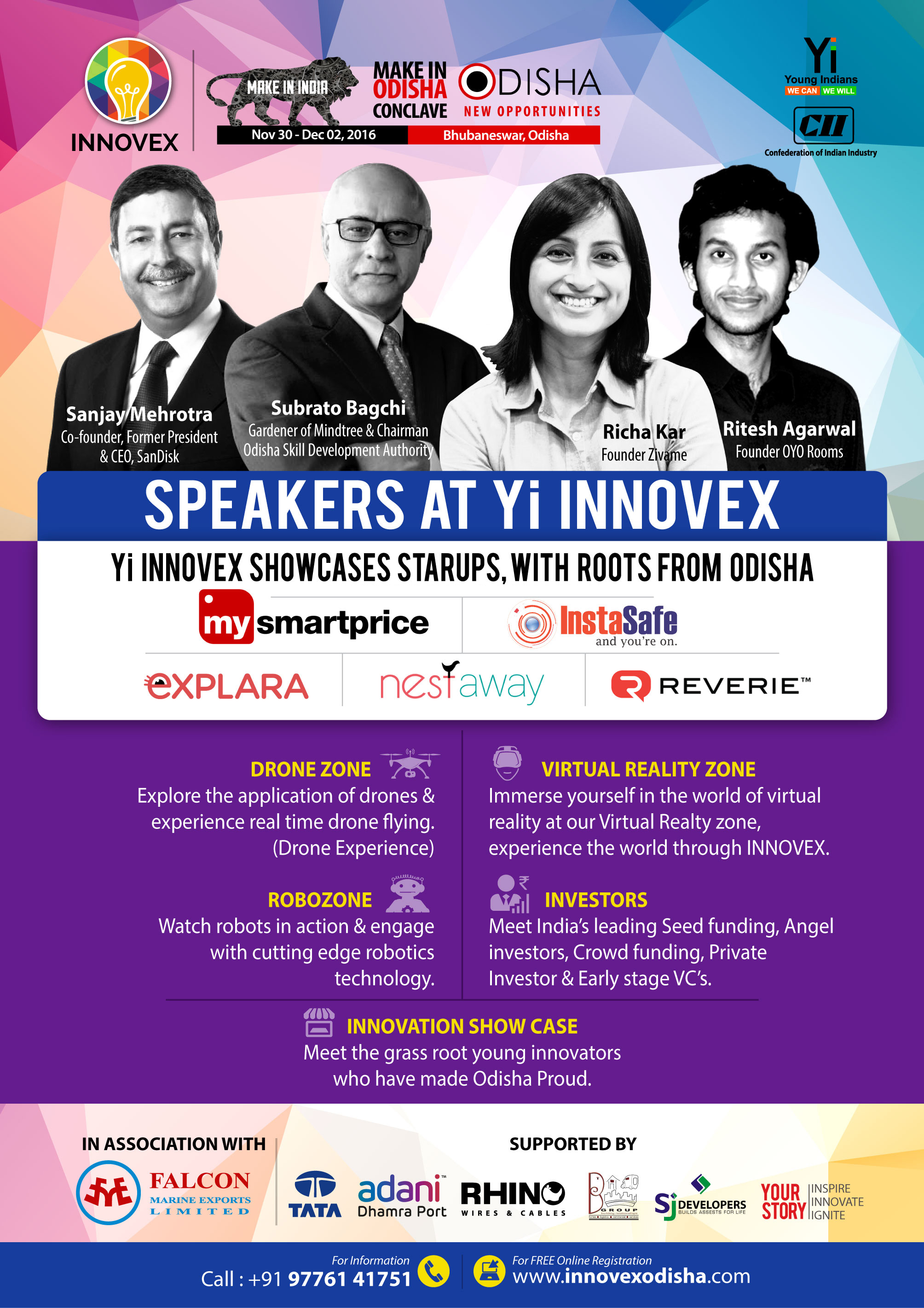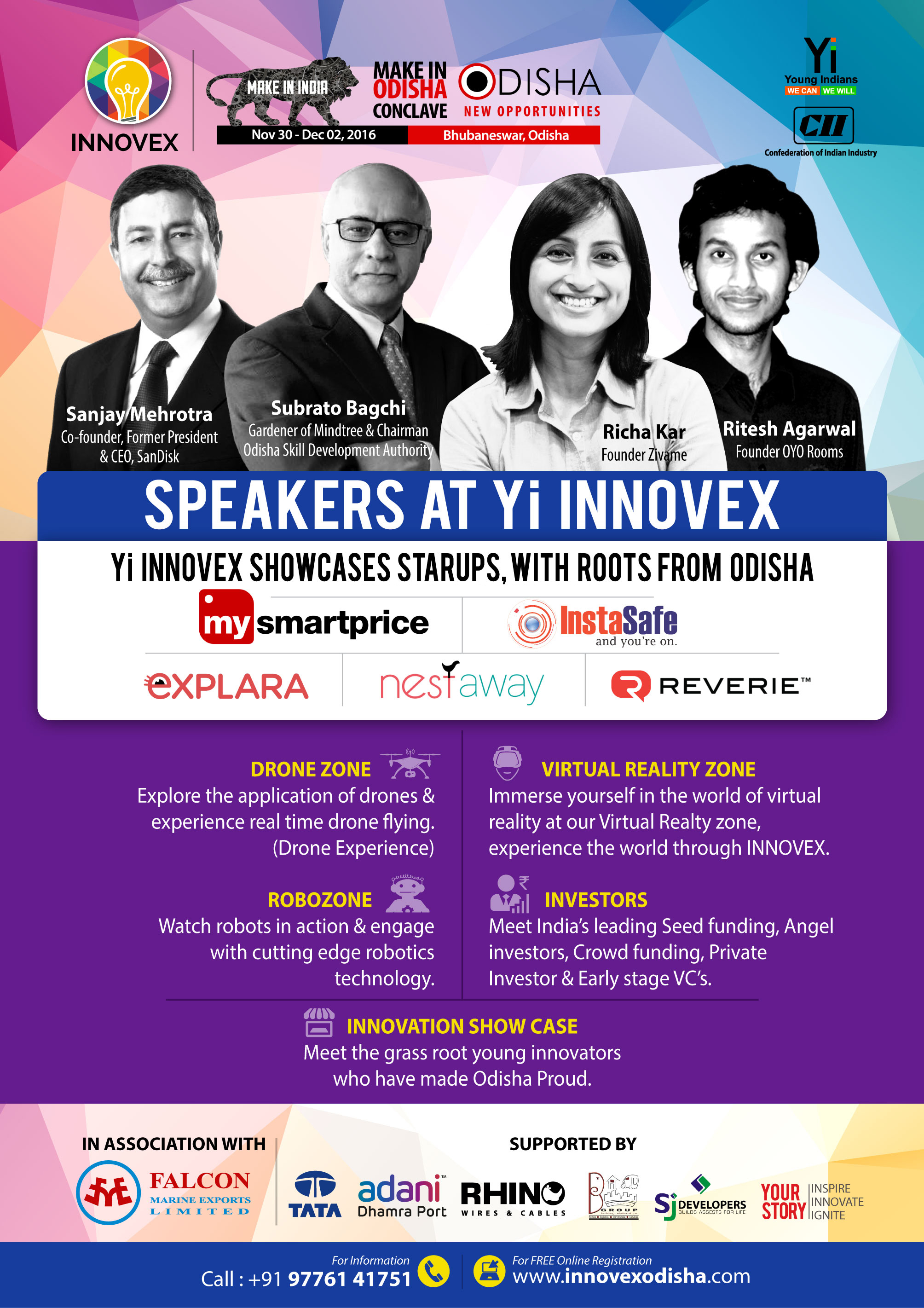 Yi INNOVEX @ Make in Odisha Conclave is an event for Entrepreneurs and Innovators to Inspire, Innovate, Educate and Connect. It is being organized by Young Indians (Yi) and supported by The Government of Odisha and Startup India Mission. Yi INNOVEX @ MIO will be featuring most successful startups & founders from Odisha, who are changing the world in their own ways. We will also celebrate the exuberance of the innovation from Odisha. During the event Yi INNOVEX will showcase cutting edge technology like Robotics, Virtual Reality, Drones/Quad copter for citizens to experience and learn.
The Three days Yi INNOVEX @ MIO will cover the following events and activities
5 Multi Million Dollar funded start-ups with roots from Odisha.
MySmartPrice.com: 10 Million USD Funded : Mr. Srikant Ray, Co Founder
Explara.com: Funded by Google India MD, and opting 6 Million USD : Mr. Santosh Panda, Founder
InstaSafe.com: Undisclosed 2 rounds of funding, 100 Most Promising Startup : Sandip Kumar Panda,  Co Founder
Reverie:  4 Million USD Funded : Arvind Pani , Founder
NestAway : 30 Million Funded by Ratan Tata & Others : Amarendra Sahu, Cofounder
The purpose of showcasing these startups is to inspire the local startups to follow their steps to success. The founders will coach the local entrepreneurs to make it big.
Drone Zone, Robo Zone & VR Zone for the visitors to engage
Visitors to the expo can try hands on drone flying and learn its applications in today's world RoboZone will display robots from small mobile robots to industrial robots and will expose the youth to cutting edge robotics.
We intend to offer an experience of Virtual reality consoles to the expo visitors and teach youngsters its application in Virtual learning, gaming, Virtual tourism and many more possibilities.
Innovation showcase of Odisha with Selfie zone
This will be a SELFI space which will showcase amazing innovations from ODISHA by grass root inventors. These inventions will be demonstrated along with their Inventors details. These will surely inspire students to innovate and solve problem around them.
Lalita Prasida Sripada  : Winner of Google Science Fair Award 2015
Tejaswini Priyadarshini : Creator of the "Air Bike". Went viral on social media.
Susant Pattnaik  : 6 Time President's Award winner for Innovation .
Shubhendu Kumar Sahu : President's Award winner on 14th Nov 2016.
Participation by Serial entrepreneurs, Business leaders from Silicon Valley USA, Global   Investor community ( Angel funds , Seed funds and VC funds) & Startup Mentors
Yi INNOVEX is bringing high-powered delegates to visit and meet with Odisha's startups and    Innovators. The participants will hear directly from the Policy makers, Investors, and successful entrepreneurs on the startup environment and discover the opportunities the market offers.
Project Yi Udyam  :  Seed funding for 30 individual / groups to spark business.
Objectives of Project UDYAM is to spark entrepreneurship in common people and inspire them to be job creators through an engaging workshop managed and moderated by renowned mentors and experts on social entrepreneurship.
Workshop on Glider making RC & Non RC for students and enthusiasts
This will be a workshop for School and college students with interest in building   flying objects. The step by step DIY based workshop will be conducted by EduRade with             materials and real live glider flying experience.
Background of Yi
Young Indians (Yi) is an integral part of the Confederation of Indian Industry (CII), a non-government, not-for-profit, industry led and industry managed organisation playing a proactive role in India's development process. Yi was formed in the year 2002 with an objective of creating a platform for young Indians to realize the dream of a developed nation.
Background of YI INNOVEX
YI, Bhubaneswar, has been organizing YI INNOVEX for the last five years as a part of Enterprise Odisha, the state's most prestigious event by Govt. of Odisha& CII, Odisha. YIINNOVEX Odisha 2015, was a grand success and it encouraged start-ups and brought together the start-up eco-system and inspired young minds to innovate. With many extraordinary inventors and startups from across the state joining, YI INNOVEX Odisha 2015 grabbed the imagination of all.
Did you know Bhubaneswar Buzz is only portal covering Odisha to have more than 20,000 followers (consistent) in top 3 Social media platforms i.e. Facebook,Twitter and Instagram
Bhubaneswar Buzz is available in 10 social media channels, check out all of them here
Did you know Odisha is first in India to host Asian Surf Championship
Like Us in Facebook to get more content like this
Comments
comments