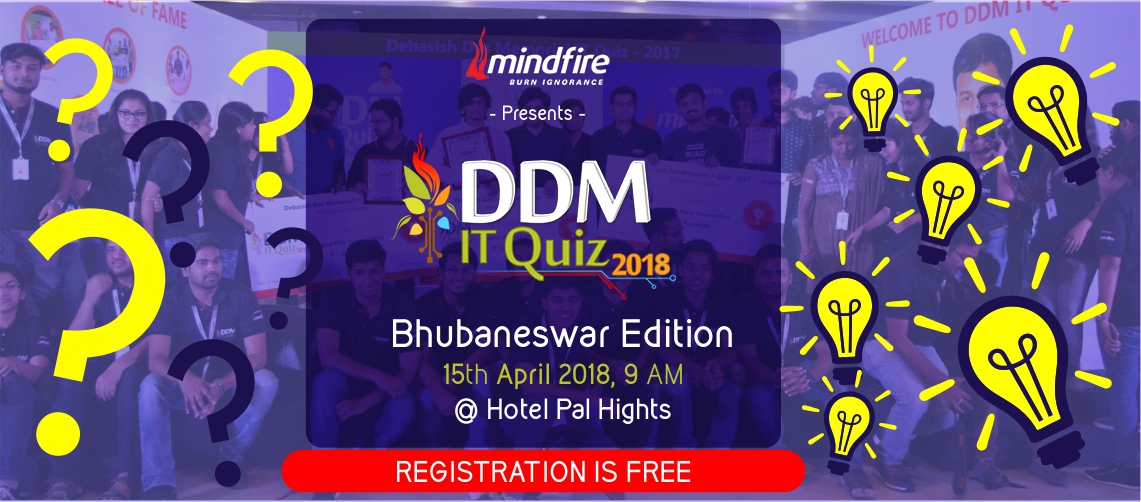 Most IT professionals switch jobs frequently to maximize their income. Hence, most IT companies do not keep track of their former employees. But there are a number of companies that honour the contribution of their deceased employees by conducting events every year. Mindfire Solutions, globally respected custom software development company, is one of the rare organizations that organize a national-level quiz event annually in memory of late Debasish Das.
Mindfire Solutions consider late Debasish Das as one of the brightest minds and finest human beings to have worked with. Since 2011, the Bhubaneswar-based IT software service provider, has been conducting Debasish Das Memorial IT Quiz every year. In 2011, 120 teams from leading technical and management institutes in Bhubaneswar participated in the first edition of Debasish Das Memorial IT Quiz. But over 350 teams from various parts of India participated in the 7th edition of Debasish Das Memorial IT Quiz.
Mindfire Solutions recently announced to organize the Bhubaneswar Edition of Debasish Das Memorial IT Quiz on 15th April 2018. The national level quiz event will take place in Hotel Pal Heights, Bhubaneswar. The quiz event anchored by Lloyd Saldanha will provide an opportunity to inquisitive technical and management students to showcase their talent and knowledge. Also, the winner will get a cash prize of Rs 1,00,000, whereas the first and second runner-ups will get Rs 50,000 and Rs 30,000 respectively.
At the same time, the audience can win prizes like t-shirts, pen drives and power banks during while experiencing the exciting quiz event. However, Mindfire Solutions does not allow spot registration. The teams have to register in advance through the official website of Debasish Das Memorial IT Quiz 2018. The registered candidates further have to produce the confirmation email/entry pass along with the college identity cards to attend the quiz event. Also, the candidates need to meet a set of quiz rules set by Mindfire Solutions.
Rules for Participating in Debasish Das Memorial IT Quiz 2018
This quiz is open to all students across India who are currently pursuing or continuing with MBA/M.Tech/MCA/BBA/B.Tech/BCA/Other Technical/Other Management courses.
The team size is 2 members per team. Both the team members should be from the same college.
The event will take place in two rounds, written prelims followed by the finals.
8 teams from the prelims will qualify for the finals.
In the finals, the quiz master will explain detailed rules before conducting every round.
The quiz master's decision is final and binding.
The organizing team reserves the right to change or modify any of the rules.
Use of smart phones or any electronic gadgets during prelims will lead to cancellation of your participation immediately without any debate or discussion.
You have to carry your original ID card of your college/Institute along with the printed copy of the entry pass (which will be sent to your email ID once you have successfully registered) and need to produce it as a proof whenever asked for/by the organizers. Without valid documents, your participation will be rejected.
Debasish Das Memorial IT Quiz is one of the most popular national-level quiz events taking place in Eastern India. Teams from leading technical and management institutions will participate in the 8th edition of the Debasish Das Memorial IT Quiz. Also, both winners and audiences get a chance to win exciting prizes, while showcasing talent and acquiring knowledge. Mindfire Solutions keep spreading knowledge by organizing national-level events like TechBhubaneswar and Debasish Das Memorial IT Quiz every year.
Visit these URLs to know more about DDM IT Quiz 2018
Official Website: DDMITQUIZ.com
Facebook: https://www.facebook.com/DDMITQUIZ
Twitter: https://twitter.com/DDMITQUIZ
Google Plus: https://plus.google.com/107919595406995307178/posts?hl=en_US
Comments
comments