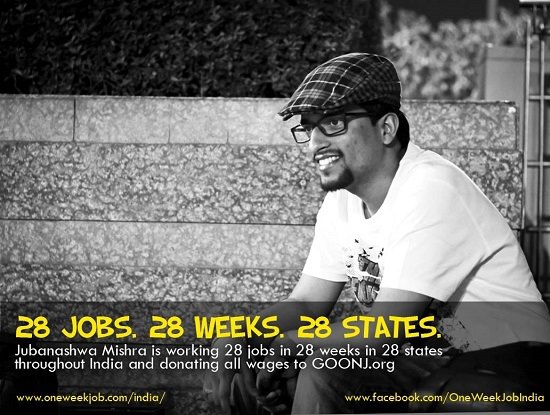 He has worked as a photographer, a teacher, a film executive, an emotional support consultant and a river rafting guide.
Jubanashwa Mishra has spent 28 weeks trying out 28 jobs  – a challenge that has seen him travel more than 15,000 miles across India.
The 29-year-old started the project in May 2013 after leaving his job as a software engineer in Chennai because he was not passionate about it.
He said he hoped the challenge would inspire youngsters to explore their own passion and discover a profession they really want to do.
'There is a growing trend in India toward stereotypical higher education in medicine and engineering,' he said. 'There are a lot of other possible professions which a kid may want to do, but those dreams are killed during adolescence.'
'Through my one job a week project in India, I have tried to break this trend. I hope it will inspire the youngsters of tomorrow to follow their dreams.'
Mr Mishra's challenge saw him travel to 28 Indian states via different modes of transport, including plane, train, bus,  car, taxi, auto rickshaw and motorbike.
He took on jobs in Manipur, Bihar, Rajasthan, Kerela and Gujurat and other places – before returning home, where he now works as a writer and motivational speaker.
Starting his career with Tata Consultancy Services, the turning point in his life came when he got through Mudra Institute of Communications Ahmadabad. The entrepreneurship bug entered into his vein and he went on to co-found EZeeDictionary.com (Picture dictionary of 2.5 lakhs word definitions), Fetcha Kucha (Story Telling workshop), International Short Film Festival – Bhubaneswar 2011, and one digital agency called EZeeDigi Communications.
Originally from Orissa, Mishra now lives in Delhi. In his journey, he has shown great entrepreneurial spirit as well. While doing his post graduation, he created EzeeDictionary, a crowd sourced image dictionary for over 2,50,000 English words. He has also been part of projects such as the rural Jatra exhibition in Orissa.
Comments
comments