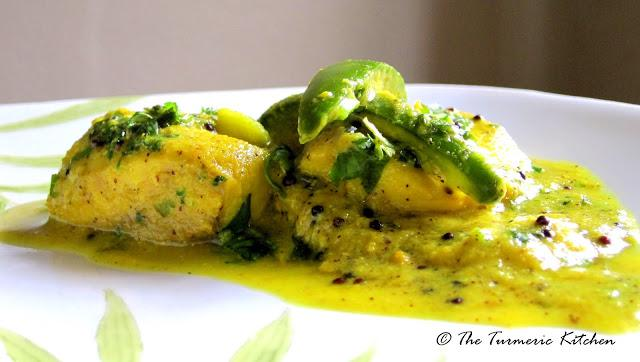 In days when I crave for some fish, there's this one tried and tested recipe that always comes to mind. To begin with, I am an ardent fish lover, so anything -in fish, with fish or even on fish and I am in for it, even in its raw form as sushi. Fish, I believe, is one of those delicate pieces of art in the culinary world which demands to be handled with the gentlest of hands. It could be ruined with even a slight overdose of those heavy spices. Every fish has its own unique taste and a best way to make it. Never been a fan of those heavily spiced fish gravies where the delicacy and the tenderness of the fish is lost. Handled beautifully with light spices is what makes any fish curry absolutely finger-licking delicious.
Odia cuisine, the one I have grown up with, is known for its simplicity and delicate treatment of food products. Cuttack being on the banks of the River Mahanadi, we always had an access to a lot of fresh riverine fish. Unlike the sea water salty fish, fresh water fish such as Rohu has this natural sweetness to it. The taste difference is quite subtle, but that is what that makes all the difference to any Odia fish delicacy. Another important component of Odia cuisine is mustard seeds. Mustard seeds and mustard oil is used very frequently in our cuisine. Mustard oil has a typical pungent smell similar to that of wasabi. It's usually heated to its smoking point to decrease its pungency. At home, it is mostly used for frying fish and making fish curries since it imparts a very distinct taste to the subject at hand.
"Macha Besara" is an Odia term meaning "Fish in mustard gravy". Besara basically refers to the mustard gravy that also serves as a base for many vegetarian preparations. Ideally, Macha Besara is made with Illisi macha and is more popularly known as "Illisi Macha Besara".Tilapia or Cat fish seem to work best with the limited choices available here, and so I settle for Tilapia.
This delicacy is a very simple preparation in which the fish is marinated with mustard paste along with some other spices. It could then be steamed in a banana leaf over a steamer which is usually, a very traditional approach that keeps the fish soft, moist and tender along with infusing it with the goodness of the banana leaf. In a more modern approach, it's cooked over a stove for a few minutes before finally being served with a mustard seed and curry leaf tempering. For those looking to make it easier, there's a microwave method too which I will enlist at the end.
So here's the recipe: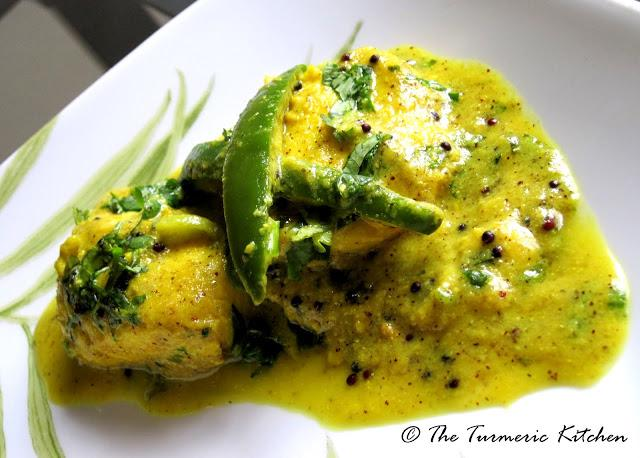 ~ Maccha Besara~
Ingredients to serve 2
For the marinade or the Besara:
1 ½ teaspoons – Mustard seeds
4 cloves – Garlic
¼ Onion
2 Green Chilies
2 Tablespoons – Yogurt
½ teaspoon – Chili powder
1 teaspoon – Turmeric powder
To taste – Salt
Pinch – Sugar
4 Pieces of Tilapia (3 inch squares)
1 teaspoon – Mustard oil or Canola oil
For the tempering:
½ teaspoon – Mustard seeds
2 Green chilies
5-6 Curry leaves
1 clove – Garlic
2 teaspoons – Mustard oil or Canola oil
Steps
1. Make a fine powder of the mustard seeds and then add garlic, onion, 2 green chillies and some water to make a fine paste.
2. Marinate the fish with the mustard paste, yogurt, turmeric powder, red chilli powder, a pinch of sugar and salt. Add 2 teaspoon of mustard oil preferably and keep it to marinate in the refrigerator for a minimum of 30mins (the more time,the better).
3. When ready to cook, pour the marinating mixture into the pan and let it simmer for 4-5 mins. Adjust the water content depending on the gravy consistency you want.
4. Tempering: Heat the oil, add the mustard seeds, curry leaves, finely minced garlic and add the tempering to the fish, once the mustard seeds start to pop. The oil starts to float once the fish is done.
Using a Microwave: Marinate the fish as described above in a microwave safe bowl, then after the marination time, place it in the microwave for 5 mins on high.Then prepare the tempering separately and add it to the bowl.
Serve it piping hot with a side of rice or even rotis.
This is a very simple recipe with an intense taste of mustard seeds that meshes along with the soft, tender melt-in-the-mouth fish. It's just the right amount of tart and spice that let's the fish shine on the plate. A must try!
About the author: A full time Ocean Scientist & a cook at heart, Jagruti shares her passion for Odia food through her blog "The Turmeric Kitchen" – Turmeric Kitchen
Follow her on Facebook & Twitter.
—
Jagruti Vedamati, PhD
Postdoctoral Scholar
Dept. of Environmental Earth System Science
Stanford University
Stanford, CA.
Email: [email protected]
Also Read: Odia Food: Dahi Bara Aloo Dum (Recipe from blog The Turmeric Kitchen)
Comments
comments