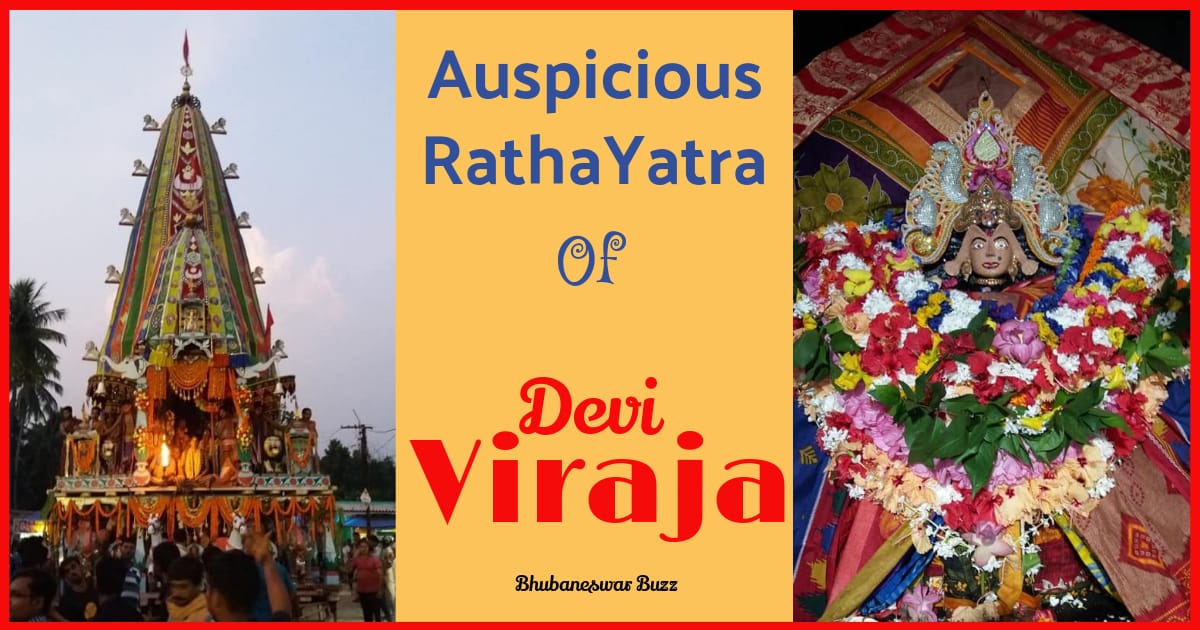 Aa krushnen rajasa bartamane
Nibesayana mruta martaiyacha
Hiranayena sabita rathena
Debojati bhubanani pashyan
 -Rig veda- 1. 35.2
Ratha tradition is too old in our civilization. Even we can find in the Rig veda about the ratha yatra.  Ratha is the only medium to travel. God sun travels in the morning and makes everyone active. Raja, Maharaja, Deva, Danaba used to travel through the ratha. In the Mahabharata war lord Krishna played the role as sarathi of Arjuna. In the Indian literature descriptions about Atama ratha, Yoga ratha, Vishnu ratha, Sakti ratha, Surya ratha, Kandarpa ratha, Nrupa ratha have been beautifully described.
Ratha yatra celebrated in the Srikhetra Dham is popularly known as Ghosayatra or Gundiacha yatra. This festival happens in the Asadha sukla 2nd pakshya in every year in where lord Jagannath travels from the Srimandira to Mausi maa temple for nine days.  It is not only celebrated in puri but other cultural region of odisha. In the Ekamraksetra, Rukuna ratha appears in the Asokaastami,  Konarka-surya ratha appears in the magha panchami.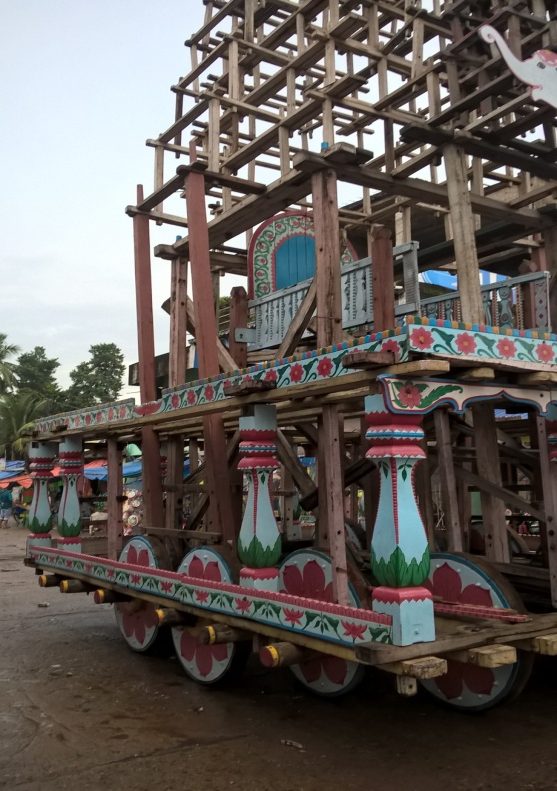 (Vijayaratha of goddess Viraja, Photograph by Nituranjan Dash – 2016)
There is a greater similarity found between Jagannatha mandala and Viraja mandala. Like Jagannathpanjika, Virajapanjika also regulates auspicious, inauspicious date &  rules for its  region. Every year Biswakarma people built ratha on the special auspicious day of Bhadrav masa (subha sunia day). 12 wheel based Singadwhaja ratha designed by the biswakarma artist. Ratha is decorated with Black, red and white cotton. Pitamah Brahma rides as Sarathi in the Singhadwhaja. Maa travel nine times around the bedha during this ratha yatra which starts from Ashwina Suklapakshya pratipada to Navami . At the last day goddess visits to the Lakhabindha ground. (Giridhari swain, saradia edition 2010)
(Pics courtesy : Malay Panda)
Interesting facts & information about Viraja ratha (Singhadwhaja)
Rathas name: Singhadwhaja/Vijaya/Mayaratha
It has given by goddess Saraswati
Pitama brahma rides the ratha as Sarathi
Wood have been used for making a ratha: Padma, Palasa, Agaru, Chandan, Sweta chandan, Rakta chandana.
But now a days Sal, Puchia, Mango, Kuruma have been used for making this ratha.
Height of ratha: 45hands
Wheels of ratha: 12. names of wheel are 1.Ghosani, 2-Bidyunnala, 3-Patangini, 4-Vayuvegini, 5-Namadhyeya, 6-Aindri, 7-Vaishnavi, 8- Shankari, 9-Mahabhara, 10- Dhruva, 11-Mauni. 12- Brahmi.
Colour of the clothes use in Ratha yatra: 1- krushna (mahakali), 2-red (mahalaxmi), 3-white (Saraswati).
Ratha is protected by Saraswati
Dwarapalika: Bruddha, Kushavadra, Mandakini, Yamuna, Ganga
Brahmacharini is the power of this ratha
Sarathi: pitamah Chaturmukha brahma
Horses used in the ratha: these are white in colour. Their names are Asti, Bhaanti,Priya, Nama, Rupa.
Two Snakes seen in the ratha named Swarnachuda And Sankhachuda
24 Parswadevatas are Aagnidevata,Prajapatidevata, Chandradevata, Eshana, Aditya, Garhyapatya,Mantra, Bhaga, Aaryama, Sabitadhi, Twasta, Pusa, Endrangni, Yama, Kamadeva, Maitravaruna, Bhatrubya, Vishnu, Bamana, Vishwadeva, Rudradevataa, Kuberadevata, Aswinidwata, Brahmadi Devata.
8 parswadevis are Aditi, Sarama, Sinibali, Anumati, Raka, Kuhu, Yami, Urvashi, Swasti.
Ratha rakshyak: Mahavishnu Narasingha
Astadiga rakshika: Laxmi, Dhara, Pusti, Gauri, Tusti, Medha, Saraswati, Prabhadevi
Other Devatas in the ratha: Varuna, Rudra, Indra, Parjana, Bruhaspati, Ksetrasyapati, Bastospati, Bachaspati, Aphanpaata, Yama, Mitra, Saraswana, Viswakarma, Takhaya, Manyu, Dadhikra, Sabita, Trusta, Bhaga, Bata, Agni, Bena, Asuniti, Endu, Arhibudhna, Ahi, Suparna, Swena, Soma,Chandrama, Mryutu, Baiswanara, Dhata, Bidhata, Aryama.
Diameter of the Vijayaratha wheel: 252 fingure measurements. It is equal with the words of Gayatri mantra
Pillar(araa) on wheel is 8 in numbers
Mahatripura sundari lives on the flag
Chauri bearers are Bhubaneswari, Matangi, Ambika, Bagalamukhi, Swayambarakarini, Chamunda, Chanda, Barahi, Tiraskarini, Rajamatangi, Sukasyamala, Laxusamala, Aswarudha, Pratyangira, Dhuabati, Sabitree, Saraswati, Brahmanandakala.
Woods have been required to make Vijayaratha are 1017 pices.
Devi of this ratha is Bhudevi, Sridevi
Gandharba of the ratha: Chitrasena
Head of the ratha is Brahmabarta
Name of the Pitha where ratha stands : Aparajita pitha
Kalasa kept on the gate: Prajapati and Indra
Name of the neta(flag): Chaitnya sata
Ratha is built by : Adibak
Dhwaja kalasa (Jagrata, Swapna, Sushusti, Turia)
Name of the Dwhajachakra Is Paramavaishnavi
Vidyas of the ratha are (5) Sambhabividya, Hati Vidya, Kadi Vidya, Sadi Vidya And Rahasya Vidya
5 pigeon named Parana, Apana, Samana, Udana, Byana seen in the ratha
Ratha has been divided into 31 parts such as 1. Kubara, 2. Bhadrapitha, 3. Adabhadra, 4. Kilaka, 5. Arastambha, 6. Chakranemi, 7.kumbhika, 8.ara, 9. Paridhi, 10. Chauta, 11. Gargara, 12. Hansamauli, 13. Kurma, 14. Ratha varandi, 15. Prustha (surface), 16. Pitha, 17. Deva pitha, 18. Kasanahaka, 19. Kurmastambha, 20. Natyastambha, 21. Gauhandakumara, 22. Paradhara, 23.dwiti, 24. Stambhanebi, 25. Kubra, 26. Rashipata, 27. Daragijaka, 28. Amalaka, 29. Potala, 30. Naiti, Kalasa.
War equipments are carried for goddess: dunduvi, trunira, dhanu(bow), tira (arrow), aswajani (hunter), druhana, medicines etc. (Dr. Nityananda deo, 2015)
People believe that whoever sees the goddess Viraja on the ratha, their 7th past generation could get salvation. Rathayatra in a tantric Virajakshetra is an unique tradition and devotees come in a large number to witness and get auspicious blessings from the goddess Viraja.
Article written by Nituranjan Dash
Visual Anthropologist, University of Delhi
Comments
comments