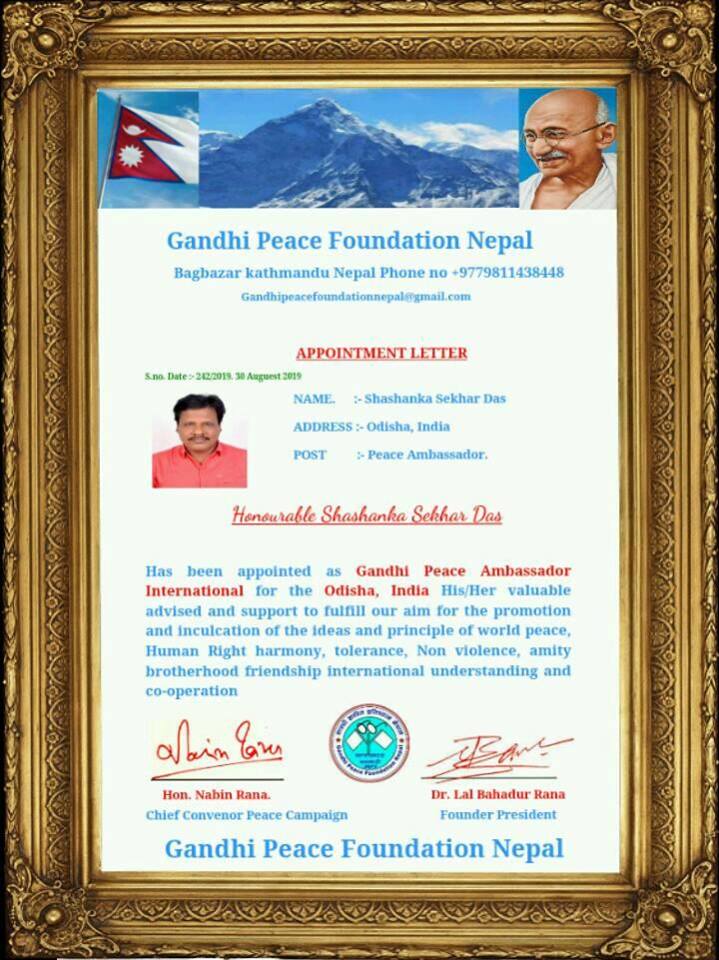 The Gandhi Peace Foundation of Nepal has appointed Shashanka Sekhar Das as the Gandhi Peace Ambassador for India. The Gandhi peace Foundation of Nepal is an international body which promotes the ideals of the Mahatma, propagating non-violence, tolerance and world peace.
Shashanka, popularly known as the Paperboy, is the Limca Book of Records holder for the largest collection of different newspapers of the world. His collection has been adjudged by the Guinness Book of World records too and he will soon qualify for the world record too. He belongs to a family of Gandhians, his grandfather having participated in Gandhiji's Harijan Padayatra in 1934. He belongs to Bari in Jajpur, his village being on the path of the Mahatma's epic Padayatra. He has been brought up in the ideals of the teaching of Gandhiji from a young age. He has set up a private museum in his village Aurangabad, where his collection of newspapers is kept. He is also the author of two books and is a prolific environmentalist and social worker.
As the Gandhi Peace Ambassador, he will undertake many programs on the 150th Anniversary of the Mahatma's birth. In November this year, he will re-enact the epic Harijan Padayatra from Puri till Bhadrak, walking on the path that was taken by Gandhiji and stopping at all the places where the mahatma had stopped.
Comments
comments