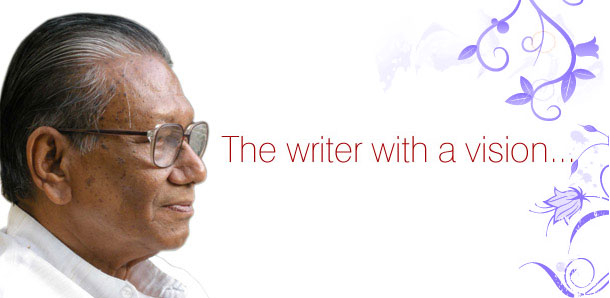 Now going through this anthology of short stories by MANOJ DAS gifted to me by friend Vedabandhu. A fabulous read and enchanting writing by an eminent author. An awesome collection of short stories recommended for both young and adult alike.
I am not new to Manoj Das and his writing. Ever since I read his book ALOKA O ANANDA RA KAHANI (Story of Light and Delight) published by National Book Trust (NBT) in 1977, I have never looked back. A writer at ease in both Odia, his mother tongue and English language, he is be an excellent story teller for the a layman tyro (like me), as well as writer of philosophical stuff which can only be understood and appreciated by folks at an higher level of intellect (not me).
Manoj Das is a UBO (Unfortunately Born in Odisha), a state better know as graveyard of artistic pursuits. We Odias (the usual disclaimers apply) are poor appreciators of art and literature and champion killers of creativity.
This was soon to be vindicated, when Manoj Das shifted to Aurobindo Ashram in Pondicherry during the early 1960s. His talent was immediately recognized, as his writing was published by THE HINDU and spread northwards beyond Vindyas, as Hindustan times started publishing those.
It didn't take very long for more adulation to follow, especially from two nations, whose success is often attributed for their penchant to appreciate and nurture talents – The United States of America and Singapore.
The late Martha Foley, who annually listed the best short stories published in US for many years in 1970s, included several stories of Manoj Das in some of the most prestigious magazines and anthologies of US.
The government of Singapore invited him in 1980s to help them in their Moral and Ethical studies project. Sri Das delivered lectures, wrote two textbooks for their school system, his work appreciated by the Deputy PM of Singapore.
Manoj Das's short stories were serialized by Khushwant Singh when the Sardar (Sikh) edited "THE ILLUSTRATED WEEKLY", the most widely read and circulated magazine in 1970s. Writings styles of both eminent writers were poles apart. The Sardar, a master of glut of smut, thrives on liberal dosage of crude humor, fart and sex in his writing, whereas Manoj Das's revolved on simple life philosophy and subtle humor hovering around its vagaries.
Yet both has tremendous respect for each other. Khushwant Singh recognizing Manoj Das by publishing his stories in a magazine of repute at that time and Sri Das eulogizing the witty Sardar as one NIRBHIKA LEKHAKA (fearless writer, proved by the fact that he dared to take head on the likes of Bal Thackarey, for the former's views in support of the minorities, at a time most other journos when they were expected to bend, volunteered to crawl).
Manoj Das, in his tribute to Khushwant Singh after the his death has described how liquor used to flow during evenings at later's party, when Manoj Das would be sipping his endless glasses of Tomato juice. These two great writers formed a unique bond in diversity, of mutual trust and respect. The old Sardar still kept writing well into his 90s and may Sri Das, who is in his 80s is still going strong.
If I am allowed to vote for the greatest Odia achiever in my lifetime – it would go to this gentleman MANOJ DAS. I wish him good health and long life to churn out more and more masterpieces from his pen.
Comments
comments