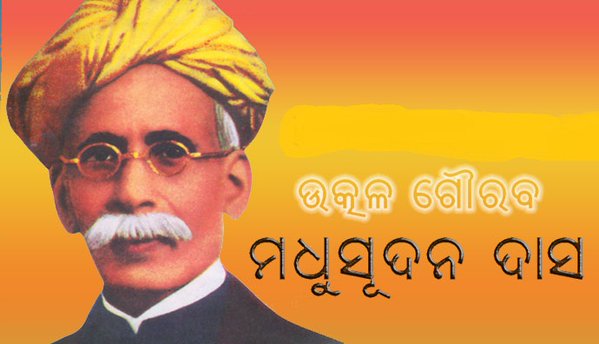 If he wasn't born in Odisha on this day of 28th April exactly 169 years ago, then in all probability we would be reading and speaking Bengali today. He is no one, but our UTKALA GOURABA (The Pride of Odisha) Madhusudan Das, who along with the intelligent, witty, nationalist Fakir Mohan Senapati saved Odia and Odisha from being swallowed by Bengal.
Madhusudan Das, popularly known as Madhu Babu and Madhu Barister (Lawyer) belonged to a well to do family of Cuttack. He was the first Odia to get BA (Bachelor in Arts) degree, a degree in Law and probably the first Odia to visit England.
The dynamic duo of Madhusudan and Fakir Mohan fought tooth and nail against the powerful Bengali lobby which was deadly against the formation of an independent state of Odisha with Odia as its official language.
Dominating the power corridors of the major cities of Cuttack and Puri, a powerful section of Bengali elites proclaimed – ODIA EKTA SWATANTRA BHASA NAYE (Odia is not a language of its own), instantly pooh-poohed the idea of a separate state. They were still well ensconced with this vague, ill conceived notion of Odia being a race without any language and identity of their own, hence not entitled to a separate state. Soon a move was made to introduce Bengali syllabus into school curriculum, ahead of Odia, the language spoken by the natives
When Madhu Barister proposed a new state of Odisha carved out of the Greater Bengal at the Congress conference in Murshidabad, the Bengali dominated top brass vetoed against it. Disgusted, Madhu babu left Congress and started a front UTKALA SAMMILANI (Odisha Conference) to promote the goal towards separate statehood.
He was instrumental in the creation of the State of Odisha, a dream realized two years after his death at the age of 87, a rare longevity those days. In his mission, Madhu babu was ably assisted by the intellectuals from the younger generation, especially Gopabandhu Das and Nilakantha Das.
Madhu babu was educated and elitist one who used to address the public in a mode equivalent to today's Power point presentations – sharp and articulate. But being from a ZAMINDARI (Feudal lord) background and not being a prolific public speaker, he could barely connect with his audience, arousing interest and enthusiasm in the general public whom he needed the most.
In contrast, UTKALAMANI (The Jewel Of Odisha) Gopabandhu Das and Pandit Nilakanta Das was the younger, charismatic ones with epic sense of humor – who could connect better with the commoners with their amazing oratory skills and convincing capability. With a background closer to the milieu they could feel the pulse of the masses and the masses their.
Together they complemented each other, forming a formidable proposition, propelling their cause towards their common goal of a unique, separate state of Odisha, now appealing to the commoners from far flung places who were now motivated enough to join the movement.
Finally his dream was realized two years after his death in 1934 at the age of 87, a rare longevity those days. He died a happy man, foreseeing the formation of an independent Odisha which saw its birth on 1st April, 1936.
Nilakantha Das in his autobiography has given a touching, vivid description of the final hours of leading to the death of Utkal Gouraba Madhusudan Das. Couple of days before his death he queried Braja Sundar Das – NILAKANTHA KAHIN (Where is Nilakantha) ? Braja Babu took a horse driven carriage to manoeuvre fast inside the city of Cuttack (the city wasn't congested yet) and traced him out of the house of one Chandra sekhar Mishra.
Nilakantha Das rushed to Madhu babu's house and was saddened by his plight. He was in a very painful state, unable to have bowel movement in spite of having the urge to do so. But being a man of courage and conviction, he gathered enough strength and uttered – "After my death I am going to pass the baton to Nilakantha. He is going to be the savior of Odisha. You should cooperate with him". (Gopabandhu Das had already died 7 years back in 1928).
"Don't worry. It won't be necessary. You are going to recover" – responsed all present inside the room in chorus. "No. It is not going to happen", said Madhu babu as he covered his head and went to sleep.
The next day Madhu babu said – "I am so glad Paralakhemundi (part of Gajapati district now) and Jeypur (Koraput) are now going to be part of Odisha. I am so glad it's happening". He passed away the next day. To Nilakantha, it was akin to another shining star above the sky of Odisha grounded forever.
A message for the present generation Odias back home who take pride in preferring Hindi over Odia. Rremember – our Pride of Odisha (Utkal Gourab) Madhusudan Das famously said this –
"UTCHA HEBA PAI JADI KARA ASHA, UCHHA KARA AGE NIJA MATRUBHASA".
Roughly transliterated…
If you wish to rise high where you belong,
Then raise your own mother tongue.
Nothing wrong in learning 10 different languages, but not at the cost of your own mother tongue.
NB : Though an Odia Nationalist who fought against dominance by Bengal, Madhu babu harbored no ill will towards Bengalis. He had adopted two Bengali girls; Sailabala Das and Sudhansubala Hazra. Sailabala was an educationist who had trained from England and in whose name the famous Shailabala Women's College of Cuttack was founded. Shailabala was a Bengali, and her parents had left her in the care of Madhusudan Das and his wife Soudamini Devi at Calcutta. Sudhansubala Hazra was also a Bengali and she was the 1st female lawyer of British India. Madhu babu was the house teacher of Ashutosh Mukherjee the former Vice-Chancellor of Calcutta University and Janakinath Bose, the father of our NETAJI (The Leader) Subash Chandra Bose at Ravenshaw College, Cuttack.
Comments
comments