Unless you are spiritually mature enough, don't read Raslila, because you are going to misread it. – Vivekanand
The Eternal Beauty
I visited her many times, as an innocent five years old, an aggressive sixteen, a passionate twenty five, a romantic thirty something, finally as a mature forty and every time she lured me to return back to her. Every time I saw her with new eyes, every time I had the same amount of inquisitiveness, or may be a little more for Konark, the dead Sun Temple of yesteryear.
Konark Vs Kamasutra
Konark is perhaps one of the two most widely known monuments of the nation that boasts celebration of carnal love in ancient India. It's noteworthy to mention that the same art is so vividly illustrated in the spectacular text of Kamasutra written by Vātsyāyana, a Hindu philosopher back in 2nd century. Readers who are fortunate enough to browse through Kamasutra and also visited the sun temple must know that Konark showcases brilliant sculptors in profusely crude sexual behavior that even the world famous Kamasutra has not been discussing. That might be the very reason for which Konark remains among the top attractions for foreign tourists for her erotic elegant beauty carved on stone.
Nudism Throughout History
Nudity is restricted in most conservative societies across the world. Even at the wake of 21st century we Indians are shocked by nudity. Is it not surprising that in a country that produces close to 50,000 babies everyday open discussion on nudity and sex is still a taboo? Is it not comic that in a country where cover page of every national newspaper as well as TV commercial showcase scantily clad women for business still abhors discussing sex?
Nudity is a way of life in perfect harmony with nature. Not to forget that all creatures including us sophisticated human beings came to this world in our nascent and purest forms and would leave some day the same way. From sculptors of Konark to paintings of Leonardo da Vinci, it's so heartening to see how numerous artists, poets, singers, dancers have tried to promote this basic human instinct through divergent forms of art and architecture since thousands of years. And Konark is no exception.
Theories on Erotic Sculpture in Konark
Konark was constructed during the 10th-12th century, much later than Kamasutra that might have been scripted around 2nd century; yet lacks written documentation. Hence exact reason of such open display of sensual love in the temple is unknown.
Time period when these structures were constructed was the cradle of Indian civilization when people were open to such conversations. Unsurprisingly, in an era of no mobile, no electronic media even no TV or cinema halls discussion of nudity and sex might have been the prime source of entertainment. Yet why blame our ancestors? Even today we have little scarcity of people addicted to viewing pornography on net. Even today we have hundreds of fabulous nude beaches across the world for those who wish to roam around wearing only their birthday suits, satisfying the deadly craving for total freedom.
Do we have any stronger reason than this? Let's see. Scholars over the years have proposed different theories on the erotic sculptors of Konark. Here are few:
As per some legends the temple was erected after the infamous Kalinga war that killed more than 2.5 lakhs of warriors in the battle leading to a scarcity of warriors and also declined population sharply. Hence these sculptors were a medium to promote sex, the very reason behind the process of procreation that facilitates survival of life on this planet.
Another theory says, at that time Buddhism was dominant converting many men to ascetics. So kings built such erotic sculptures to reignite the lust and get ascetics back to marital life.
As the seductive statues are carved only on outer wall of the temple and absent inside, it denotes one must leave thoughts of lust and perversion outside the temple and enter inside with a pure mind.
Some relate it to the pious love between a man and a woman which is not a sin. It also depicts the female sexuality that is often ignored in patriarchal social system.
A Must Visit UNESCO Heritage Site
Konark today is an UNESCO Heritage site. Apart from her unique erotic beauty Konark has many other facts that would leave you transfixed. The temple was built in the 13th century by king Narasimhadeva I of Eastern Ganga Dynasty. The title Konark comes from the words "kona" – corner and "arka" – sun. It's also known as the "Black Pagoda" for its dark rustic color. Situated on the seashore of Chandrabhaga, Konark temple was designed in the form of a beautifully decorated chariot mounted on 24 wheels and pulled by seven stalwart horses. The giant wheels of this magnificent sun temple are another representation of time that uses its own shades cast by the sun god. The temple is also an architecture brilliance, as the idol of the sun god as said used to float in the mid air, by means of six giant magnetic stones positioned appropriately. The magnets were so powerful that there are descriptions of the ships magnets going awry when they used to pass the place. It's said that the magnet was brought down and taken away by British during their tenure and what happened to it is still a mystery.
There are so many amazing places in the world that if you wish to visit all them you would need ten lives. So we have to make our choices. Erotic, exquisite, engineering masterpiece, eminent, enigmatic, unique; there are so many adjectives to describe Konark. I am sure it's a place everyone would wish to visit at least once in their lifetime
The best time to visit Konark is certainly early morning in winter when the first soft rays of the rising sun enters the front Natya Mandir and reaches up to the spot of idol at the center of the temple.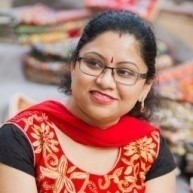 Contributed by Debajani Mohanty, Author & Senior I.T. Professional
Comments
comments