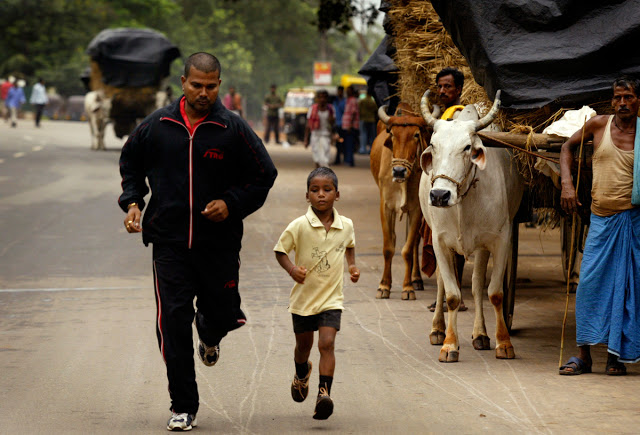 "Patriotism is the last refugee of a scoundrel," said Samuel Johnson, the famous English writer, in the 18th century. At different times, patriotism has been replaced by religion or politics to make the point. The quote kept propping up in my head while watching debutant director Soumendra Padhi's superbly made 'Budhia Singh – Born To Run' in a disappointingly empty theatre in Bangalore on Friday (August 5).
It is more than just a movie for me. I was sitting at the team hotel of Kings XI Punjab in Chandigarh during the inaugural edition of the Indian Premier League in April 2008 when news flashed on the television screen that Budhia's coach Biranchi Das, or Gutu Bhai as he was popularly addressed as in his huge circle, had been shot dead outside of his Judo Centre, a little more than a stone's throw away from my Bhubaneswar home in BJB Nagar.
The film's premise revolves around the five-year old Budhia completing a 65-kilometre run from Puri to Bhubaneswar in seven hours and two minutes in 2006, listing him as the world's youngest marathoner in the Limca book of records. The event not only highlighted Budhia's potential to the world, but also shot Biranchi sir to fame.
What happened during that much-covered run was a culmination of many things. It was a result of one man's undying passion to make his vision of making an Olympian out of an orphan take baby steps. Those in the know will tell you stories of how Budhia became the centre of sir's universe as the young boy completed 48 runs of various distances. The movie has done justice in bringing out the layers of emotions of various protagonists involved in the journey.
Manoj Bajpayee, who plays the role of sir, looks natural on screen, as does the innocent-faced Mayur Patole. One of the best parts about the movie is to see the community spirit that sir and Gitanjali Panda, his wife who we called as Gita Apa – a role played by Shruti Marathe, fostered at the academy, something I experienced first hand.
As I was watching the movie, I could almost recreate my childhood when my father took me to the Judo Centre and asked sir to inculcate discipline in me. He must have understood very early that I am not cut out for martial arts, but never did he make me feel so till I was a part of the academy. He used to check our nails every day before practice, and that is when I started chewing them to not feature in the list of serial offenders. Unfortunately, the habit persists. The road runs on Sunday were another major attraction, as were the occasional feasts. I remember when he got the go ahead to modernize the Judo centre, almost each one of us chipped in our way to support one of his dream come true.
He riding on his Yamaha RX 100, his commanding voice, his grave looks and his manicured beard are all a part of a happy childhood and the movie refreshed the memories. He taught all of us the significance of holding the sport above those who play it, and insisted that we respect our fellow comrades despite the result in the battlefield.
As kids we were obviously oblivious of the battles sir must have fought with officials to keep the house running, especially with little or no funding. But as Budhia, who came under sir much after my association with Judo ended, made headlines, things got heavier.
The movie has made sir a face of the struggle of all coaches across the country, and reflected on the capricious nature of Indian sports where lethargic officials deny believing in adventurism and choose protocol as a façade to cover up for their incompetency. At a personal level, the script stresses on the need for a guide for every talent, something Budhia's mother failed to realise because of her limited outlook.
Would things have been different had sir been more politically correct and been alive today? One can only speculate, but Budhia's momentum was broken and it will be a miracle if he lives up to his early potential. The vision was to make him ready for 2016 Rio Olympics, which gets underway this weekend, but he still serves the ban on running that was imposed on him because of an ego battle between the officials and sir.
The movie will not change Budhia's life much; he is again at the centre of another ego battle in the local political circle after his newfound fame, but it will at least avoid another runner from not going the distance.
Do lend your voice to the campaign by going to the theatre.
A link to Blog of Sidhant Patnaik
Did you know Bhubaneswar Buzz is only portal covering Odisha to have more than 14,000 followers (consistent) in top 3 Social media platforms i.e. Facebook,Twitter and Instagram
Bhubaneswar Buzz is available in 10 social media channels, check out all of them here
Did you know Odisha is first in India to host Asian Surf Championship
Like Us in Facebook to get more content like this
Comments
comments