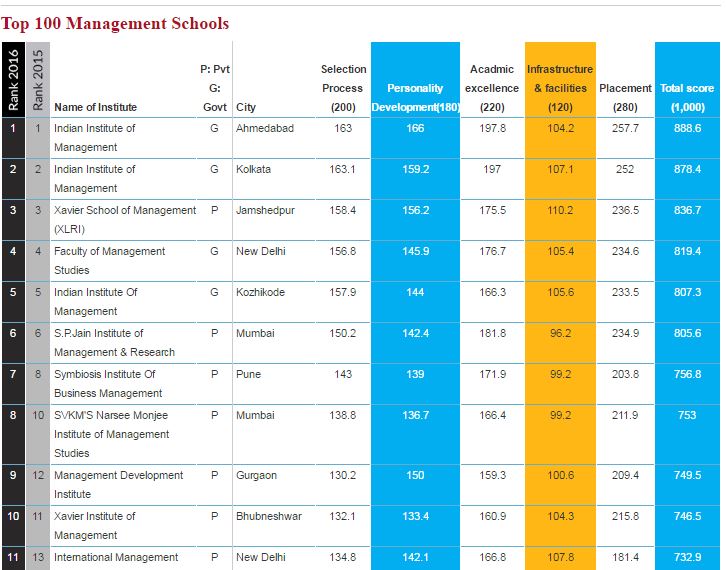 Outlook ranking of India's 100 Best Business Schools, (in ass­ociation with our research partner Drshti Strategic Research Services) ass­umes importance in helping students make an informed choice not just about colleges, but also about their careers. Like the last two years, there is little surprise in the top 15 in the Outlook ranking, with few being dislodged from the place they occupied last year. While there is a churn at the mid-level, the big difference is in the lower ranked colleges in the list, where over 30 new colleges have entered the charts by improving upon their par­ameters. While there was a noticeable improvement in academics of many colleges, there was also a genuine upliftment in the quality of research by faculty and students, which are reflected in the scores of many new entrants as well those that have risen in the ranks.
What is not heartening is that the overall scores, which improved noticeably last year, have not shown much promise this year, with the overall total both at the topmost and the lowermost level dropping below last year's.
But there has been encouraging results in the participation of colleges. Two years ago, looking at a good response in participation by B-schools to our survey, we had inc­reased the list from 75 to 100. This year, following another round of good participation, we have continued with that to enc­ourage better participation and to allow more colleges to come into the fold of open assessment.
Did you know Bhubaneswar Buzz is only portal covering Odisha to have more than 16,000 followers (consistent) in top 3 Social media platforms i.e. Facebook,Twitter and Instagram
Bhubaneswar Buzz is available in 10 social media channels, check out all of them here
Did you know Odisha is first in India to host Asian Surf Championship
Like Us in Facebook to get more content like this
Comments
comments