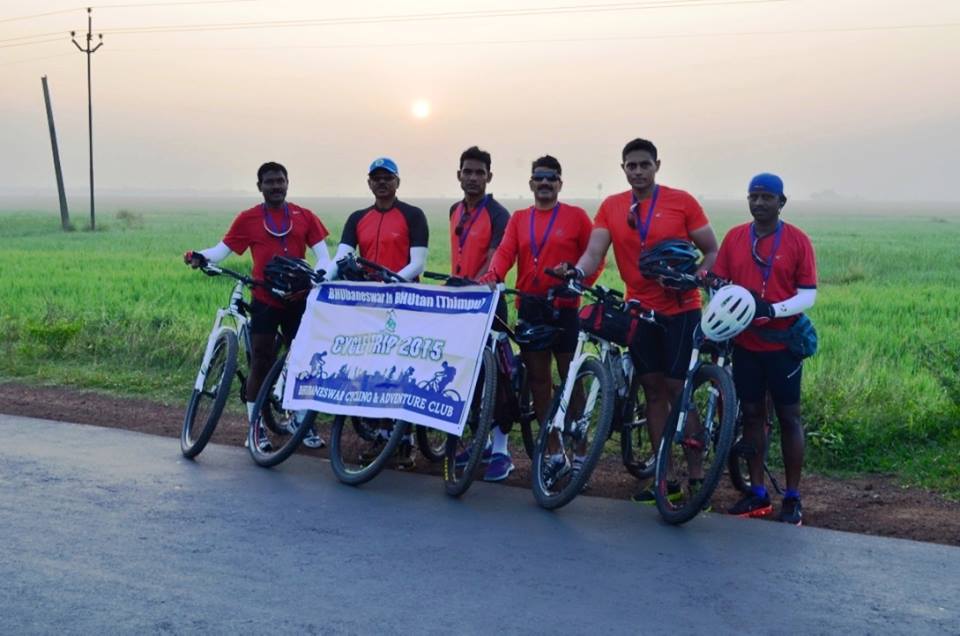 Here is what Bhubaneswar cycling and adventure club had to write about their journey on 4th day on 13.10.2015
Day 4 of Bhubaneswar to Bhutan(Thimpu) International Cycle Trip
Medinipur to Bardhhman 131 km
We started early morning from Medinipur at about 5.15. We took the route via state high way. After about ten kilometres we saw the sun rise amidst the green paddy fields and stopped for few minutes for group photograph. There were lush green paddy fields all through the route. The intoxicating smell of the flowering paddy acted as a catalyst for our trip. The condition of state highway was bad with lots of potholes. From Srinagar to Mirzapur virtually there was no road and once we reached Mirzapur, all of us shouted in unison "rasta mil gaya".
The continued to be as bad till Karnapukur where we had our breakfast. The shop owner advised us not to take the state highway for Bardhhman and suggested another route to directly reach Uchhalan about 24 km before Bardhhman. His advise was timely and it reduced our travel by 12 kilometres. The road was much better compared to the highway. It also had tree cover all through. After Uchhalan we took SH7 and the road was good with two lanes. We had our lunch at a roadside dhaba and rested for sometime to beat the heat. We reached Bardhhman at about 3.30 pm covering the distance of 131 km.

Day 5 programme:
day five Bardhaman to Berhempur(murshidabad) 150 km
Comments
comments